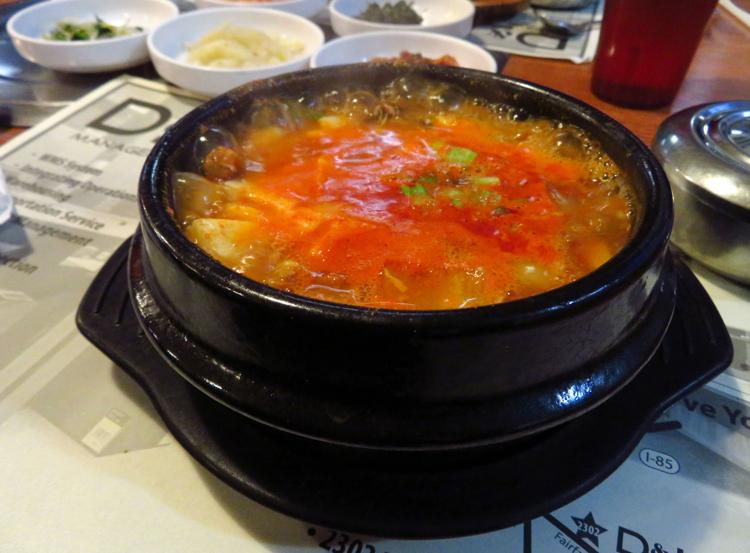 For me, some of the best places to eat at are the ones that are kind of hidden and may be overlooked if not observing carefully. Gohyang Garden Korean Restaurant is definitely one of those hidden gems.
The quaint Korean restaurant is nestled between the Village Event Center and Angel Antiques in Opelika.
Inside, the restaurant is light, welcoming, clean and simplistic. The dining area is small enough to feel cozy without feeling crowded if busy. I came around dinner time – at 7 p.m. – and only a few tables were filled, but business began to pick up a little more around 8 p.m. when local manufacturing workers came by to eat dinner after their shift. But even still it didn't feel overwhelmingly crowded.
Stacked on the partition wall next to the entry are multiple issues of Asian newspapers. Toward the back of the dining area, a television was on and was playing Asian game shows to further submerge you into the language and experience.
I love Asian food. However, I've only eaten at Korean restaurants only a few times so I'm no expert. Fortunately, the waitress was more than happy enough to explain the items on the menu and to recommend a few dishes. I ordered the soft tofu soup.
When my food was ready, my server came out of the kitchen, smiling, carrying my bowl of soup. The soup was still boiling and was infusing a heavenly and savory fragrance into the air.
The soup was beautifully styled and vibrant with colors. With a few stirs, I uncovered a few ingredients such as a shrimp, beef, a clam, mushrooms, zucchini, a fried egg and, of course, soft tofu. And it was delicious.
The menu items are fairly priced, with most dishes ranging between $8 and $30.
This is definitely a place I plan to revisit sometime in the near future.