Going to the dentist can be stressful and scary for many people. However, Dr. Abby Northcutt Adams, DMD at Auburn Opelika Dental is here to ease your fears. She is committed to providing her patients with excellent dentistry in a comfortable environment. With Dr. Adams' advanced techniques and technology, you do not have to be afraid of the dentist anymore.
Dr. Adams takes time to understand every patient's needs and desires for their oral health and appearance. She then works with the patient to develop a course of treatment that fulfills their treatment goals while educating and empowering patients to pursue overall oral health. "The patient experience at Auburn Opelika Dental is specifically tailored to each individual. We offer customized amenities to create a comfortable and relaxing environment," says Dr. Adams. These amenities, aimed at helping the patient feel more at ease, include paraffin wax hand treatments; warm, lavender-scented neck rolls; comforting blankets; head and neck pillows; essential oil fragrances of the patient's choice; and warm and cool hand and face towels, either scented or unscented, to allow the patient to freshen-up after their appointment. Dr. Adams continues, "What sets Auburn Opelika Dental apart is our team's commitment to listening to our patients and working to understand what they want to get out of their treatment."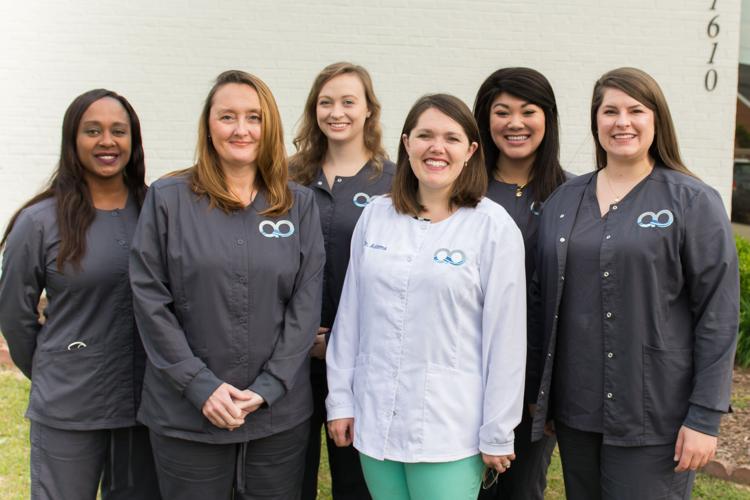 Dr. Adams offers a full range of dental treatments, including fillings, veneers, crowns, bridges, root canals, implant restorations, extractions, dentures, and appliances to treat sleep apnea, teeth grinding, and TMJ; however, what makes her practice unique is that she also offers other non-surgical esthetic treatments such as Botox and Juviderm, which can be used to treat anything from wrinkles and insufficient lips, to "gummy smile," headaches, and teeth grinding.
Before owning her own practice, Dr. Adams worked in both large group and private practices in order to further her knowledge of dental procedures and business operation. After purchasing an existing practice at her current location, Dr. Adams remodeled the practice to include the leading dental technologies. These renovations include televisions and personalized music in each treatment room, as well as state of the art digital x-ray and "laughing gas" systems. She even has plans to further improve her patients' experiences: "Within a year from now, I plan to have a tooth scanner and an in-office crown mill. This will allow us to make same day final crowns without the mouth full of goo so many patients dislike," she explains. She also hopes to offer expanded hours, more treatment rooms, and perhaps even a second doctor in the future.
Dr. Adams wants to make sure she offers the best dental care possible to her patients, so she loves learning about dentistry and takes many hours of continuing education courses each year, including courses at the prestigious Spear Institute in Scottsdale, AZ. She is also a member of many professional organizations, including the American Dental Association, Alabama Dental Association, Ninth District Dental Society, American Academy of General Dentistry, and Alabama Academy of General Dentistry. She received many awards, such as the Alabama Board of Dentistry Scholarship, during her time as a student at Auburn University and the UAB School of Dentistry.
Dentistry isn't the only love Dr. Adams has. She also loves getting to know other cultures. "During college and dental school, I spent my summers living in interesting places, including La Paz, Bolivia; Granada, Spain; and Kotzebue, Alaska. I have fished for piranha, built a stove from bricks I made by hand, danced flamenco in the caves of Granada, watched the sun set at midnight, and so many other amazing adventures," describes Dr. Adams. Out of all the wonderful experiences she has had, one part sticks out as her favorite. "The best part of all my travels has been the interesting people and kind friends I have met along the way," Dr. Adams says.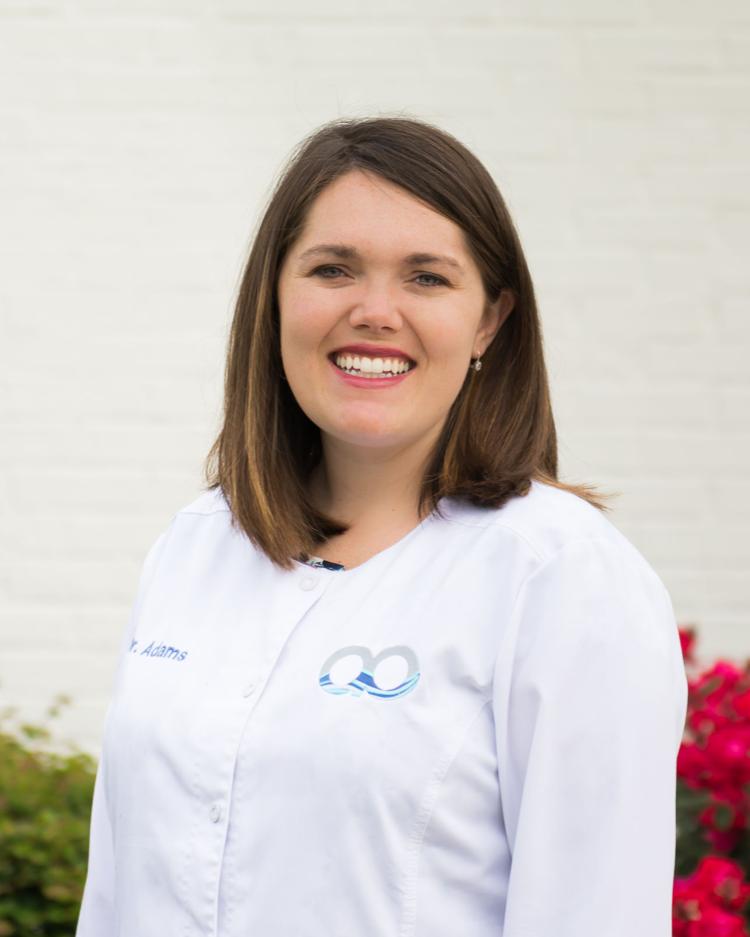 Dr. Adams is also a family woman. She loves spending time with her family, especially her husband Tyler and their two daughters. "They are my support and inspiration for everything I do," states Dr. Adams. She and her family are very involved in their local church and volunteer through multiple civic organizations, including The Junior League, Rotary, and Alabama Rural Ministries.
You can find more information about Dr. Adams and Auburn Opelika Dental by visiting their website at www.AuburnOpelikaDental.com, liking Auburn Opelika Dental on Facebook, or following them on Instagram (@AOdental).