Auburn University's two War Eagle Women aviation teams prepare for the 2019 Air Race Classic, competing against 15 universities and colleges to have their names inscribed on the Collegiate Challenge Trophy.
"This will be our third year entering the race," Auburn University Aviation Center director and Aviation department head Bill Hutto said. "It means a lot for our students in the experience they will get, but it's about what they will come back with and share.
"Auburn University will be seen within the nation and worldwide. It's a really big event, and we are excited to be a part of it."
The 2019 Air Race classic will begin June 18 in LaGrange, Georgia, to pass more than 2,400 miles through nine states and one Canadian province, ending in Welland, Ontario, on July 21.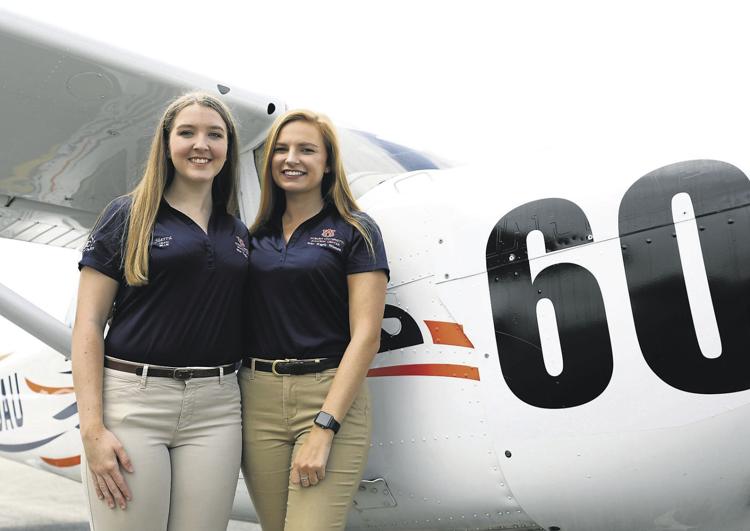 Auburn University Team Blue pilots Sierra Hardwick and Mattie McKenna said they are elated to receive the opportunity to see different parts of the country, gain experience as aviators and meet other female pilots.
"I'm excited to see the country, practice flight experience and actually making some real-time flying decisions like should we go today, is the weather going to be bad or should we wait an hour?" Hardwick said. "Trying to work as a team, we got to make sure we work well together."
Before pursuing her commercial certification in professional flight, Auburn University senior Hardwick decided to enroll in flight school when her grandfather, a retired crop duster, flew Hardwick in his Piper PA-28 Cherokee.
"He bought a Piper Cherokee with his retirement money, and he took me up around the time I was trying to decide where I wanted to go to college," Hardwick said. "Since both my parents are Auburn alumni, and Auburn has a flight school, it was definitely where I needed to be."
As a flight attendant, McKenna's mother encouraged her daughter to be a pilot, and now as an Auburn University certified flight instructor, McKenna is excited to represent the women in aviation, celebrating 90 years of women's racing at the Air Race Classic.
"We are making history and paving the way for other female aviators," McKenna said. "We have a lot of people to thank ahead of us. We have pilots already in the industry and mentors.
"We go to a lot of events like Women in Aviation. It's to show we can do just as much as the men can do. If not, more, so we are excited to do that as well."
Hutto emphasized diversity in the aviation program as vital to the university's aviation program, and he expressed his excitement for team blue and orange represention of the program, motivating 60 percent of female flight students, among 350 flight students and 130 aviation management students, enrolled in the upcoming fall semester.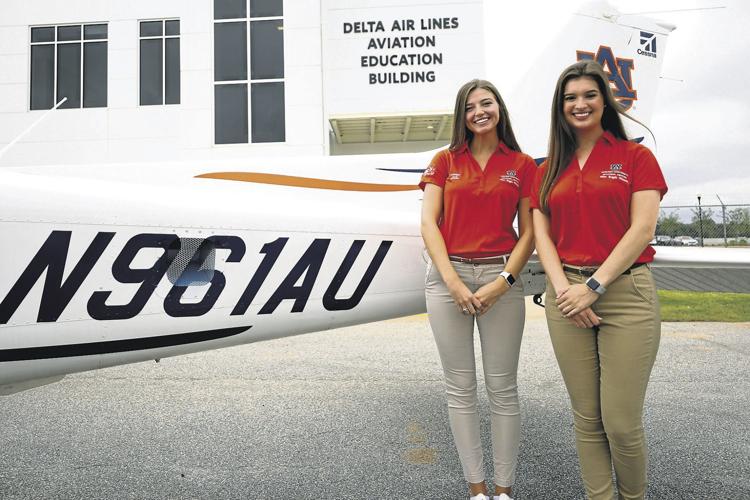 Receiving community support from Tiger Giving Day contributions, Auburn University certified flight instructors Caitlyn Miller and Kendall Higdon will be flying in the Air Race Classic as Team Orange.
"We were funded by Tiger Giving Day," Higdon said. "We received three times more than we asked for Tiger Giving Day, so we were both blown away. Seeing the support from people that maybe didn't have a connection to aviation or Auburn, but they came out and supported us, that's amazing and exciting to see."
According to Higdon and Miller, the Auburn community gave team orange a chance to collaborate and meet seasoned pilots, willing to share their experiences in flight and visit Canada for the first time.
"It will be exciting to be (an Auburn) representative in the air and get to fly in Canada," Miller said. "I don't think an Auburn plane has flown there. It will be a cool experience. We couldn't be more grateful to have this opportunity to fly two planes in the Air Race Classic."
Auburn University invites Tiger Giving Day donors to give their well-wishes and cheers at LaGrange-Callaway Airport on June 18 from noon to 1 p.m. Eastern Standard Time before the intrepid War Eagle Women teams take-off in the Air Race Classic.
Auburn residents interested in the flight path of the War Eagle Women teams can visit www.auburn-arc.com to keep track of their progress.