Neighbors of Collinwood Street and Collinwood Circle, a small community nestled in Opelika's historic district, have rallied together to support one of their own, Auburn police officer Webb Sistrunk.
Collinwood residents recently adorned their mailboxes with blue and black ribbons to honor Sistrunk, who is recovering at home from a gunshot wound he received while responding to a domestic disturbance on May 19.
"We are overwhelmed," said Mark Sistrunk, the father of the injured officer. "I didn't know it for two days because I was in the house several days. I went out early to work, and I noticed one or two out there. It was dark when I left. I didn't realize. The morning I came back, and the whole neighborhood flooded with them. It made you want to cry."
According to Mark Sistrunk, Trinity United Methodist Church, Trinity Presbyterian Church and Trinity Presbyterian School and neighbors have brought food every day to provide physical, spiritual and psychological support for his son.
"He's improving every day," Mark Sistrunk said. "My wife has got him out walking, and he's doing great. He's got his mom and girlfriend helping him. I've got hundreds of calls of people trying to do stuff for us. We've got lunch planned from somebody who has been bringing us meals. We've had two weeks in a row of people bringing us food every day, and people that are not signed up to bring food, bring things anyway."
Even in the face of adversity, Mark Sistrunk said he has no interest in moving to another city, observing the kindness of Collinwood neighbors actively serving his injured son.
"It hits you in your heart," he said. "It makes you feel good that people care enough about you to do it. I wouldn't live anywhere else in Auburn or Opelika."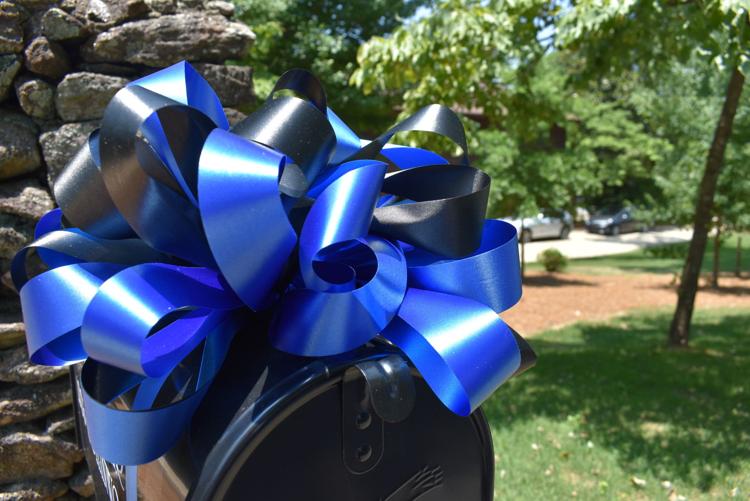 After receiving a plan from their fellow neighbors, Collinwood Circle residents Robert and Brenda Boteler attached a blue and black ribbon on top of their mailbox, honoring the fallen, injured and serving officers.
"When one of our own in the neighborhood was injured, we needed a visual for us to come together and a kind of an atmosphere in Collinwood," Brenda Boteler said. "We are a close-knit group. We might not know each other's names all the time, but we know the camaraderie, protection and oversight that we have for each other."
Demonstrating the care and closeness of the Collinwood neighborhood, the Botelers recalled one day when they joined Collinwood residents in the search to find Webb Sistrunk's dog Lucy. She was possibly swept away by the torrential rainfall, and after searching the entire neighborhood and adjacent park, the Boteler family dog, Molly, found Lucy.
"Webb grew up with this puppy," Belinda Boteler said. "When we had a big rain, word went out that Lucy was missing, so Molly was pulling Bob on the leash toward some brush (close to our house). Little Lucy was caught in the brush. Webb just got off work, and he came by. He was like, 'I'm coming, Lucy.' Molly became the little hero of the neighborhood."
The community respects the service of the Opelika Police Department and the Auburn Police Division, and Collinwood residents want to convey their gratitude for the sacrifices made by Sistrunk and the other two officers who were shot while responding to the May 19 call: Officer Evan Elliott, who was treated and released from East Alabama Medical Center, and Officer William Buechner, whose injuries were fatal.
"I think we have a wonderful police department here in Opelika and Auburn as well," Belinda Boteler said. (The bows) are hugs from every mailbox. It's kind of a hug from every family. You can inundate them with cards, call them and go by, but anyone that drives by to see the black and blue, it shows we love our law enforcement."