The Opelika Chamber of Commerce held its 78th annual meeting on Wednesday. The event offered a chance for the chamber to celebrate the community's endeavors over the past year and also honor those who have made a positive impact on the city.
The crowd inside Opelika High School's indoor practice facility included local businesspeople, local city officials such as Opelika Mayor Gary Fuller and Auburn Mayor Ron Anders, and Alabama state Sen. Randy Price.
"What an exciting time to live in Opelika and to be a part of Lee County," said Carlton Hunley IV, who will be chamber board chairman for 2019-20. "I look out across this room, and I see so many faces – longtime friends, new friends, people I've known for years and people I look forward to meeting.
"The chamber is all about fostering and focusing on our members. Today is a celebration of each one of them, and I'm really, really proud and glad to be a part of this."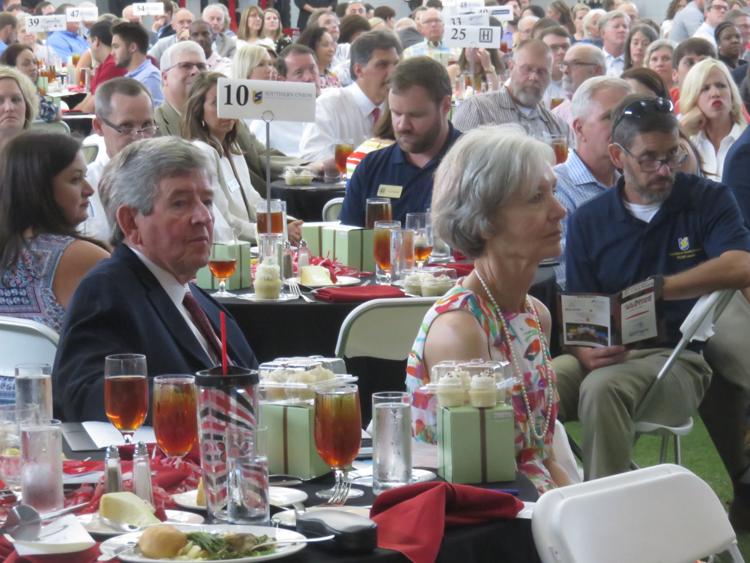 Hunley explained the chamber's history and the fact it still stands strong is a testament to the members, the local city government, the staff and the board of directors. He explained to the audience what the chamber offers local businesses and that the chamber's mission is to help local businesses thrive.
Current chamber board chairman Brooke Kastner discussed how busy the chamber has been in a year that has seen 93 new members and 53 ribbon cuttings. Like Hunley, Kastner talked about the chamber's objectives and the staff's passion for making being a member worthwhile.
"We want your business to succeed and flourish. We want and need you to be involved as we grow and do more as an organization," Kastner said. "It takes all of us working together to persevere."
The meeting offered locals a chance to socialize, and it also served as an opportunity to give recognition to those who have provided a positive influence in Opelika.
Award recipients included J. and Ginger Stern receiving the KOB Shirley Flora Award; Mama Mocha's Coffee receiving the Opelika Main Street Award; EAMC's Mend program receiving the Community Partner Award; and Mrs. Story's Dairy Bar being named the Small Business of the Year.
The most emotional moment of the afternoon came when chamber president Pam Powers-Smith announced the Spirit of Opelika Award for Lorna Roberts and her late husband, Don, who passed away in 2017 after a battle with cancer.
Powers-Smith and Roberts fought back tears as Powers-Smith told the Roberts' story to the audience – how Don met Lorna while at school in Auburn; Don's teaching and coaching career that spanned over 40 years; the couple's love of travelling and their commitment to organizations such as Kiwanis Club, O Grows Market and Opelika Main Street Board.
"Don and Lorna have been so supportive of Opelika," Powers-Smith said. "Their love for this city and its people was and is extremely extraordinary, as evidenced by their volunteerism."
Longtime chamber ambassador Dianne Lowe was given special recognition for retirement after more than 15 years of service.
The meeting concluded with Kastner passing the gavel on to Hunley. Before the meeting was over, Hunley re-emphasized the chamber's role for locals and his excitement in taking on his new role.
"We're here to help your business, and we're here for you," Hunley said. "We want to help you succeed by providing business connections and valuable resources to advance your business' credibility and vision."