Harmony in 3D owner Sue Bradley provides an alternative healing method known as Bio-Energetic Transduction-Aided Resonance (BETAR) techologies to improve a client's spiritual and mental health.
"It's a form of relaxation," Bradley said. "It's an individual, one-on-one experience. Come try it and actually learn to detach from the world and float off into the music of the spheres. It's beneficial at the time and long-term."
Starting Saturday, June 1, Harmony in 3D, located at 1685 E. University Dr. Ste. C in Auburn, offers customers an opportunity to lie on a suspended bed, surrounded by a metal dome, as they listen to a playlist of beats carefully selected by Bradley.
"There are immediate sensations of relaxation," Bradley said. "Everything is drained out, and you get to reboot. It has an endless array of benefits, depending on the person and what they would like to get out of it. We've done 15 demonstration rides for various people, ages and genders with different backgrounds."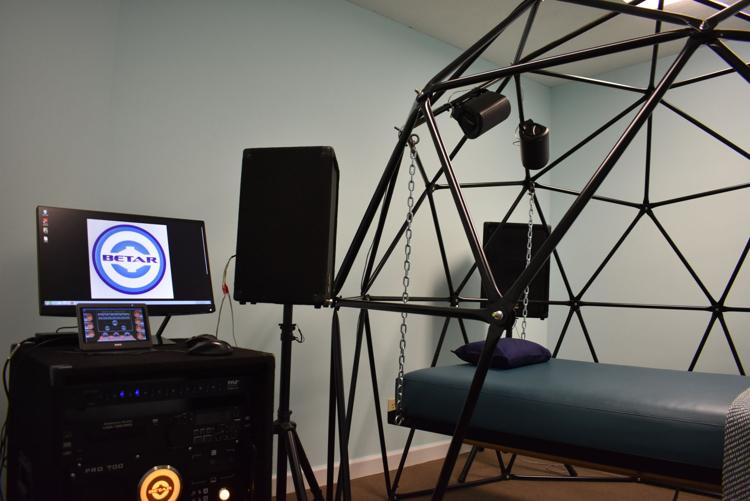 The BETAR technology is comprised of a platform equipped with resonators, vibrating up and down the spine as music emits from speakers on stands and the floor, Bradley explained.
Using her experience as a piano teacher and Master's degree in music education, Bradley said she operates the console compiled with a collection of personalized playlists catered to the client.
"Music therapy involves lyric analysis, writing your own music and improvisation," assistant MaryAnne Miller said. "It's music that's already written and using the music to enhance the vibrations and sound waves, placed within this machine. There's a point where the vibration, the hertz level, can get into your brain to fix and heal things because it's at the right vibration."
According to Miller, the benefits of music have been incorporated as a medical practice in Asian cultures; specifically, the use of gongs. But BETAR has been created to soothe clients struggling with Parkinson's, Alzheimer's, Narcolepsy or other ailments.
"(Clients) have input, and then we try to tailor their next session to reach those goals," Bradley said. "They may be having sleep or pain problems. We've had someone with high blood pressure, and they said that it reduced their blood pressure in a couple of days. It has a residual effect. I remember my first time, feeling like my whole being was in equilibrium."
Testing the BETAR equipment, Bradley said friends, family and Auburn residents participating in the relaxation process provided results necessary for to start her business and schedule appointments.
"I had an 81-year-old that came, and she had been battling her blood pressure," Bradley said. "After one session, she said, 'My blood pressure has gone down.' I had another gentleman come, and he didn't think he had ever laid that still in his whole life. He said, 'My wife says that I toss and turn all night.' He was perfectly relaxed for his whole session."
Wia Fergus, a friend of Bradley, tried the machine as well, and Fergus said BETAR prevented the invasion of stressful thoughts.
"I tried so hard to think about my chores, and what I should do next," Fergus said. "My mind was just blank. It never allowed me to think of anything. I felt like it was so relaxing. My son meditates daily, and I never can meditate. I wonder if this is meditation for me. I really could not think of anything else when I was laying there."
Residents interested in scheduling an appointment at Harmony in 3D on Saturday, June 1, can contact Miller at (334) 246-3404 or harmonyin3d@gmail.com. Potential clients requesting more information, can visit harmonyin3d.com.