EAMC nurse Amber Ford's relationships with patients were true connections that words could not do justice. William Fuller demonstrated just how much she meant when he had the chance to celebrate her life on Thursday.
William, 80, took his rolling walker outside EAMC and stood in the rain alongside his wife, Alice-Kaye Fuller, as patients, co-workers, friends and family honored Amber with the raising of a Donate Life flag outside the hospital.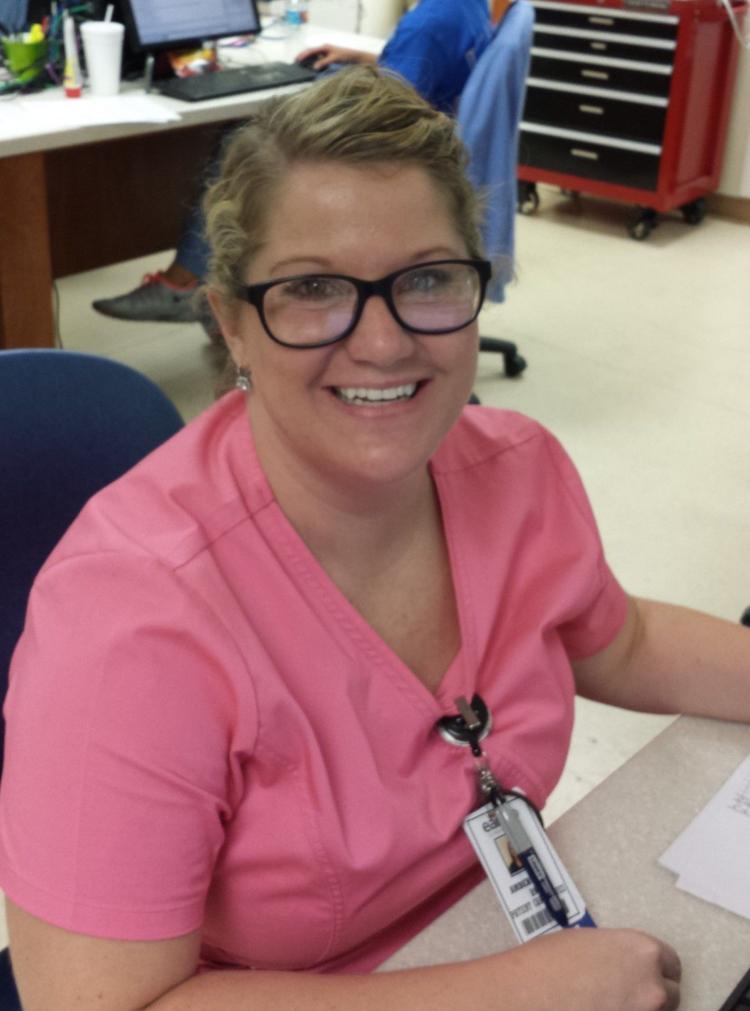 Amber, 34, suffered trauma to the brain and irreversible injuries in a hit-and-run accident in Atlanta last weekend before ultimately passing away late Friday night. Her family includes her husband Justin, 2-year-old daughter Sarah Kalyn and 9-month-old son William Shelton.
When those who knew Amber planned to share stories about her and offer prayers together, William knew he had to be there.
"I feel like every life should be honored. She honored my life by keeping me awake and going," William said. "Amber was in there with me. They looked after me. If I don't take my medicine on time, I get all screwed up. She made sure with every tick of the clock that when that time came for my medicine, she was there. She made sure I got it.
"She looked after me like my wife looks after me. I love her, and I loved all the nurses."
Amber came into William's life in October 2016 when he suffered a heart attack shortly after undergoing knee surgery. William and Alice-Kaye got to know Amber as William regained his strength, and they shared Amber's excitement when she found out her first child was going to be a girl.
The Fullers didn't know Amber before she became one of William's nurses. Shortly thereafter, they understood they could never forget her.
"She was just a special person," Alice-Kaye said. "She became very dear to us. She took care of him, and she took care of me, too. She's a special gal."
The Fullers were among the crowd that gathered around the EAMC flagpole to honor Amber, who has worked at EAMC since March 2, 2015.
Laura Eason, EAMC's director of pastoral care, led a prayer before Lisa Harmon and Dr. Michael B. Williams shared messages with the group. Shortly after Williams spoke, two men raised the Donate Life flag that many in attendance had signed.
Amber had chosen to be an organ donor long before last weekend's accident. Thanks to her selflessness, eight people will receive the gift of life.
According to the people who knew Amber best, it's only fitting that she continues to improve the lives of others.
"Amber wanted to help everybody," co-worker Meagan Patel said. "You can save so many lives by being an organ donor. Her being able to save a total of eight lives – she'll be living in eight different people. She's going to be a part of us forever. There's really no words to say. She was a great person."
Thursday's scene was understandably raw and emotional. Eason reminded everyone that even though doctors have a say, God had the final say when it came to calling Amber home. Many attendees shed tears throughout the ceremony and consoled each other as they remembered Ford and the role she played in their lives.   
Amber provided the service of nursing others during her time at EAMC. Although it can be a thankless job, those who gathered together Thursday were thankful for the way she did it.
"I wanted to do this for her so her babies can see it," Harmon said, her voice breaking. "She took care of everybody just as if they were her own family. She was an excellent friend and co-worker who I can't say enough about."