The power went out at Lee County Schools Superintendent Mac McCoy's home in the Salem area as a violent tornado ripped through the county last Sunday.
"My phone started buzzing, obviously, with the tornado warnings," he said. "We lost power in the Salem area about 2:45, so I lost TV coverage. But I knew it had hit somewhere in the Beauregard area."
McCoy sat down with the Opelika-Auburn News on Thursday, to discuss the events of the day that changed the county and temporarily converted multiple schools into headquarters for first responders, volunteers and members of the media.
After the first storm rolled through Sunday, McCoy said, his phone began buzzing with rumors of people trapped inside Sanford Middle School.
"I went, 'What do you mean, trapped in Sanford? What are they doing out there?," McCoy recounted. "It was just kind of chaotic."
After the second storm, McCoy received word that East Smiths Station Elementary School was hit.
He got in his truck and was headed toward Smiths Station when he received a phone call from transportation director Lee Lindsay, who said he checked on Sanford, and it was a fine.
A phone call from Smiths Station Mayor Bubba Copeland determined that it was West, not East, Smiths Elementary that took a hit from the storm. There was some roof damage, HVAC units had been blown off the building and the playground and some smaller buildings were decimated. But overall, the campus received minimal impact.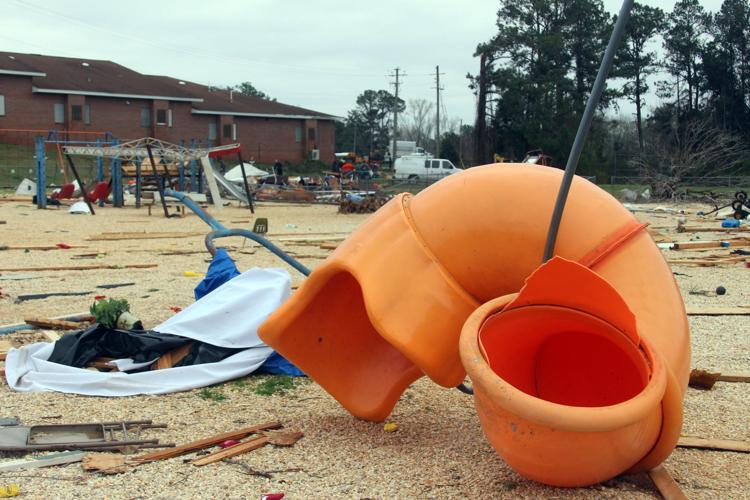 As it became more apparent that this was a devastating storm, McCoy and his leadership team began reaching out to school system employees to learn how employees and students were affected.
The Lee County Emergency Management Agency asked Sunday night if Sanford Middle could be used for first responders. Monday morning, the EMA called to ask if Beauregard High could serve as a media outlet.
Alabama Power also called, asking if the company could use Beauregard Elementary as a staging area.
McCoy said yes to all three requests.
"We all have the emergency survival kit, so to speak: the procedures, the protocol, and we go through our little drills," he said. "We do all that stuff. But until you go through it…and you actually have to implement everything, it's not always ABC, 123."
Because the state declared a state of emergency after Sunday's tornado outbreak, the school system will not have to make up any days in the academic year right now, according to McCoy.
The Lee County Schools team has worked tirelessly over the past week to evaluate and meet needs of its facilities, transportation (two school buses were damaged in the storm), faculty and staff and students.
Grief counseling is available for everyone in the Lee County Schools family, with teachers and administrators having a day to receive counseling themselves before students return to school on Tuesday.
"It's been real tough on a couple of the principals," McCoy said. "Especially Mrs. (Lisa) Harris, bless her heart, at Beauregard Elementary School, lost two (students). It's been hard."
Another potential challenge for Lee County Schools is to figure out the logistics of giving displaced students a ride to school, as students whose homes were impacted are staying in hotels, at Providence Baptist Church, or in a friend or relative's home.
A school system employee interlaid a Google Maps image with a map of the tornado's path. From there, Lee County Schools was able to identify each student's home that was in the path of the storm, so principals and teachers could attempt to make contact with them.
"I was told today there are over 500 displaced families right now in this line," McCoy said Thursday, using his finger to trace the storm's path on the map. "If we're going to have school, we need to know where these kids are, because we're probably going to have to re-route transportation.
"They may be in Auburn. They may be in Opelika. And we've got to find them and give them the services that they need."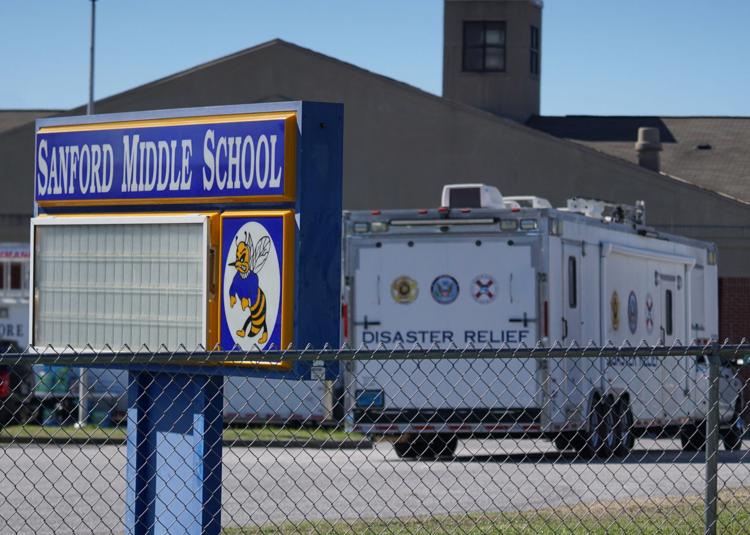 In the midst of taking care of their own, Lee County Schools employees have also spent the week serving those who are serving the community.
Alabama Power asked if it could use the Beauregard Elementary cafeteria to feed its employees, saying the company had the food and everything it needed but the facility itself.
"Within probably 10 minutes, they had 40 teachers out there serving the power company, without any asking," McCoy said. "It just happened."
Administrators from neighboring Auburn and Opelika school systems also have reached out to help their friends in the county.
"Educators always rise to the occasion to help each other," said Auburn City Schools Superintendent Karen DeLano. "My heart aches for the families in Lee County that have lost so much during the storms of this past weekend.
"ACS has offered assistance with human and material resources when they are needed," she added. "I understand that Dr. McCoy and his staff are in the assessment phase to determine their needs. We stand by ready to help our neighbors and are offering our prayers."
Opelika City Schools Superintendent Mark Neighbors said his system also has been in contact with McCoy and is ready to help in any way possible.
"Mac knows that all you've got to do is call me, and we'll do the best we can to meet that need," he said. "We're not here to get in their way. We're just here to help in whatever capacity we can do that."
One way the Bulldogs are helping is by offering the Opelika Performing Arts Center at Opelika High for a concert Tuesday night featuring bands from multiple Lee County schools.
"Bands from our Lee County Schools were preparing to perform for Alabama's State Music Performance Assessment this week at Opelika High School," reads a Wednesday post on Smiths Station High School's Facebook page. "Due to the tragic events this past Sunday, all our scheduled bands cancelled their performances."
Because students worked on their pieces for months, the county's band directors decided to give them a chance to perform and help the community with a benefit concert.
The concert is scheduled to begin at 6:30 p.m. Tuesday and will include performances from the Smiths Station Junior High Silver Band and Black Band, Beulah High Concert Band, Beauregard High Concert Band, and Smiths Station High Concert Band and Symphonic Band.
Admission is a $2 donation, with all proceeds going to those impacted by the storm.
"It's what you hope to see in young people," McCoy said. "When you see kids who have had great family upbringing – and you'd like to think as educators, we've had a little bit to do with that as well – and they come together, you go, 'Yeah. I got that one.'"
Students from schools across the area have been helping with relief efforts throughout the week, including collecting supplies and monetary donations for victims at high school athletic events.
Opelika City Schools is accepting donations of school supplies, backpacks and gift cards at all of its campuses until Thursday, according to OCS spokeswoman Becky Brown. The donations will then be distributed to Lee County students in need.
"There's competition for fun-sy stuff and things that ultimately don't really matter when you're looking," Neighbors said. "There's no Opelika, Smiths, Beauregard, Auburn – we're all in the kid business, the children business. All that other stuff means nothing.
"We're going to do what we need to do so those kids can go back to some normalcy."
The new normalcy for Lee County is one surrounded by rubble, as the community comes together to mourn its losses and utilize its strength to rebuild.
"To see things on TV, when hurricanes hit or other tragedies take place, and you see that, it's easy to say, 'It's not me,'" McCoy said. "But…to live it, to go through it, I'll never think that way again. Because it's somebody. It's somebody's family."