SMITHS STATION — James White Jr. sawed off chunks of the tree that had fallen and had crushed part of his home.
When he set his chainsaw down he had numerous helping hands to pull the limbs and debris away from the wreckage.
White is one of many who continue to recover from damage of a fatal EF-4 tornado that blew through Lee County on Sunday afternoon, working along with an untold number of fellow residents, neighbors and volunteers helping in the cleanup effort.
"It's really nice and it's good to know that your neighbors are there for you," White said Monday.  "Without their help I don't know what I'd do."
Lee County Sheriff Jay Jones said the county has been overwhelmed with donations, volunteers and support for those affected across the area.
Jones spoke Monday afternoon as the recovery efforts continue, like in Smiths Station.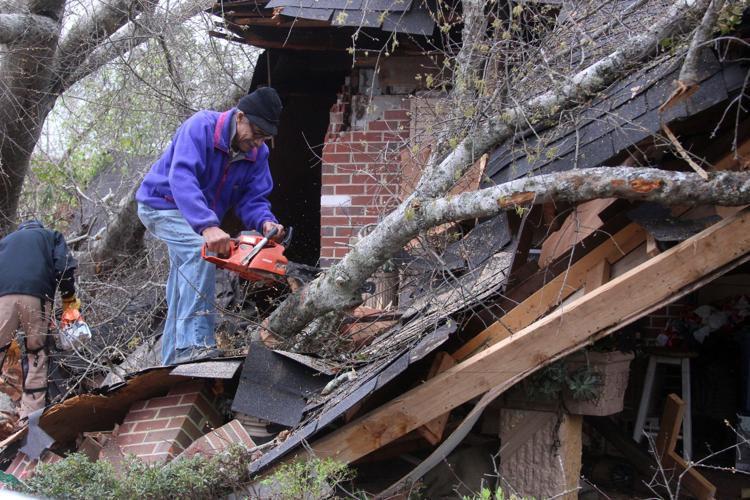 White has lived in Smiths Station his whole life and continues to feel the support of his community as he pieces back his life for the second time in less than two years.
"My house caught on fire about a year and a half ago and it was a total loss," he said looking over the damage. "I moved over here after my mama passed and now this right here happened."
White was in his home during the tornado. He recalls hearing the tree fall on top of the house, leaving him unable to walk out the front door.  
"I went out the back door and went around and all this ripped up with the tree trunk, the gas tank went over there, tore the front porch off and the carports," White said looking at his home.
"But God is good. I'm just thankful that I'm here to be able to talk about it."
'It's really unbelievable'
The damage extended past White's home over toward an elementary school where earlier Monday, Smiths Station varsity football coach Mike Glisson found himself in awe of the damage.
"It's a lot worse than I thought," he said. "It's really unbelievable when you see it first hand."
Despite the significant damage, Smiths Station had no casualties. However, the death count sits at 23 in Lee County and could still rise, according to officials.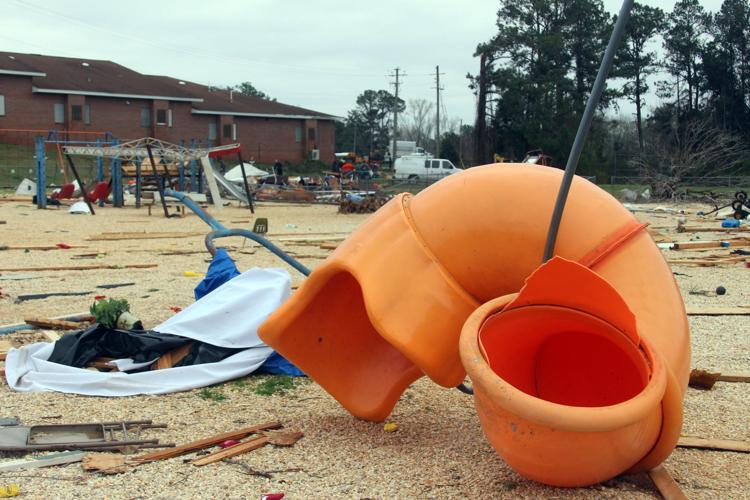 Glisson was one of several volunteers looking over what used to be a playground of West Smiths Station Elementary.
What they saw on Monday morning was sliding boards twisted around poles and basketball hoops ripped from the ground bent diagonally, as they started to pick up the pieces.
As Glisson spoke, Michael Perkinson from Spire, a gas company from Phenix City, moved debris near the playground in a backhoe, volunteering his time.
"Lee County's Smith Station and Beauregard area are really proud communities with a lot of people who care about each other and they want to help each other," Glisson said as he helped clean up. "There's people everywhere in these communities that need help."
Across the schoolyard, a mother and her children could be seen walking down a road full of devastation trying to help provide relief in any form they could.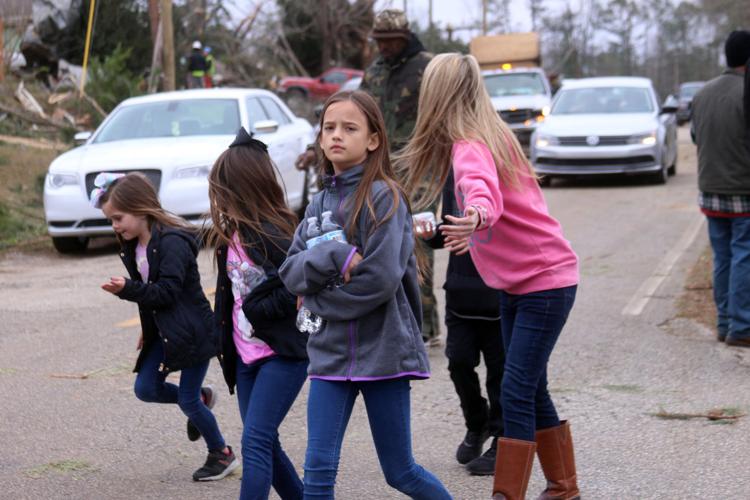 "My kids and I decided that we would go gather up a few things and help this community," said Ashley Clark, a 2009 Smiths Station High School graduate.
Clark and her four children wandered the street across from the elementary school that Clark knew well with arms full of water bottles.
"It's devastating to see that these are roads that I've traveled many, many years," she said as her voice began to shake. "This was my old primary school and it's just devastating to see a community just this ruined by such tragedy."
Clark said she feels that she is not the only one looking to help community members, and that those who were affected by the storm need all the help they can get.
 "I just feel as though if anyone can get out and help, do so," Clark said. "These families need it now more than ever."