The air conditioning is a Lee County resident's best friend as temperatures soar to dangerous heights.
Lee County is under a heat advisory until Tuesday evening due to high temperatures and humidity in the area, according to the National Weather Service Birmingham. The Lee County area is expected to have temperatures reach the mid-90s through Tuesday. However, the real issue is what else is in the air.
"The problem is there's the humidity that's in place," said Gary Goggins, a meteorologist for the National Weather Service Birmingham. "That's going to cause the heat index to rise near 105."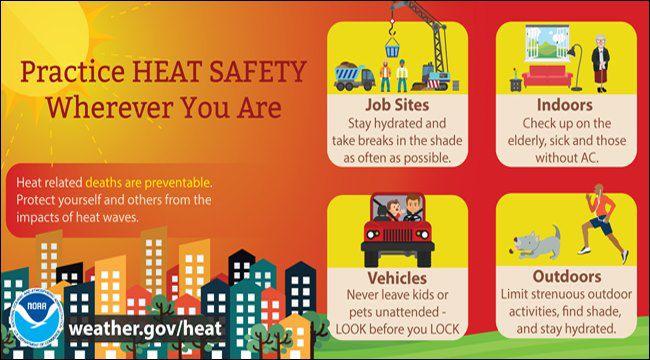 For a heat advisory to be in place, temperatures must reach unsafe levels.
"A heat advisory means you're starting to get into that dangerous category because the body really doesn't have a way to cool itself from evaporation because of the amount of humidity that's in the air as well," Goggins said.
For a heat advisory to be issued in central Alabama, heat indexes must reach 105 degrees, something that will occur through Tuesday, Goggins added. The advisory is also a warning to residents who may be spending part of their day outdoors.
"It's important for folks to be aware because if you're doing anything outside you need to take precautions to protect yourself from heat-related illnesses such as heat exhaustion or heat stroke," Goggins said.
Goggins suggests that residents do their outdoor activities in the early morning hours or after the sun sets to avoid the hottest times of the day.
Avoiding heat-related illness
Due to the excessive heat, Lee County residents are more prone to heat-related illnesses. It is important to know the warning signs of heat-related illnesses, especially heat stroke because it can be deadly.
"Heatstroke is the most serious heat-related illness," the Alabama Department of Public Health said in a July news release. "It occurs when the body becomes unable to control its temperature."
Symptoms of heatstroke provided by the department include the following:
» Body temperature above 103-degrees.
Despite the increased risk, there are ways to prevent heat-related illnesses.
"It's important for them to have somewhere to go to keep themselves cool or some way to keep themselves cool," Goggins said. "The best thing to always make sure people follow is to take frequent breaks (and) drink plenty of fluids. That usually prevents a lot of those illnesses out there."
Relief from the heat won't come until Wednesday, when a cold front moves into the area.
"We have a cold front that will be coming from the north that's going to be moving through Alabama," Goggins said. "We do have a likely chance of showers and thunderstorms in the Auburn and Opelika area during the day Wednesday."
The cold front also is expected to bring more seasonable temperatures to the area.
"Highs will be getting back down to around 90 degrees for Wednesday and Thursday, and humidity will be a little bit lower as well," Goggins said. "So it won't feel quite bad outside."