As a firefighter with the Opelika Fire Department, Phillip "Fry" Bell has dedicated his life to answering the call for help.
Sunday afternoon, he was on duty when he received a call he says he will never forget.
Bell's fiancée, Chance Norton, was huddled in the hallway of the couple's home on Lee Road 165 in Salem, and she called to tell him the roof was coming off the house.
"I was sitting there talking to him, telling him he needed to come home, that I was starting to see sunlight coming in and I didn't know what was around me, because all this stuff was on me and I didn't know what it was," Norton said. "But it was insulation."
Bell told his co-workers at the fire station that the monster storm was ripping through his house he had to go home to be with his fiancée.
He arrived home before the second storm hit, and he and Norton ran up the hill to his parents' house to ride it out with the rest of his family.
They emerged uninjured, but the EF-4 tornado ripped the roof and some walls from Bell's residence, leaving items strewn about the house.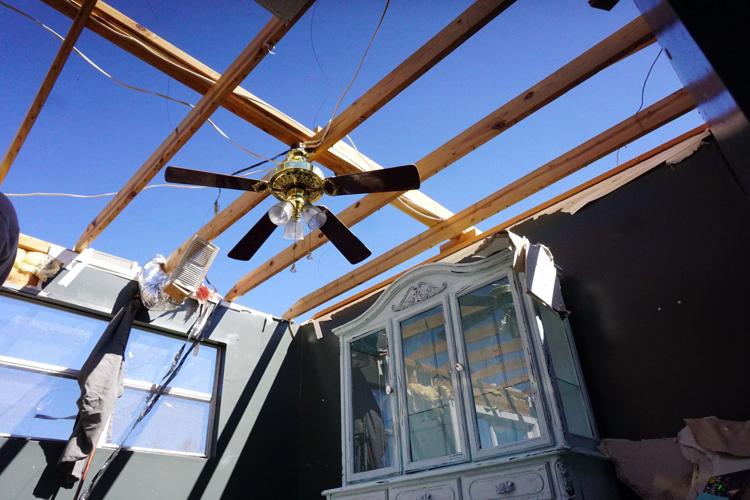 "I've got a convertible. It turned my house into a convertible," Bell laughed as he gave the Opelika-Auburn News a tour of the home Wednesday. "I'm trying to make light of it, because I guess that's just the best way to handle it.
"My granddad came in here to check everything out, and I said, 'You know, I just cut the grass two days ago, and this happens,'" he added.
The couple is no stranger to adversity – Bell has defeated cancer twice and Norton once survived a house fire – and have a plan in motion to build a new home.
"When I'm not at the firehouse, I work for a building contractor, building houses," Bell said. "Now, I get to build one the way I want it."
In the meantime, Bell and Norton are staying in a hotel and are in the process of moving into a mobile home on Norton's family's property.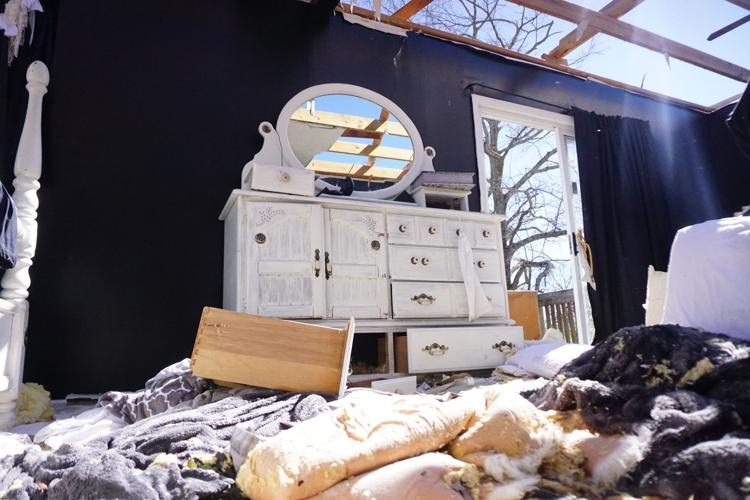 Norton was asleep Sunday afternoon, resting for her night shift as an East Alabama Medical Center nurse, when the first storm barreled into Lee County. She was awakened by the sound of thunder, and got up to let her dogs inside.
She initially thought she would try to go back to sleep, until a distinctive sound told her this was not simply a thunderstorm.
"It kind of does sound like a train, like people say it does," Norton said of the tornado. "So I was like, 'I'd better get in the hallway.'"
Norton grabbed the dogs, crouched down in the center of the house and called Bell.
The wind made the interior doors slam as it began tearing stripping the roof from the house.
"I'm at the firehouse, listening to weather reports, but I don't know what it's looking like at my house," Bell said. So he asked her to look around and tell him what she could see.
"I finally told her, 'You need to tell me something you can see right now. I need to know exactly what's going on. What am I about to get into?'" he recalled. "We had a Chinese beta fish in a tank at the end of the hallway. She said, 'The fish just got sucked toward the front door.'"
The wind blew Bell's Jeep Wrangler all over the road as he raced home to Norton. His chief at the fire station called to warn him that a second storm was headed in that direction and Opelika was readying to provide mutual aid.
"When I got about an eighth of a mile from the house is when a lot of heavy damage was sustained down the road," Bell said. "There were power lines and trees in the road, and there were a few families already standing outside."
Bell asked the neighbors outside if they were unharmed, and urged them to seek shelter ahead of the second storm.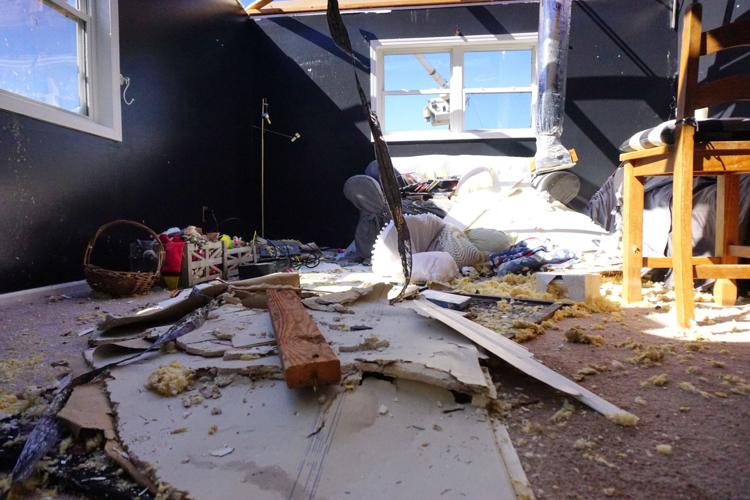 'Never felt more helpless'
After the family emerged from Bell's parents' home and walked down the hill to his home, Norton was recounting her side of the story when Bell noticed something on the floor.
"When I looked down, I was like, 'Man, that's the fish,'" Bell said. "I grabbed a glass out of the cabinet that was still there, went outside and dipped it in a bucket that was full of water, came inside and put the fish in…he ended up living for like, four more hours, swimming around."
Initially, Bell declined offers of aid, but said he decided to accept assistance due to his desire to provide for Norton. Neighbors, firefighters from Opelika and fire departments as far away as the Birmingham area have gone to Bell's house to help one of their own rebuild.
"You spend your whole career trying to be very helpful for people. And then to get that phone call, all the life got sucked out of me. I said, 'I know what I have to do right now, but I'm not close to it.' I've never felt more helpless," Bell recalled. "But it ended up all working out."