A possible hurricane is brewing in the Gulf of Mexico; however, Lee County residents won't see much of an impact from the storm, forecasters say.
The National Hurricane Center released its first storm track Wednesday, indicating the potential hurricane making landfall near Louisiana and Texas.
Despite the westward track, rain isn't out of the equation for Alabama.
"We're still going to be in that high, unstable, hot summertime environment," Mary Keiser, a meteorologist for the National Weather Service Birmingham, said. "We're still going to have rain chances every day."
There is a 60 percent chance of rain Thursday, a 70 percent chance of rain Friday, a 60 percent chance of rain Saturday and a 30 percent chance of rain Sunday for the area, according to the National Weather Service's Wednesday afternoon forecast.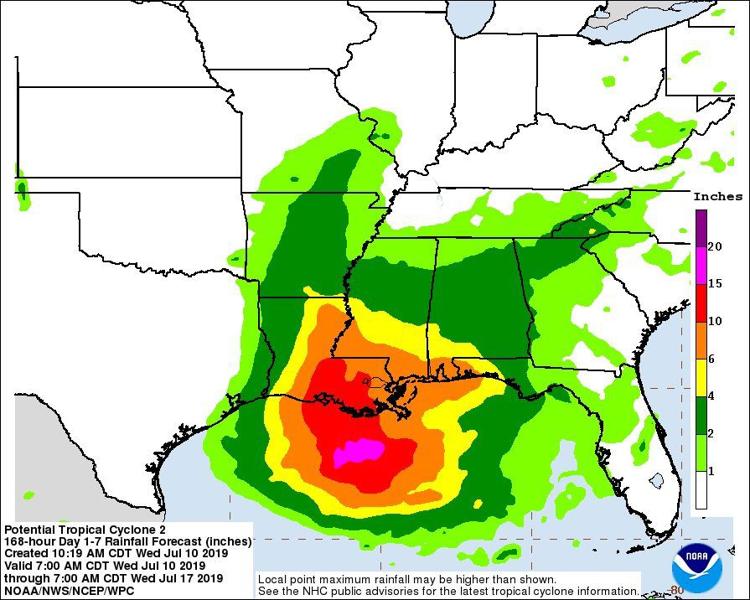 Based on the current storm track, Keiser feels there will be little impact in the area from the storm.
"If the track stays as it is, even if it veers a little to the east, you'll have minimal impacts due to the tropical system," she said. "We're not going to have any tropical storm or tropical winds or the main brunt of the storm since that is going to be west of the state."
The National Weather Service is closely monitoring the storm in case it intensifies more than expected before landfall or if new bands of rain from the storm begin to stretch into the area.
"Sometimes, every once and a while, you have isolated severe bands from these systems, depending on how big they get, that can extend far removed from it," Keiser said. "We'll obviously be watching for that but we don't expect any major impacts at this time, especially for Lee County."
A tropical cyclone is expected for form by Thursday, making it Tropical Cyclone Two, according to the National Hurricane Center.
BEACHGOERS: With the likelihood of a tropical cyclone developing in the northern Gulf tomorrow, there will be a HIGH rip current risk along the AL/NW FL coast thru the weekend! #alwx https://t.co/sLwrMbNgLt

— NWS Birmingham (@NWSBirmingham) July 10, 2019
If a tropical cyclone develops, there will be a high rip current risk along the Alabama and Northwest Florida coast throughout the weekend, according to the National Weather Service Birmingham.
Due to favorable conditions, the storm could strengthen to a hurricane as it approaches the central Gulf Coast by the weekend, the National Hurricane Center said.
If the storm strengthens to a tropical storm or hurricane it would be named Barry.
The current track for the storm anticipates landfall occurring between 7 a.m. Saturday and 7 a.m. Sunday. The storm is indicated as a hurricane at the time of landfall based on the current projection map.
Despite hurricane status, the storm is not expected to be a major hurricane.
"It's going above hurricane status before landfall because it's above 74 mph," Keiser said. "They don't have it going to a major hurricane, which would be above 110 mph."