Susanne Polk's eyes began to well with tears Wednesday afternoon as she looked over the damage on Lee Road 38 that was caused by a fatal EF-4 tornado.
What used to be a community of friends and neighbors looks like a battlefield of debris and is full of heartache.
"It hurts my heart," said Polk. "We lost a lot of people, a lot of friends. It's pretty rough. The neighborhood won't ever be the same again."
Polk is a resident of the area of Beauregard that was hit hardest on Sunday by the tornado, which killed 23 people.
However, Polk wasn't at her residence on Sunday. She was visiting her husband, who was in the hospital, and left the house nearly 15 minutes before the storm ripped through.
Polk is a part of the Beauregard Fire Department and aided in the search and rescue efforts. She didn't know what all had happened until she met with the chief.
"I didn't even know we had lost everything yet," she said.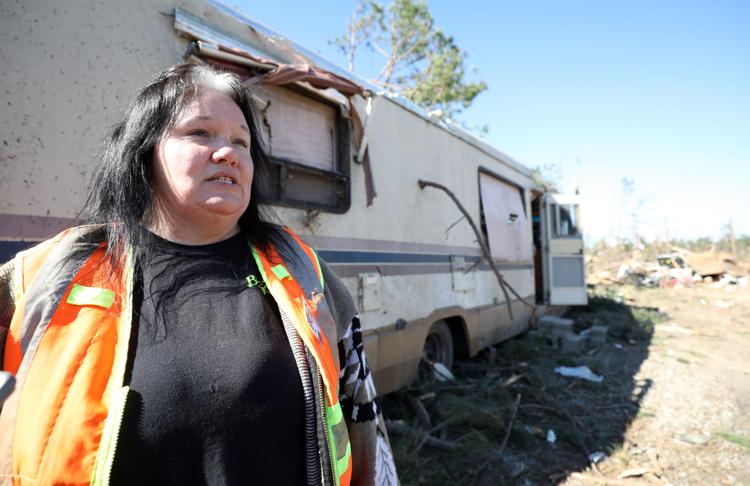 Polk was one of many residents in Beauregard who lost everything, and is beginning to pick up the pieces and put her trust in her faith.
"Well right now we're just trying to collect what we can and then we'll clean it up and start over," she said. "I leave it in God's hands. He's always been there for me no matter what."
The storm scattered multiple items from Polk's and her neighbors' residences throughout the area impacted hardest.
"My daughter found one of my wallets or something that had a bunch of pictures two houses down," she said. "We're finding things that belong to other people."
Polk's neighbors are also looking for missing items, either their own or those of loved ones who are since deceased.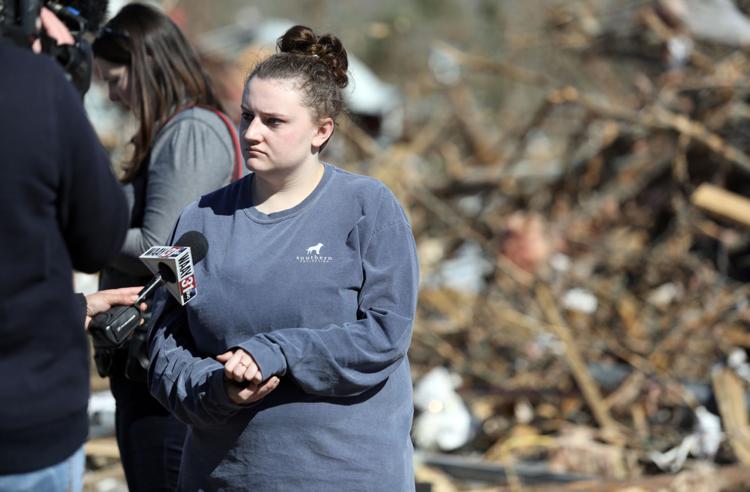 Next door to Polk, Brooke Waldrop is searching for a specific item that belonged to her stepfather, Marshall Lynn Grimes.
"We're looking for his motorcycle vest," she said Wednesday afternoon on Lee Road 38.
"We've been looking for it for about two days… We want to put it in a shadow box and we actually, we managed to find my little sister's vest and jacket, and my brother plans on fixing it up for her and taking it to her. It would mean the world to all of us just to be able to find it."
Grimes was in his home at the time of the tornado along with his fiancée Shelia Creech, his daughter and his daughter's best friend, Taylor Thornton.
His daughter was the sole survivor in the residence.
"It's heartbreaking, but the whole family is trying to be strong for her," Waldrop said in response to how the family is supporting Grimes' daughter.
"I know all these families lost a lot, but for her to be the sole survivor of this one house, it's going to be hard for her."
Grimes' daughter broke her femur, tibia, left ankle and has swelling in her right eye. She remains in the hospital, according to Waldrop.
The family has already recovered Grimes' motorcycle, a possession that was very special to him.
"He loved his bike and we're hoping that we'll be able to fix it up as much as we can," said Waldrop.
Grimes will be one of the first tornado victims to be laid to rest, and Waldrop hopes his funeral will be special.
"We're asking for a motorcycle procession to lead him (Grimes) to Garden Hill Cemetery," Waldrop said. "Words cannot express how much this man loved God and his motorcycles."
The funeral service will be held at 2 p.m. today at Cornerstone United Methodist Church, 2123 Hamilton Road, in Auburn.
As the funerals begin, the recovery will continue for Grimes' neighbor Polk, who will work hand-in-hand with the rest of the community.
"It's the most devastating thing that's ever happened to us, and we have pulled together like we're brothers and sisters," Polk said. "We're Beauregard strong."