Megan Robertson surveyed the structure that soon will be her new home.
When deadly tornadoes that took the life of 23 people in Lee County also took Robertson's home, she and her husband were left homeless.
Though they've been staying with her aunt, they haven't had a space to call their own since March – until now.
'2019 Millard Fuller Legacy Build: Beauregard, Alabama' began Monday at 7:30 a.m. and will conclude Friday with the dedications of 11 new homes.
These homes are sponsored by Fuller Center International, Church of the Highlands, Episcopal Churches, Hallmark Channel, Cornerstone Foundation, Rotary District 6860 and Faith Community Beauregard.
Robertson's, at 124 Lee Road 721,  will be one of these, sponsored by Faith Community-Beauregard.
Monday morning, standing in a pink T-shirt with sunglasses on, she waited for the afternoon work to begin.
"It's really been a blessing, it's amazing how this community has come together and just – not really even being asked – just coming and doing, it's just amazing," Robertson said.
She and her husband have been helping to build their home. During the tornados, they were injured and Robertson's husband has been out of work.
Having this work done for a new home will help them land on their feet.
"Compared to other communities, everybody has pitched in and done what they could," Robertson said. "It's the love of Christ. It's been amazing seeing all the cleanup, all the help, all the rebuild. It's not like any other community."
This build is different than many of the other builds that Bryce Kujat has worked on. He's participated in builds every year with the Fuller Center.
This year he is helping as a house captain for 124 Lee Road 72, Robertson's home.
Because of the damage that the tornados caused, almost seven months ago, however, this build is different. It is more rushed, less planned out, but the need is greater, he said.
"We're just grateful for the opportunity to be able to bless people who lost everything during the tornado," said Dennis Harris, who was building at 307 Lee Road 38, sponsored by Church of the Highlands. "And to be able to help them step back into a home that they may not be able to get back in on their own without having to go into a deep debt, and so most these homes will be donated free."
When Miss California United States, Sharelle Smith, heard about what had happened in Lee County and how many volunteers were needed, 450, to make this week happen, she hopped on a plane to Alabama.
She brought friends and volunteers with her, including her mom and sister.
"There are a bunch of families in need out here and when I heard about how many volunteers they needed and what happened, how many people died, it really broke my heart," Smith said. "And I wanted to do whatever I could, so right now we have a ton of people who came together from all over the country, and outside of the country to rebuild a family a home."
Some of the volunteers came as far as Haiti, England and Chili, or from states such as Wisconsin and California.
One of the house captains for 1030 Lee Road 39, Barry Stuck, is from Pennsylvania. He said that he and his wife have been working on these house builds with the Fuller Center for nine or 10 years. This particular house he is helping with is sponsored by Hallmark.
On Friday night, he and his wife stayed with good friends in Lee County. They drove them around to some of the sites they had helped build on previously and they were able to see how the community has changed and grown.
Many of the people that are getting together to work on these houses have never met before and are from different parts of the country. Kujat said that though he had never met the others working on this house, they would leave with a sense of community.
"Houses bring stability to families and stable families bring stability to communities and that brings stability to the entire country," Kujat said. "So housing is probably one of the most important things a community can provide for individuals in that community."
The tornados took everything from some people – their house, belongings and even family members.
Michael Dilworth is serving as the house captain on a home located at 319 Lee Road 38, which is sponsored by Church of the Highlands.
"I think Highlands has got a heart to fill any hole that's needed, serve man and glorify God in doing it," Dilworth said.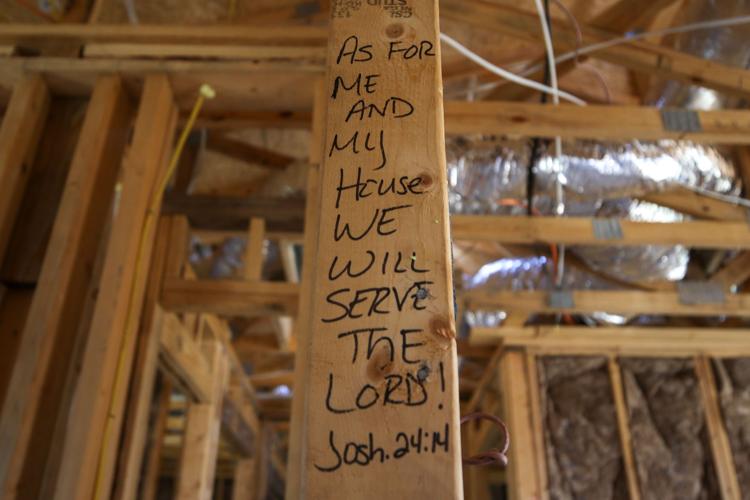 The Millard Fuller Legacy Build is giving 11 families a second chance. Millard Fuller, an Auburn grad, and his wife Linda, founded the Fuller Center in 2005. Though Millard passed away in 2009, Linda continues the work of the center, which now spans across the country.
Smith was able to recruit people using social media, Church of the Highlands put a call out to its church body and others helped spread the word to hopefully bring the needed 450 volunteers in to help. More volunteers are welcomed this week.
"If somebody else doesn't step up and help, nobody will," Dilworth said. "That's what it takes to rebuild communities and get people's lives back on track."