Anticipating a grand opening before Auburn University's fall semester, Southeastern restaurant and bar will have amenities catering to college students but attractive to a growing population of young professionals.
"The initial goal was to move Quixotes here," Quixotes co-owner Jon Hyink said. "That's always been the goal for this project. We'll be (closing) Quixotes right as we are opening this restaurant."
As the population of young professionals became more prevalent in the city of Auburn, Quixotes co-owners Hyink and Chris Godbold wanted to evolve with the market socially and physically, building Southeastern to a space next to Pieology on Magnolia Avenue.
"It's time for us to move on from that building because of repair costs and other things," Quixotes general manager Dade Nunnally said of the Quixotes building. "We've all gotten older. I'm 37 now, and in my mind, I'm thinking, 'Where do I go if I have a 9 to 5 job?' There's not a really good answer."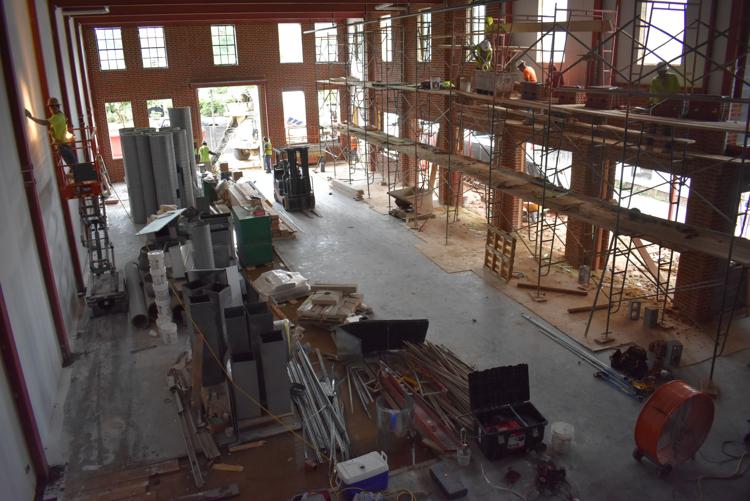 The Southeastern reserves the upstairs quarters for young professionals ages 21 and up. The space will be fitted with booths and a bar, offering a variety of beverages such as cocktails, wines and draft beers, Nunnally said.
"We'll have a cocktail menu, beers and wines by the glass," he said. "I think wine by the glass is something important. It's something we don't do now that my wife and all of her friends have been asking about over and over again. Our advantage is we'll be able to do enough volume to have a wine-by-the-glass program because we'll sell through it."
Nunnally said dining options will be elevated from the common courses expected at a bar.
"I don't want to call it bar food because it's better than that," he said. "We've got burgers, quesadillas, nachos and wings. Our burgers are really good. They're double-patty burgers, grilled on the flat top. We'll have barbecue bacon cheeseburgers, pimento cheeseburgers and blue buffalo burgers that have hot sauce, blue cheese and bacon on it. It's not your regular burgers."
The downstairs section of the Southeastern will provide amenities such as televisions, a pool table, large bar, stage and an outside space suitable for college-age patrons celebrating game days.
"For the bottom area here, our bread and butter is still college kids," Nunnally said. "We are right across from the Toomer's oaks, so we're still going to have plenty of football game days and college kids."
Nunnally said the downstairs section will maintain the college party atmosphere and the beverage volume accustomed to patrons who frequent Quixotes. The Southeastern also will have popular collegiate cuisine on its menu, including chicken fingers.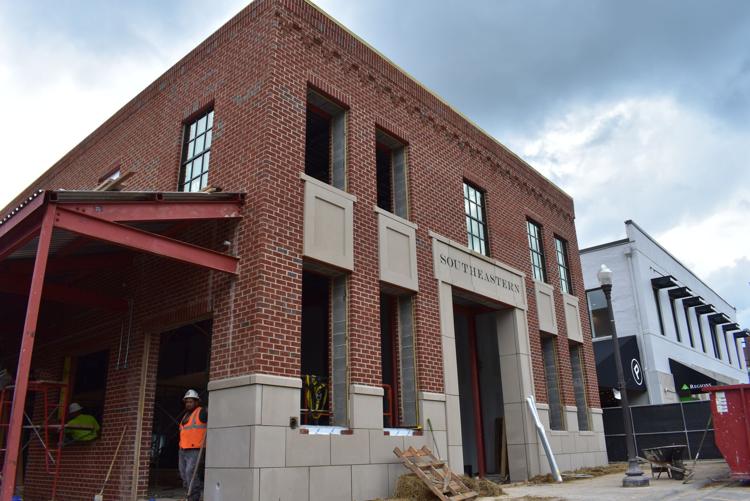 Re-investing in community
Hyink and Nunnally said they are pleased by WB Construction's progress to quickly develop the Southeastern and safely work with the flow of traffic on Magnolia Avenue.
"They have been doing a great job, and they have been awesome to work with on this project," Nunnally said. "Obviously, there's a lot going on, but they are not blocking traffic. Everything they do, they make sure everybody can get by and things get done to develop the building in a timely fashion."
Collaborating with the city, the Quixotes proprietors ensured the exterior aesthetic of the Southeastern reflects architectural details and brick color similar to downtown businesses and Auburn University.
"The property owners and the owners of this business wanted to work with the city to make sure we didn't build something that was out of place," Nunnally said. "If you look at the detail on the front, some of the detail on the brick is the same detail on the front of Pieology. We picked brick that came close to what's close to us here and the campus, so it fits."
As Nunnally and Hyink continue to hire 30 new employees and schedule soft openings to train the new recruits, they expressed gratitude for the support of the city and downtown merchants.
"I want to commend the city and downtown merchants," Hyink said. "It was one of the biggest reasons we decided to re-invest again. We started 15 years ago, re-investing in the community and cementing our place for the next 25 years."