A monument was unveiled Sunday at Pinetucket Cemetery in Auburn to commemorate the 30 Auburn University students, faculty and alumni who were killed during the Vietnam War.
Twenty-seven of these fallen were students and alumni. One was a ROTC faculty member. Two were soldiers killed in test flights while on U.S. soil.
"This is the greatest sacrifice that anyone can give for our country. And particularly for these times, we need to remember these men because they are truly what makes this country great," Auburn Heritage Association vice president Charles Hendrix said.
The monument was a collaborative effort between the Auburn Heritage Association and the Auburn Student Veteran's Association.
"Our efforts here today won't cure the pain or take away anything they've endured, but we hope it's a good starting point," said Kyle Venable, Marine gunny sergeant, veteran and Auburn Student Veteran's Association president.
Auburn High School AP U.S. history teacher Blake Busbin was the event's keynote speaker.
"While we often speak of the phrase 'never forget,' it is memorials such as these that dot our national landscape and provide us a place to go back to and reflect time and again," Busbin told the audience.
He continued by discussing how his students in 2014 began the Auburn High School Veterans Project, which has a mission of "honoring, preserving and educating" and have continued their efforts and various projects over the years.
Busbin concluded by reading the names of the 30 fallen.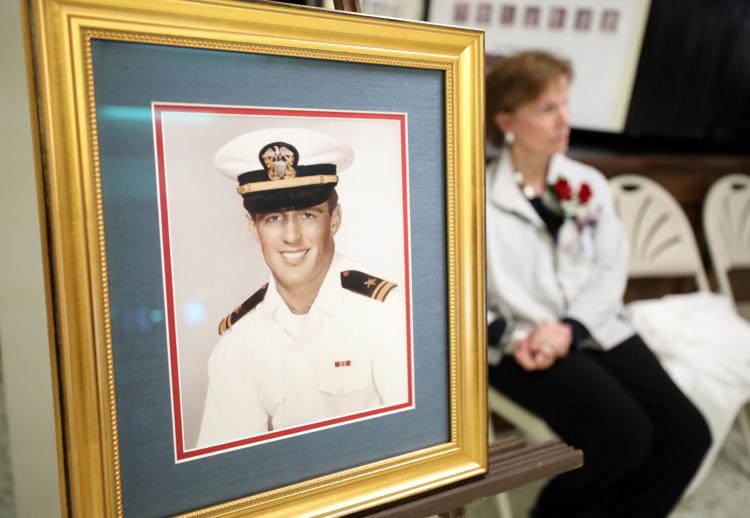 Prior to the monument unveiling and dedication, a portrait of Lt. James E. Greene Jr. was revealed at James E.  Greene Hall on Auburn University's College of Veterinary Medicine campus.
Greene Jr. was an Auburn graduate and the son of the College of Veterinary Medicine's fourth dean.
He was killed during the Vietnam War on May 11, 1969, Hendrix said.
Judy Greene Harris met Greene Jr. while attending school at Auburn. The couple later married.
She helped unveil the portrait Sunday afternoon.
"It warms my heart to see you and to know that you are working, helping to continue his memory," she said to the audience in attendance.
The portrait will be placed inside the vet school's library for display. ​