They waved American flags, and thin-blue-line flags.
They held up posters with words of thanks, words of sympathy, words of encouragement.
They held their hands over their hearts; they bowed their heads and prayed.
They stopped work, closed their shop doors, and stood with the patience of Job in the sweltering heat.
They shut their notebooks, their iPads, their laptops and left the classrooms to stand on the sidewalks together.
They shared shade trees, they shared the heat of standing in the sunlight.
What they did not do, however, was utter a sound.
Their silence was the cry heard loudest.
Friday afternoon, appropriately on the beginning of Memorial Day weekend, Auburn police officer William Buechner shared his "end of watch."
Buechner died the previous Sunday night, May 19, when he and three other Auburn officers responded to a domestic violence call, went to the front door from where the need for help originated, and as the door cracked open, gunfire rained down upon them.
Will Buechner had little chance. Two other officers were shot and injured. And a community soon became galvanized in a mighty wave of heartfelt emotions.
Auburn University honored Buechner, a proud alumnus who more than once wore his uniform while serving in protection of the school's campus and activities, by quickly agreeing to Auburn Mayor Ron Anders' request to allow the funeral to be conducted inside Auburn Arena.
It is the only funeral ever conducted in the arena.
Perhaps as many as 3,000 filled the seats inside; hundreds of them in first-responder uniform as peace officers, firefighters, paramedics and others from throughout the region attended to pay their respects.
Officers from Mississippi were there.
Officers from Georgia were there.
The New York Yankees sent a beautiful stand of flowers.
There was a clear signal sent to the rest of the world from this attendance, itself, that a first-responder brother willing to risk his life and make personal sacrifices for public service is never alone.
That message seemed reassuring to those many others in uniform, and to the families that support them.
But then the pastors conducting the funeral spoke, and to these fine people in uniform, and to the rest of the world, they carried an even stronger message.
You cannot do this job alone, he told the men and women wearing patches and shields.
You can't go through this kind of grief alone, said the Rev. George Mathison.
And no one can cheat the common denominator every single one of us share: death.
But, we can battle the fear and sorrow of death if we accept the fact that God is with us. As David shares in the 23rd Psalm, "I shall not fear…for thou art with me."
He is a God of love, Mathison reminded everyone in the audience:
"If God had a refrigerator, your picture would be on it."
Looking at the dozens of Auburn police officers filling the front rows, "you are strong," Mathison told them, "but you're not strong enough to walk through this valley alone…
"He did not make us to walk alone…but to dwell with Him."
Others spoke and shared words of meaningful praise and encouragement.
"Blessed are the peacemakers, for they are the children of God," Mayor Anders quoted.
Police Chief Paul Register said of officer Buechner, "his integrity was never questioned, not once."
Register acknowledged with appreciation the hundreds of officers and responders who came from other cities and communities, some of them hundreds of miles.
"The man you traveled to honor is worth every mile you traveled," he said.
He described Buechner as an officer who could and would respond to any type call, and "he could talk with anyone," Register said.
The officer loved his job, every part of it, the chief said, adding that during Buechner's 13 years on the Auburn police force, "he responded to over 34,000 calls."
Pastor Brandon Isbell encouraged the audience to live a life of happiness such as that he saw in officer Buechner.
"Make joy your legacy," he said, and in preparing for the day death on Earth comes, "don't miss Heaven."
Officer Bradley Henderson sang his friend's praises, citing his bravery and willingness to take even the toughest calls to action, and Henderson reminded the community that others on the force were also dedicated to its protection.
Live, be happy, he said, "because we have the watch."
The long parade of cars, trucks, motorcycles and fire trucks with flashing lights formed a miles-long funeral procession that filled Magnolia Avenue up along the side of the Auburn campus, into the heart of Auburn at Toomer's Corner, before turning toward the cemetery.
Hundreds lined the streets, and Toomer's Corner, where thousands and thousands of fans for decades have celebrated Auburn victories in cheer and joy – this time was a crowd scene of silence.
The quiet was contagious.
Even the children hushed.
It was eerie yet solemn to see so many gathered, at a place known so well for its loud cheer, to be so humbled in silent respect.
They waved American flags.
They held up hand-written signs of support.
They held hands over their hearts as they stood speechless.
Troy Turner is editor of the Opelika-Auburn News. He can be contacted at tturner@oanow.com and followed on Twitter @troyturnernews.
In Line of Duty: Auburn police officers shot
Auburn officer William Buechner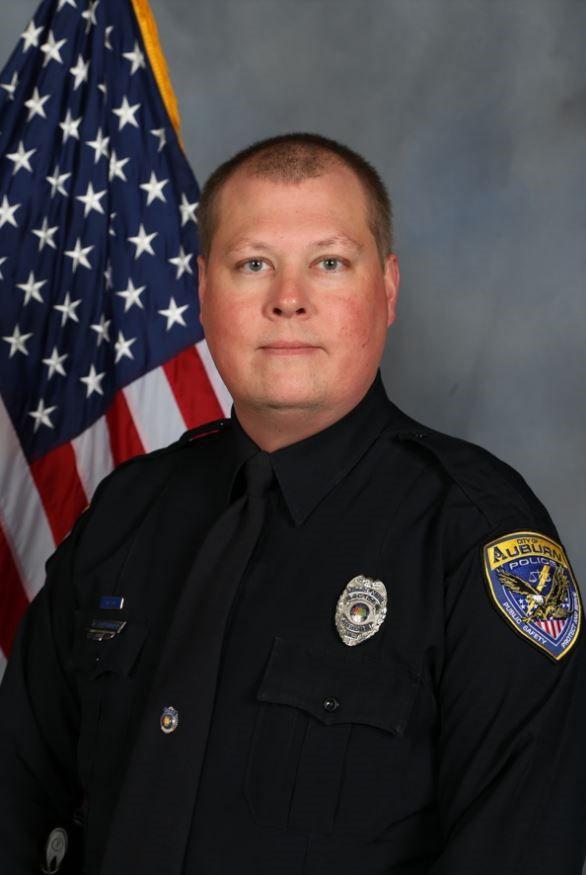 Auburn officer Evan Elliott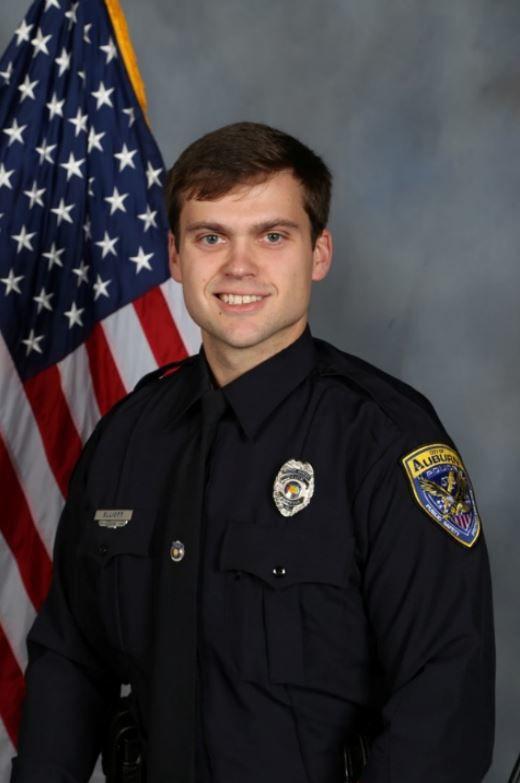 Auburn officer Webb Sistrunk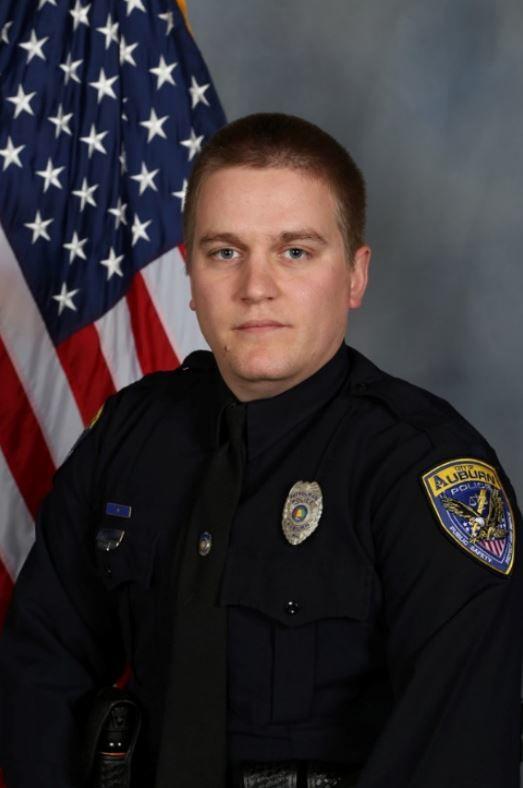 Grady Wayne Wilkes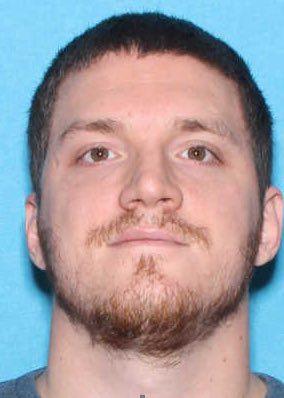 Grady Wayne Wilkes
Arrowhead Park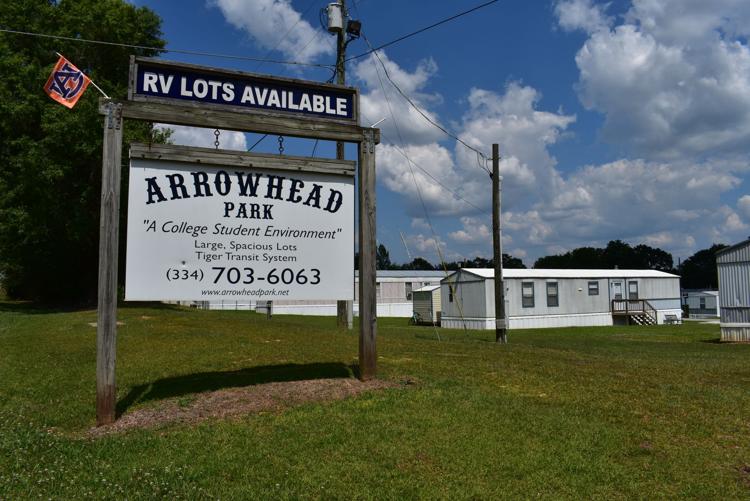 Watch now: Capital murder suspect Grady Wayne Wilkes makes his first court appearance May 21, 2019
Wilkes hearing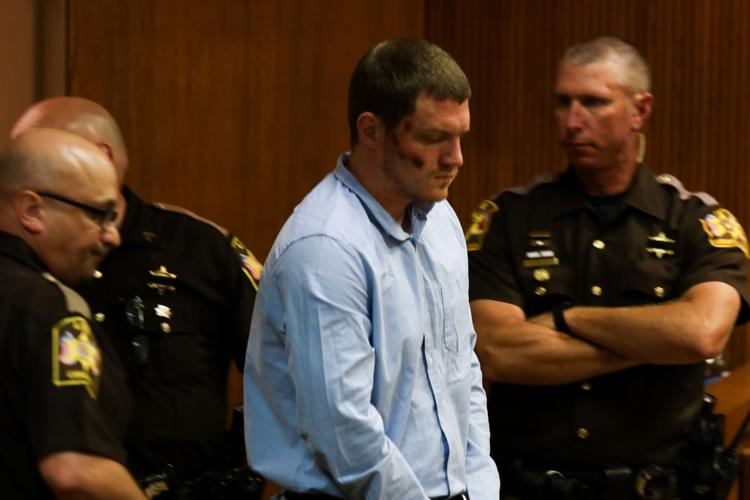 Wilkes hearing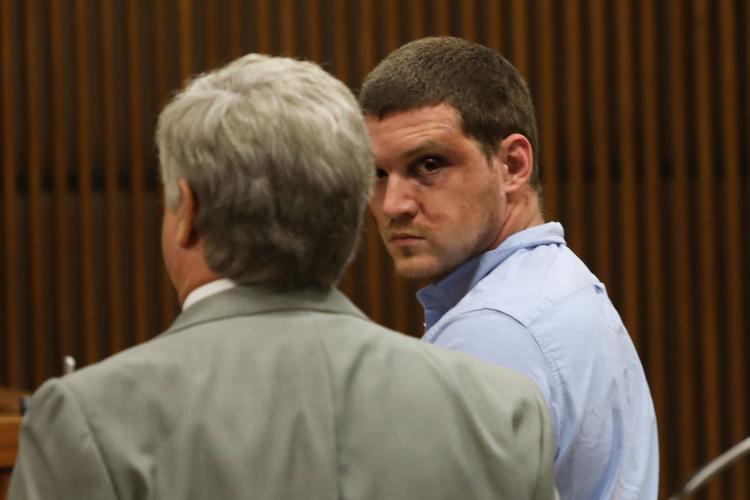 Auburn police officers were met immediately with gunfire, documents show; details reveal how events unfolded
Wearing body armor and armed with a rifle, Grady Wayne Wilkes answered the door to Auburn police officers responding to a domestic violence complaint late Sunday night and immediately began firing at them, according to an affidavit filed Monday.
Wilkes shot Auburn police officers William Buechner, Webb Sistrunk and Evan Elliott while another, fourth responding officer was not struck by gunfire, according to the affidavit given by state Detective Reginald Harkins.
Buechner was taken to East Alabama Medical Center, where he was pronounced deceased as a result of his wounds.
Wilkes, during his first appearance in a Lee County courtroom, formally was charged Tuesday with capital murder, three counts of attempted murder of law enforcement officers and second-degree domestic violence-strangulation.
Domestic violence charge,
military background
Wilkes' domestic violence charge stems from what started Sunday night's chain of events: a 911 call from a distressed female about a domestic disturbance.
The female victim told officers that Wilkes is her live-in boyfriend and father of her child and that he threatened to kill her as well as physically assaulted her, according to the affidavit.
"She advised that he had grabbed her by the wrist and also choked her. She fled the residence and met officers at another location inside the trailer park," the affidavit reads.
Lee County District Attorney Brandon Hughes said the female victim did not receive any medical treatment to his knowledge and that the couple's child was not present at the time of the incident.
Once officers arrived on the residence inside Arrowhead Park, they were met with gunfire from a military-trained individual.
Wilkes has served as an active member of the Alabama Army National Guard since December 2010. He is an infantry fire team leader and holds the rank of corporal, Guard spokesman Lt. Col. Tim Alexander said.
Wilkes has no record of having been deployed, Alexander added.
Hughes said the number of weapons used during the incident is "yet to be determined."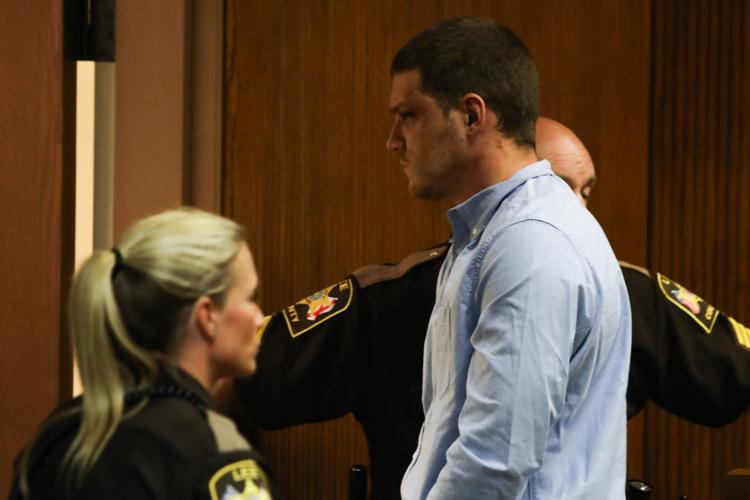 Ongoing investigation
The Alabama Law Enforcement Agency is the official agency conducting the investigation.
Investigators are hoping to answer the question of whether the Auburn officers were ambushed. Hughes believes they will have an answer "soon enough."
However, he said, the answer to that question is "probably not anything we can release."
Investigators are also working to retrieve body camera and in-car camera footage of the incident. Hughes plans on analyzing the footage but is unsure of what it will uncover.
"Exactly what all that showed, I don't know yet," he said.
Hughes said Wilkes has been cooperative with investigators but could not say if a confession has been given.
"One person's confession is another person's statement, so I'll just say he's been cooperating," he said.
Officer update
Buechner, who was fatally shot Sunday, is believed to be the first fatality in the Auburn Police Division, Hughes said.
"I don't believe it's ever happened," he said. "We had our law enforcement memorial last Friday and the only wreaths represented were from Lee County Sheriff's Office and Opelika Police Department."
Sistrunk is continuing to recover in a Columbus hospital. Hughes went to visit Sistrunk on Monday to help show support.
"He's in good spirits," Hughes said.
Elliott has been treated and released from the hospital.
Bond denied
Wilkes, the capital murder suspect in the death of Buechner, was denied bond Tuesday afternoon.
The capital murder charge does not have a bond available, Judge Christopher Hughes said to the defendant and his appointed attorney, William Whatley, during the hearing.
The purpose of Tuesday's hearing was to make sure the defendant knows what his charges are and what his bond is, Hughes said. He added that although he is formally charged, Wilkes is considered innocent until proven guilty.
"Mr. Wilkes is innocent as we stand here, innocent of each one of those charges and will remain innocent unless and until we can overcome that burden that's beyond a reasonable doubt and get 12 jurors to say that he's guilty beyond a reasonable doubt or he pleads guilty," Hughes said.
Next steps
As the investigation continues, Hughes and his office plan to prepare for anything in court.
"Investigators are doing a lot of work, it's going to slow down at some point because this is a long process but right now we're working hard, interviewing folks, getting records and we're going to be ready when the time comes," he said.
Wilkes verbally requested he would like a preliminary hearing, but he and his attorney must file a formal motion. Hughes believes the hearing could take place within the next 60 days.
Following the preliminary hearing, the next step is to send the case to a Lee County grand jury, which can take time, Hughes said.
"That is going to depend on when we get some of this forensics back," he said. "It could take a year to get a grand jury. I don't know."
A grand jury indictment would be needed for the case to move forward to trial. Hughes stated that he is unsure of when the case could go to trial, but believes it will be more than a year.
"Hopefully within two years, but I hesitate to say because it could certainly be quicker than that," he said. "It's just up to the court calendar, what other cases are ahead of it."
Watch now: Fallen Auburn Police Officer William Buechner's funeral services
Funeral service for officer William Buechner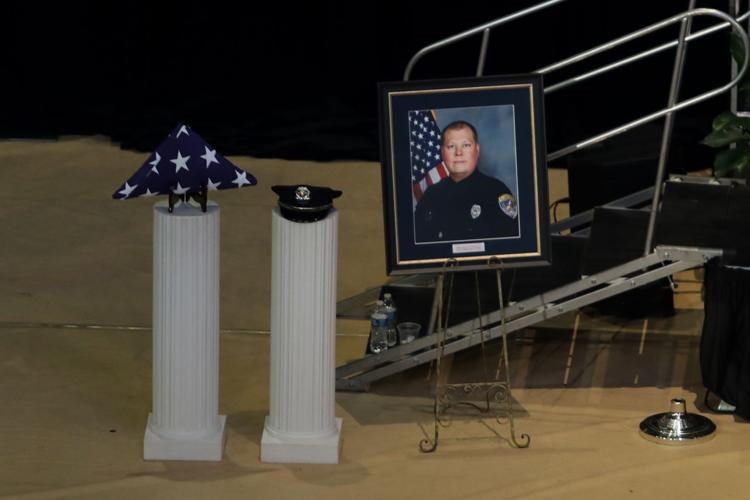 Funeral service for officer William Buechner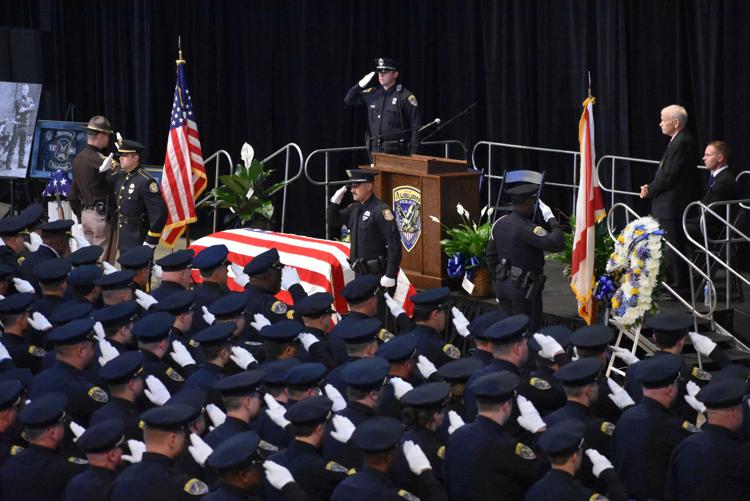 The ultimate sacrifice: Friends, colleagues share accolades for fallen officer William Buechner
As Auburn police officers placed an American flag over fallen Officer William Buechner's casket, Auburn Arena, packed with family, friends and police officers, grew silent.
"He is truly the incarnation and manifestation of the words of our Lord," Reverend George Mathison said. "'Greater love has no man than this that a man lay down his life for his friends.' Just as Will's wonderful Lord laid down his life for him, so brother Will laid down his life for us."
Buechner lost his life while responding to a domestic disturbance at the 3000 block of Wire Road Sunday evening , and the community came to honor the officer at his funeral Friday.
"Will was a blessing to all that knew him," Mathison said. "Every time I saw him, he had a big smile on his face and a twinkle in his eye. His life was characterized by sincere care and genuine love, and he genuinely loved his Lord, family, brothers and sisters in arms and the citizens of this community."
Mayor Ron Anders
Once the sorrowful wail of bagpipes finished "Amazing Grace," Auburn Mayor Ron Anders approached the stage and shared his gratitude for Buechner, his wife and extended family.
"'Bravery is not the absence of fear but action in the face of fear,'" Anders said. "I don't know if Will experienced fear that Sunday evening, but I do know he exhibited bravery. To Henry and McKenna (Buechner), you have a daddy that had an indelible career and rich legacy for a life. People will continue to replicate his journey for years to come. Simply put, you have a daddy that will never be forgotten."
After directly addressing Buechner's children, the mayor thanked the Auburn Police Division and other officers clad in various shades of uniform, representing Alabama, Georgia, Florida, Mississippi and other states.
"May the courage of this young man be one that forever motivates us to love and care for our neighbors, and may we never ever forget the sacrifices that are made on our behalf each and every day," Anders said. "Auburn will never be the same, but we will be better. We will be better because Will Buechner blessed us with his life."
Auburn Police Division
According to Auburn police Chief Paul Register, Buechner was offered work at other police divisions, but the officer chose Auburn because he loved it.
"To his family, he made this place better and everything he did," Register said. "William loved his family at home and law enforcement family. He loved everything about the job to the very last part of it. He loved the people, the things he did every day, what the job is and what the job meant to him. He loved Auburn."
Auburn police Officer Bradley Henderson echoed Register as the audience released intermittent sounds of sobbing, but his colleague revealed Buechner's propensity for humor, encouraging laughter.
"Will had a sense of humor that…," Henderson said, hesitating. "We'll call it unique. He loved to laugh. He was an artist, spreading laughter and joy. Some nights, I would get a text or Facebook message about two in the morning on a Tuesday, and I would say, 'Will, go to sleep.' That was the typical reaction followed by a whole lot of snickering and my wife's kicking me because I'm waking her up."
Motorcycle club
Receiving laughs for his anecdote, Henderson continued to reminisce about Buechner and his favorite pastime, riding with the Gunners Law Enforcement Motorcycle Club.
"He was a devoted husband and father," club member Dewayne Garner said, holding back tears. "I have been thinking about Henry a lot and all the events that he's going to miss (with his dad). It makes me sad, but we can never fill the void within Henry's life. I take some pride in knowing he lived an impactful life."
Ending his eulogy, Garner wanted to share the lyrics of the song "See you Again" by Wiz Khalifa.
"I hope it's fitting," Garner said. "It's lyrics from a song, 'How can we not talk about family when family's all that we got? Everything I went through, you were standing there by my side, and now you are going be with me for the last ride. It's been a long day without you, my friend, and I'll tell you all about it when I see you again. We've come a long way from where we began. Oh, I'll tell you all about it when I see you again.'"
Backing the blue: Auburn community lines up to support fallen officer
An eerie silence fell over Auburn's most storied corner and the surrounding downtown streets Friday afternoon.
Construction equipment sat untouched as workers removed their hard hats and stood at attention. The staff at Toomer's Drugs took a pause from making their famous lemonade even as temperatures in Auburn climbed into the 90s. Families dressed in blue held American flags and a UPS driver stood still on the sidewalk and removed his cap.
Members of the Lee County community lined the streets for a somber tribute to a fallen hero as Auburn police Officer William Buechner's funeral procession made its way from Auburn Arena to Town Creek Cemetery.
"I just felt it was important for the community to come show support for him and his family. I couldn't even imagine what his wife and children are going through," said Auburn resident Judy Prior. She held an American flag as she watched city of Auburn employees raise large American and "thin blue line" flags at the intersection of Gay Street and Samford Avenue.
"I know (with) my kids growing up here, they had contact with law enforcement in school…and I think they've come to see them as friends and support, someone that they can turn to."
Signs of support
Downtown businesses closed Friday afternoon so employees could stand along the procession route to honor Buechner, who was fatally shot Sunday night while responding to a domestic violence call.
Northcutt Realty's digital sign on Gay Street bore a photo of the 13-year veteran of the police force, along with the words "Stand for Officer Buechner."
"Patrolman Police: His life mattered," read a sign outside Ware Jewelers on College Street. "EOW 5.19.19 Auburn, AL."
The chalkboard sign outside J&M Bookstore simply quoted a line from the Auburn Creed: "A spirit that is not afraid."
Opelika resident Katherine Pinkard, who said she lives in the same neighborhood as Buechner, stood at the corner of Gay and Magnolia, holding her own poster board sign that read, "Forever in our hearts beloved Officer William Buechner." Next to her, Joshua Epie held a similar poster board sign that bore the words, "We will always love you Officer Buechner."
"There's a war against police officers and we want to put a stop to it," Pinkard said. "We want to show our support for the fallen officer. He was a good guy, from what I hear."
'We love them'
Dressed in blue, Auburn resident Maegan Keel and her family sat in lawn chairs along Gay Street about an hour before the procession left Auburn Arena.
"I came because I felt like it was really important for my children to see and to pay their respects to the police officer, and to show his family that we support them," Keel said.
A block away, Luann Chamberlin, her son Trey and daughter Shelby waved American flags as they waited for the procession to pass by. Law enforcement agencies from across the state were represented, from Orange Beach to Madison.
"My husband is in law enforcement, and we just feel that it's important to honor this family, to honor the officers who are going to be coming by and show this town and this community and this state how much we love them and how much we appreciate the job that they do," she said.
Hundreds line roadside as officer's funeral procession moves to cemetery
Heather Tolbert found her spot, carefully wrapping her "thin blue line" flag around a telephone pole by the cemetery Friday afternoon as her children started to play in the park, burning time in the sun.
They waited roadside by Town Creek Cemetery, as the dozens around them turned to hundreds, all arriving to honor fallen Auburn Police Division Officer William Buechner, and salute, in their own way, the procession passing by and into the cemetery to lay to rest the officer killed in the line of duty last Sunday.
Dozens waved American flags as the motorcade rumbled through. Others flew those "thin blue line" flags — the black and blue American flag used to honor the sacrifices made by law enforcement officers like Buechner.
"My children and I decided to come out today to support our local community," Tolbert said, in the shade in Salmon Park along Gay Street just outside the cemetery, and just before the procession moved there from the service at Auburn Arena.
A large crowd
Hundreds lined the street and hundreds of police motorcycles and cruisers from departments across the state rolled through in front of and behind the procession. Marked cars from as far west as Tuscaloosa and as far east as Columbus, Ga., drove through, flashing silent lights for about a half hour.
The line was so long the procession was still passing through strong when the 21-gun salute rang out into the air from the internment site and the ongoing service inside the cemetery.
"It's good to see the large amount of people that are out here," said Daniel Juarez, who works with the Opelika Fire Department. He and his family of six were there to salute the procession riding by. He said they attend the same church as the Buechners.
"They do work that a lot of people don't want to do. And now it's gotten that much more dangerous," he said of officers like Buechner. "We came out here to help support."
For Juarez, much like Tolbert across the street, Friday's trip to the curbside was important for the entire family.
"It's really just showing our support and teaching the kids how to support those that serve," Juarez said.
Showing support
Tolbert said she remembers when she was in the fifth grade and a teacher played the song "God Bless the U.S.A." by Lee Greenwood. It left an impression on her she hoped to see made in the children part of Friday's city-wide salute to Buechner.
"I remember getting goosebumps listening to that song," Tolbert said. Her three kids and a neighbor's child came along with her. "I think that you can instill that loyalty and emotional connection with service in a young age. It'll stick with people, even if they don't have family that's involved with it.
"I want my children to participate in it just as much as I want to participate in it," she said. "I think every family out here probably feels the same way."
Tolbert, from Salem, borrowed that flag from her neighbor and friend, who she said is an officer with the Columbus Police Department. She said her children participate in the Lee County Sheriff's Office's Junior Deputy camp every year.
"As a military wife, I know how important it is to have support for soldiers, and I think it transitions across all areas of community service," Tolbert said. "I feel like it's just as important to law enforcement families as it is to military families to have people show their support."
Friday, the Buechner family had the chance to see that support from families like those from across the area.
"Regardless of what the situation is, or whatever, you're always going to support them," Juarez said.
Auburn Police Officer Webb Sistrunk is reunited with his K-9
Officer Webb Sistrunk reunited with K-9 partner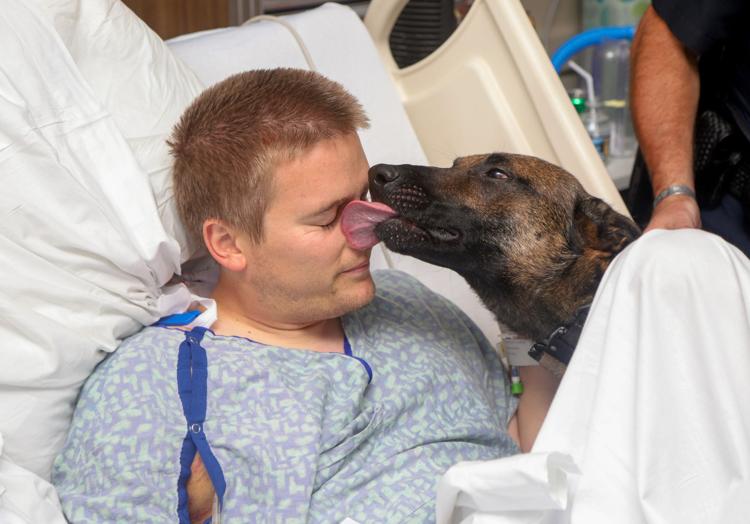 Wounded Auburn officers continue to recover at home
The hospitalized injured Auburn police officer who was shot on May 19 is beginning his recovery process at home.
Officer Webb Sistrunk was discharged from Piedmont Columbus Regional Medical Center on Friday afternoon, Auburn Assistant Chief of Police William Mathews said.
Sistrunk was shot in the line of duty May 19 along with Officer Evan Elliott, who was treated and released, and Officer William Buechner, who was fatally wounded.
Capital murder suspect Grady Wayne Wilkes is in jail facing numerous charges for the shootings.
Sistrunk was shot in the right shoulder and sustained a critical injury as a result, Piedmont Columbus Hospital said.
Mathews added that Sistrunk or his family communicate with the Auburn Police Division daily as he improves.
Sistrunk hopes to begin physical therapy in the near future, said Mathews.
Elliott, who was treated and released on May 20 from East Alabama Medical Center, continues to recover from his injury at home, Mathews said.
'Hugs from every mailbox': Collinwood neighbors support recovering Auburn police officer
Neighbors of Collinwood Street and Collinwood Circle, a small community nestled in Opelika's historic district, have rallied together to support one of their own, Auburn police officer Webb Sistrunk.
Collinwood residents recently adorned their mailboxes with blue and black ribbons to honor Sistrunk, who is recovering at home from a gunshot wound he received while responding to a domestic disturbance on May 19.
"We are overwhelmed," said Mark Sistrunk, the father of the injured officer. "I didn't know it for two days because I was in the house several days. I went out early to work, and I noticed one or two out there. It was dark when I left. I didn't realize. The morning I came back, and the whole neighborhood flooded with them. It made you want to cry."
Black and blue
According to Mark Sistrunk, Trinity United Methodist Church, Trinity Presbyterian Church and Trinity Presbyterian School and neighbors have brought food every day to provide physical, spiritual and psychological support for his son.
"He's improving every day," Mark Sistrunk said. "My wife has got him out walking, and he's doing great. He's got his mom and girlfriend helping him. I've got hundreds of calls of people trying to do stuff for us. We've got lunch planned from somebody who has been bringing us meals. We've had two weeks in a row of people bringing us food every day, and people that are not signed up to bring food, bring things anyway."
Even in the face of adversity, Mark Sistrunk said he has no interest in moving to another city, observing the kindness of Collinwood neighbors actively serving his injured son.
"It hits you in your heart," he said. "It makes you feel good that people care enough about you to do it. I wouldn't live anywhere else in Auburn or Opelika."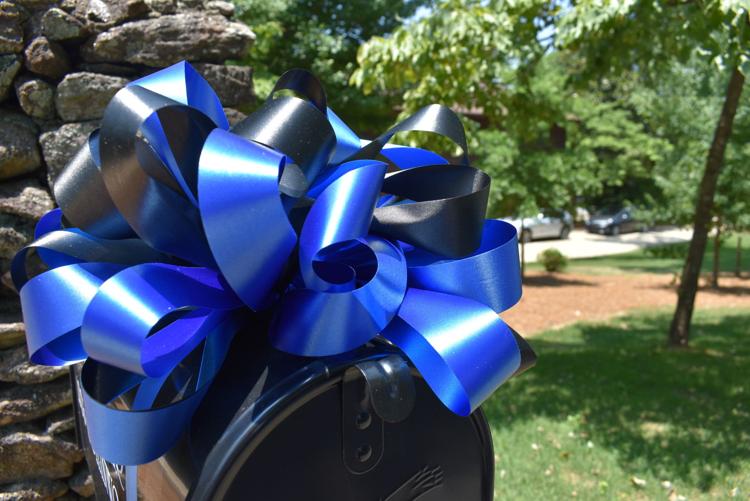 Hugs from Collinwood
After receiving a plan from their fellow neighbors, Collinwood Circle residents Robert and Brenda Boteler attached a blue and black ribbon on top of their mailbox, honoring the fallen, injured and serving officers.
"When one of our own in the neighborhood was injured, we needed a visual for us to come together and a kind of an atmosphere in Collinwood," Brenda Boteler said. "We are a close-knit group. We might not know each other's names all the time, but we know the camaraderie, protection and oversight that we have for each other."
Demonstrating the care and closeness of the Collinwood neighborhood, the Botelers recalled one day when they joined Collinwood residents in the search to find Webb Sistrunk's dog Lucy. She was possibly swept away by the torrential rainfall, and after searching the entire neighborhood and adjacent park, the Boteler family dog, Molly, found Lucy.
"Webb grew up with this puppy," Belinda Boteler said. "When we had a big rain, word went out that Lucy was missing, so Molly was pulling Bob on the leash toward some brush (close to our house). Little Lucy was caught in the brush. Webb just got off work, and he came by. He was like, 'I'm coming, Lucy.' Molly became the little hero of the neighborhood."
The community respects the service of the Opelika Police Department and the Auburn Police Division, and Collinwood residents want to convey their gratitude for the sacrifices made by Sistrunk and the other two officers who were shot while responding to the May 19 call: Officer Evan Elliott, who was treated and released from East Alabama Medical Center, and Officer William Buechner, whose injuries were fatal.
"I think we have a wonderful police department here in Opelika and Auburn as well," Belinda Boteler said. (The bows) are hugs from every mailbox. It's kind of a hug from every family. You can inundate them with cards, call them and go by, but anyone that drives by to see the black and blue, it shows we love our law enforcement."
9/11 organization raises money to pay mortgage for fallen Auburn officer's family
An outpouring of support and donations continue to flow for the family of the Auburn police officer who was killed in the line of duty last month.
The most recent donation comes from a 9/11 organization that announced Tuesday it began a campaign to pay off the mortgage on the family home of Officer William Buechner.
Buechner was shot and killed in the line of duty May 19 while responding to a domestic dispute call. Two other Auburn police officers, Evan Elliott and Webb Sistrunk, were injured during the incident.
Capital murder suspect Grady Wayne Wilkes is in jail, facing numerous charges for the shooting.
Tunnel to Towers
The Stephen Siller Tunnel to Towers Foundation, which was established in memory of a fallen 9/11 firefighter, started the fundraiser to help relieve some of the burdens on the Buechner family.
"It's just one less thing they have to worry about," Trevor Tamsen, assistant manager of media relations for the foundation, said about the mortgage fundraiser.
Buechner left behind his wife Sara and two children, McKenna and Henry. When Buechner's wife was told about the fundraiser, she was grateful for the generosity.
"During this terrible time in my life, it is an unbelievable relief to have the burden of a mortgage lifted from my shoulders," Sara Buechner told the foundation.
The foundation also worked with the Auburn Police Division to start the fundraiser for the family.
Auburn police Chief Paul Register is thankful for what the foundation is doing and feels Buechner would be elated to know what is being done for his family.
"Will's family has been through a tremendous tragedy. He would be happy to know that his wife and children are being taken care of in such a way," Register said. "This unexpected gift will make a tragic situation a bit more bearable for the Buechners and is a symbol to all first responders of how much people care."
The fundraiser
Within 24 hours of the foundation launching the campaign, it raised more than $15,000, Tamsen said.
The foundation is asking Americans from across the country to donate to the Buechner family as quickly as possible so the family can have the weight of mortgage payments lifted off their shoulders.
"We can't change what has been done," Frank Siller, chairman and CEO of the foundation, said. "But we can make it better by coming together as Americans to lift up this family and show them that they have our support."
Buechner's fundraiser was created as part of the Stephen Siller Tunnel to Towers Foundation's Fallen First Responder Home Program. The program is designed to help assist the families of fallen first responders, especially those with young children.
Since its creation, the program has helped 40 first responders throughout the country, according to Tamsen.
One-hundred percent of all donations raised will go directly to paying off the Buechner family's mortgage, the foundation said.
Those wishing to donate to the fundraiser can click here.
The foundation
The Stephen Siller Tunnel to Towers Foundation was founded on 2001 to honor fallen New York firefighter Stephen Siller, who lost his life on Sept. 11 of that year.
To date, the foundation has spent more than $125 million to honor and support first responders, veterans and their families, according to the foundation.
11-year-old turns lemonade into funds for wounded police officer
On a hot day in late May, 11-year-old Lexi Coulter participated in the grand tradition of young, sidewalk entrepreneurs: she set up a lemonade stand.
But instead of collecting the money so she could buy something for herself, the Trinity Christian School student designated the profits for Auburn police Officer Webb Sistrunk.
Sistrunk was one of three officers shot while responding to a domestic incident the night of May 19. Officer William Buechner was fatally wounded in the incident, and Officer Evan Elliott was treated and released from East Alabama Medical Center.
"I just felt bad for the one that had died," Lexi told the Opelika-Auburn News. "And since he might not be able to work, the one who's injured, the one we're doing this for, that free money would be good for him."
So on May 25, Lexi set up a lemonade stand in her Stonybrook neighborhood.
"Lemonade for Police Officer Webb Sistrunk," one of her signs read.
"He was shot and critically injured while protecting our community. All money goes to his family. Price: Any amount," another read.
By the end of the day, Lexi's lemonade stand raised $99 for the wounded K-9 officer, who is recovering at home.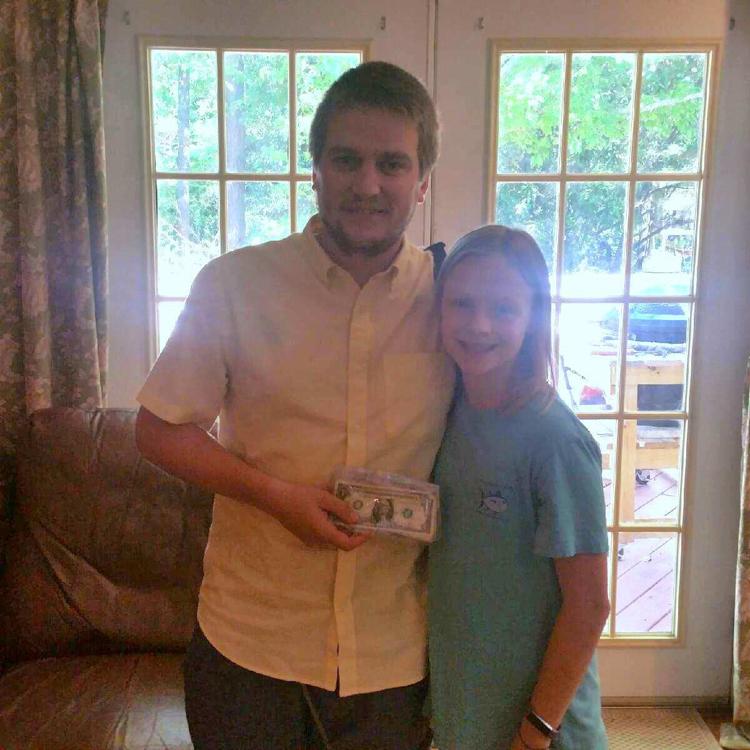 'She wants to give'
Lexi said she did not know Sistrunk personally when she decided to raise money for him. But she does know his mother, who taught at Trinity Christian School until the end of the 2018-19 academic year, according to Lexi's mother, Amy Coulter.
"So many people that day were so impressed that you are so young and spending that hot day doing that for someone you don't really know," Coulter told her daughter.
Lexi's grandmother, Alice Walker, said the girl prays for the local law enforcement officers every night.
"It's the Lord's blessing that she wants to do that, that she wants to give and help people," Walker said. "I'm very proud of her doing that.
"I want her to do that, because there are so many kids out here that don't want to help anybody do anything unless it benefits them in some way."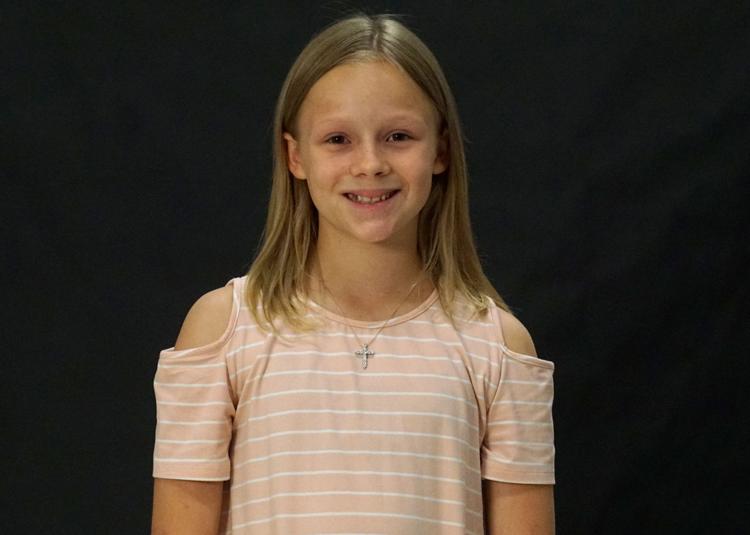 Making people happy
The benefit for Sistrunk is not Lexi's first lemonade stand. At other times, she used her business to raise money for the Lee County Humane Society. She also dedicates her birthdays to the humane society, asking her classmates for donations to the organization rather than gifts for herself.
"The reason I do lemonade stands is because I can drink some of it sometimes, and I don't get that hot. We're normally in a shady spot," Lexi said.
When asked why it's important to give back to the community, she said, "I don't know. I just like to, so I can make some people happy."
Her mother said, "really, she just loves to help people," adding that Lexi doesn't want any recognition for what she does.
"Give all the glory to God," Lexi said.
National organization pays off home of fallen Auburn police officer
A 9/11 memorial foundation announced Tuesday it paid off the mortgage of the home of a fallen Auburn police officer following a multi-week long national fundraiser.
The Tunnel to Towers CEO and Chairman Frank Siller announced on Fox News  that the mortgage of Officer William Buechner and five other homes have been paid in full, the foundation said. 
Buechner was shot and killed in the line of duty May 19 while responding to a domestic violence complaint. Two other Auburn police officers, Webb Sistrunk and Evan Elliott, were injured during the incident.
Capital murder suspect Grady Wayne Wilkes is in jail, facing numerous charges for the shooting.
The fundraiser for the Buechner family mortgage began in June.
Buechner left behind his wife, Sara, and two children, McKenna and Henry.
The announcement follows a $2 million donation to the Tunnel to Towers Foundation from Rush Limbaugh, a national radio host.
Limbaugh donated a portion of sale proceeds from his "Stand Up For Betsy Ross" T-shirts to the foundation.
In addition to paying off the home of the Buechner family, the following homes were paid off Tuesday by the foundation:
Officer Matt Baxter, of Kissimmee, Florida. Baxter was killed in the line of duty on Aug. 18, 2017.
Chief Steven DiSario, of Kinkersville, Ohio. DiSario was killed in the line of duty on May 12, 2017.
Firefighter Mitchell Lundgaard, of Appleton, Wisconsin. Lundgaar was killed in the line of duty on May 15, 2019.
Arizona Deputy U.S. Marshal Chase White. White was killed in the line of duty on Nov. 29, 2018.
U.S. Army Chief Warrant Officer 2 Jonathan Farmer. Farmer was killed in a suicide bombing on Jan. 16, 2019 in Syria.
Tunnel to Towers
The fundraiser was established to help relieve some of the burdens on the Buechner family.
"It's just one less thing they have to worry about," Trevor Tamsen, assistant manager of media relations for the foundation, said in June.
Buechner's fundraiser was established as part of the Stephen Siller Tunnel to Towers Foundation's Fallen First Reponder Home Program. The program aims to assist the families of fallen first responders, especially those with young children, according to previous reports.
The Stephen Siller Tunnel to Towers Foundation was founded on 2001 to honor fallen New York firefighter Stephen Siller, who lost his life on Sept. 11 of that year.
Saturday 5K to give back to Auburn police officers
The local community continues to rally behind the injured and fallen Auburn police officers and their families nearly five months after one Auburn officer was killed in the line of duty and others were injured.
Saturday, the community will come together for the Auburn Strong 5K race, which benefits the families of Auburn police Officers William Buechner, Webb Sistrunk, Evan Elliott and Justin Sanders, race organizer Chasity Pugh said.
Running in the race is a great way to get involved and show support for the Auburn Police Division, she said.
"Some people are leery of GoFundMes, or they don't want to go to a concert or something like that," she said. "But if you're into fitness, or you want to run, this makes it a good chance to donate what you can."
The event offers two options for runners, a 1-mile fun run and a 5K, which both begin in the parking lot outside All In CrossFit in Auburn.
The kickoff time for the 1-mile run is 8 a.m., and the 5K will begin about 8:30 a.m.
The beginning
Pugh began organizing the Auburn Strong 5K, along with All In CrossFit, Back the Badge Lee County and AORTA, soon after the May 19 shooting that left Buechner dead and Sistrunk and Elliott injured.
However, before the group went any further with the planning, Pugh sought out the blessing of someone closely tied to the shooting.
"Before we even started really planning this 5K, we wanted to get in touch with Mrs. Buechner, the fallen officer's wife, and make sure that she was going to be OK with it," Pugh said.
Mrs. Buechner gave the group her blessing and the planning kicked into high gear.
The support
Since the Feb. 15 shooting that left Sanders injured and the May 12 shooting, the community's support for the Auburn Police Division has been shown in numerous ways.
The department is grateful for the support, its spokesman said.
"The outpouring of support from our local community and business, as well from those throughout the county, has made a very difficult time, a bit better for all involved," Capt. Lorenza Dorsey said.
"This is yet another example of that continuous and ongoing support; It reminds us that we serve the best community in the country," he said.
Since Pugh began organizing the event in June, she has received positive feedback and has more than 100 community members participating in the run.
"We have over 150 people signed up currently," Pugh said Wednesday. "So it'll be somewhere between 150 and 200 people."
Pugh's ultimate goal with the 5K is to show just how much the community cares about those involved.
"We just want to show Auburn police and the four families that have been affected that people care," she said.
The run
Online registration has closed; however, runners can still sign up the day of the run. The cost of the 1-mile fun run is $25 while the 5K is $40.
Runners who signed up on or before Oct. 1 are guaranteed a T-shirt. However, due to the high volume of runners who signed up after Oct. 1, not every person who did sign up after that date will get a T-shirt, Pugh said.
All of the proceeds raised during the race, except for about $140 to cover costs, will be divided among the four families of the Auburn police officers, Pugh said.
All other items, such as the finish-line venue, T-shirts and runner refreshments, were either donated by a sponsor or by one of the 15 vendors who are participating in the event, said Pugh.
Registration Saturday will begin at 7 a.m. and end at 8 a.m.
All In CrossFit is at 1747 Ogletree Road, Auburn.