Frank Sanders dropped the ball.
It fell down to his feet, skidding across the grass at Florida Field, and The Swamp shook.
Patrick Nix desperately turned to a referee in the deafening noise, and called his team's final timeout. He ripped off his helmet and dropped his head. Auburn faced fourth and 10 at top-ranked Florida's 42, with just 51 seconds left in the game.
He walked to the sideline. Terry Bowden put his hands on Nix's shoulder pads.
Auburn needed something special.
Auburn needed something legendary.
They still talk about what happened next, back on that October afternoon in 1994, now 25 years later.
Nix and some of his old teammates were in Auburn reminiscing over it just last weekend, in town to watch today's Auburn team beat Mississippi State at home — and gear up for its own date with fate against Florida this week.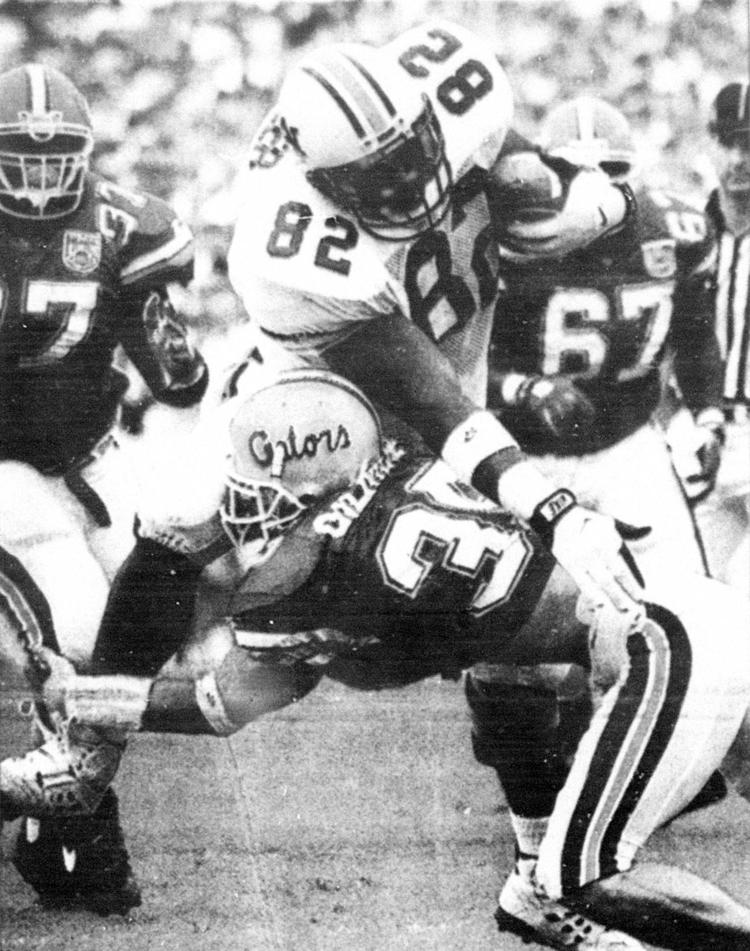 On Saturday, No. 7 Auburn travels to No. 10 Florida for another top-10 showdown, with Nix's son, Bo Nix, at quarterback for Auburn — riding with his team down into the jaws of the fabled Swamp just like Patrick Nix did in '94 for that legendary meeting for then-No. 6 Auburn with then-No. 1 Florida in one of the biggest games in Auburn football history.
"We knew it was going to take 60 minutes," said Andy Fuller, the tight end on that 1994 Auburn team which carried 'The Streak' down into The Swamp.
"We knew it was going to come down to 60 minutes — and that's what ended up actually happening."
It was Oct. 15, 1994. Auburn was on a 17-game winning streak, with magic moments like the Nix-to-Sanders comeback against Alabama in 1993 and the 'Interception Game' against LSU earlier in the '94 season sweeping Auburn up into a magic ride through two bizarre probation seasons on the Plains. Auburn was banned from the SEC Championship Game and banned from a bowl game in 1993 and 1994 — and the only thing left for the Tigers to do was line up and beat everyone that came up against them, and somehow, someway, that's exactly what they were doing.
But Florida was at the height of its mighty powers. Steve Spurrier was in his prime in Gainesville. Florida was 26-1 under Spurrier in The Swamp and 15-0 against SEC teams there. His offenses had changed the conference forever. Quarterback Terry Dean was a top Heisman candidate. The Gators were No. 1 and seemingly unbeatable and on that day 85,562 fans packed The Swamp to see 5-0 Florida against 6-0 Auburn, breaking the attendance record at Florida Field and setting a new record for the largest crowd to ever attend a game anywhere in the state of Florida — all as ABC's national TV cameras fixed their focus on the field.
"Like you, on Monday, when I picked up the paper, I was somewhat shocked to read that Florida was a 16-point favorite over unbeaten Auburn," Brent Musburger opened the broadcast high above the field.
Fuller won't ever forget that points spread. He remembers the hotel the Friday night before the game; "Lee Corso and all them, telling us we didn't have a chance."
Yes, Auburn was unbeaten, but still unproven.
But against the mighty Gators, there was a golden opportunity.
Auburn couldn't play in any championship game that year. The Tigers' only chance at a championship was for the writers to vote them as Associated Press national champions — and, in the Auburn locker room, the Tigers knew the only way that could happen is if they went undefeated two seasons in a row, and if they beat the No. 1 team in the country in its own stadium.
Playing the No. 1 team in the nation is usually about as big as it gets. In the circumstances, somehow, this game was even bigger than as big as it gets.
That's why Terry Bowden said this game was his team's Super Bowl.
"We had some great leadership with seniors, like Frank Sanders and guys like that, just telling us, the Friday night before the game, 'Hey, let's just go out and play Auburn football,'" Fuller recalled. "On the way to the game, 'Hey, let's just be relaxed.'
"And I think that was probably the most relaxed I'd seen our team that year, leading up to those first seven games, just being relaxed, no pressure on us, guys just listening to their headphones. It wasn't no joking or anything on the bus. It was just like a business trip. We knew a lot was riding on that game for us, because we knew, 'Hey, if we can't play for the national championship, let's show people that we deserve to be considered for it.'"
Staring down a monster, the Tigers were calm and confident. They were prepared. They had their gameplan.
Fuller would be a major part of that.
"We knew we had a good team. We knew we had a great team. But it's all about, now, us going out and just proving it to everybody in the nation," Fuller said.
Leonard Thomas remembers holding his teammate's hand.
The Swamp was thunderous.
At right guard, and with no chance of hearing Nix behind him, the only thing Thomas could do before each play was watch for the center's snap next to him — and hold hands with big Willie Anderson next to him at right tackle. When he dropped Anderson's hand, that told Anderson to spring into action.
"We would be screaming at each other, and we couldn't even hear each other," Thomas said.
"You're talking about the No. 1-ranked team in the nation at that time, and we're going down into The Swamp which is probably, arguably, the most brutal place to play," he also said.
"When we got there, we could automatically feel how much pressure was on that game."
Soon enough, they felt the Gators, too — in full force.
Thomas said he sees flashbacks now just hearing the name Kevin Carter, Florida's star defensive end, the teeth of that Gators' defense, and the sixth overall pick in the next spring's NFL Draft.
"We had to put blocking schemes together just to try to double up, to be able to stop him," Thomas said.
Carter was just the start. Fifteenth overall pick Ellis Johnson lined up next to him at defensive tackle.
Then there was the offense. Dean was a college star, 11-0 as a starter. Fred Taylor was at running back. Then there was speedy Jack Jackson out wide.
"They had a track team at wide receiver," Fuller said, listing all that talent. "I mean, it was unbelievable."
But Auburn had its confidence. And the Tigers had a plan.
Head coach Terry Bowden, his brother and offensive coordinator Tommy Bowden, and quarterbacks coach Jimbo Fisher got together back on the Plains the Sunday before and pieced together that plan.
Florida knew what would be at the center: Stephen Davis left and Stephen Davis right. The Gators knew about Sanders and his talented counterpart at receiver Thomas Bailey.
But they didn't think of Fuller. Fuller entered the day with four catches on the season. He caught seven that day. The Bowdens and Fisher drew up plays that sent two running backs flaring to either side of Nix, and when the Florida linebackers tailed them, they left the middle of the field wide open for Fuller. Fuller caught an 18-yard pass from Nix to push Auburn across midfield on the opening series. Then Nix unloaded a 32-yard touchdown pass to Bailey to put Auburn up 7-0.
Then it was 10-0. After Florida struck back, a tricky shotgun direct snap to Davis and another slip-out pass to Fuller helped Auburn move to make it 13-7 early in the second quarter.
Even after Florida took its first lead at 14-13, Auburn bounced right back. Brian Robinson pulled down his second interception, then another pull out of the playbook — a reverse from to Davis to Sanders — sent Sanders speeding 28 yards for a touchdown to make it 19-14. Chris Schelling's interception in the final minute of the quarter helped make it 22-14 at the half. It wasn't long before Musburger and Dick Vermeil started wondering if Spurrier would pull Dean for Danny Wuerffel.
Auburn was rolling. It was happening.
The 'cardiac kids' were at it again.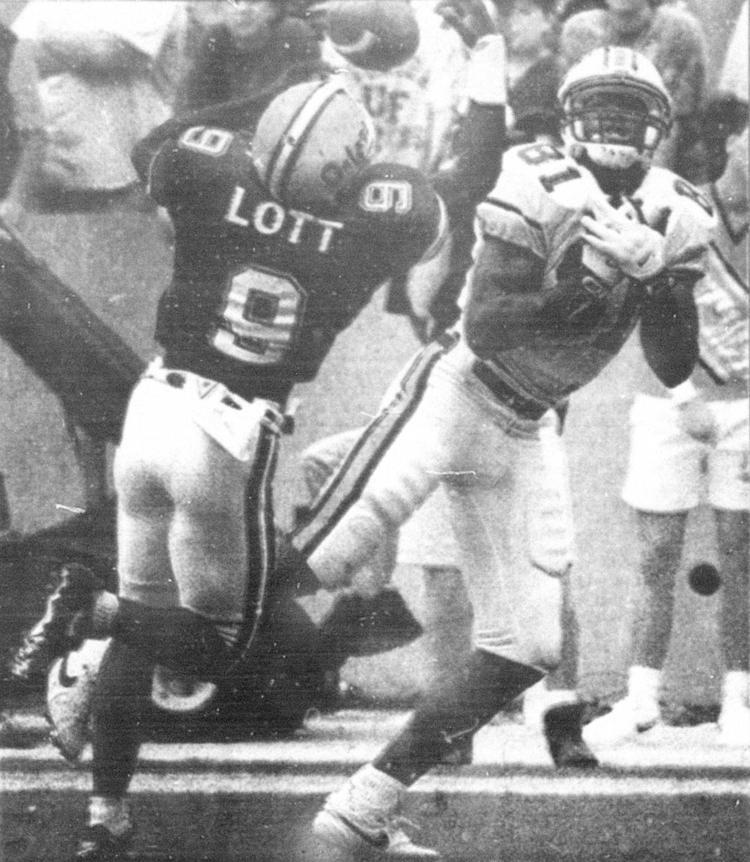 Van Allen Plexico had to convince his roommate to go. They were both in grad school at Auburn.
"I said, 'We need to go,'" he recalls how it happened now.
"And he goes, 'Well, you know we're going lose. I don't want to drive all the way down to Gainesville to watch us lose.'
"And I said, 'Of course we're going to lose.'" They had heard all the pundits talk. They saw the Vegas spread. But Plexico only paused.
"Then I said, 'But, if we win, don't you want to be there?'
"And he's like, 'Alright, get in the truck.'"
They jumped in and barreled down to Gainesville like plenty other Auburn fans.
Auburn football was a must-see show back then. Everybody seemed to try to go to every game back then, said another alum who made that trip, Doug Dickerson. He was a student at the time who piled into a rented RV with a bunch of other guys and drove down there that week.
Auburn wasn't even on TV in 1993 because of that probation, so the only way to see the team then was in person. Even in 1994, since there'd be no championship game and no bowl game for the team, Plexico said it was like "the only reward we had was the game that day."
There was one more reason to go, maybe above all else:
After miracle after miracle, everyone just wanted to see what that team was going to do next.
"I just remember it was just a no-brainer: You were going to go follow Auburn during this ride," Dickerson said. "It started in '93, and we'd pile in whatever vehicles and figure out ways to go to all the games."
Plexico co-hosts the AU Wishbone podcast now. Dickerson now works in Auburn's college of engineering.
"That was magic," said Will Collier, another fan who made that trip. "I wouldn't trade those two years for anything."
They remember it being hot. They remember it being loud.
And they all remember certain moments.
"I do remember Wuerffel — who I still think is probably one of the best quarterbacks I've ever seen," Dickerson said.
He'd see plenty of him soon enough.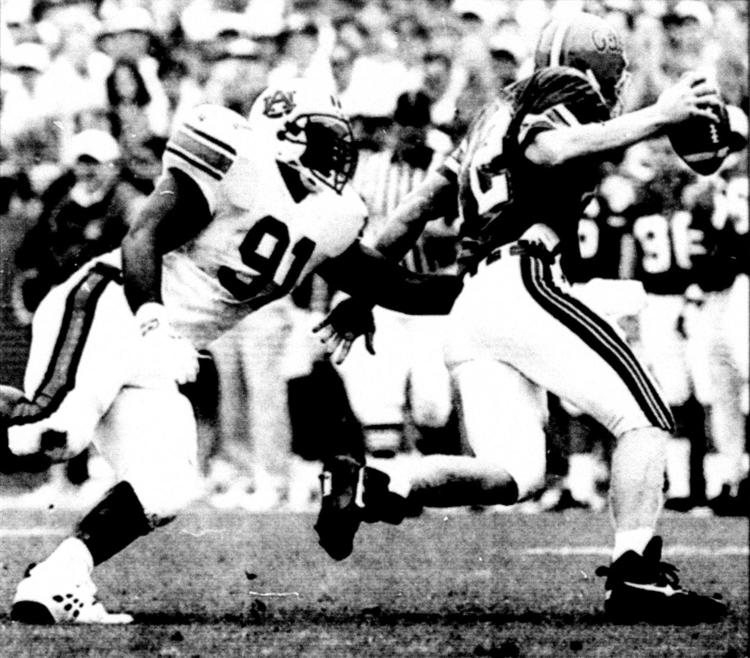 Wuerffel came in and turned the game upside down. Auburn picked Dean off for the fourth time early in the third quarter. Auburn's defense famously pulled down five interceptions in the fourth quarter of the comeback win against LSU earlier that season, returning three of those for touchdowns — and in this game, those same playmakers were having another stellar showing.
But then Wuerffel came in at quarterback and led Florida down the field for a touchdown on his first drive, firing a 26-yard touchdown to another one of those star receivers to make it 22-20. He hit all seven of his first seven passes in the run of play, including a 17-yard touchdown pass to make it 26-22.
The Gators were as advertised.
"We knew it was going to be rocking and loud," Fuller said. "We just knew we were going to get the best from Florida and they knew they were going to get the best from us.
"It's like they used to say back then, 'It's going to be a heavyweight fight, 15 rounds.' Who's going to come out at the end?"
It would take one more punch from big, bruising Fuller to keep Auburn in it.
Auburn called to him one more time with nine minutes left at the Florida 30. Auburn sent those two running backs out to either side of Nix again, feigning screens with linemen peeling out to the side and leaving Carter and Johnson and the rest all charging free at Nix.
Nix jumped to throw over them — and found Fuller open in the middle of the field, one more time.
He knocked down two Florida defenders and broke loose on the sideline for the touchdown to make it 29-26 with 8:45 left.
Of course, as history would have it, Florida answered again. Wuerffel hit Jackson for the receiver's second touchdown. The Swamp erupted with 5:51 left and Florida up 33-29 — and again when Carter pressured Nix to force a third down stop.
Florida drained most of the game clock left, but Auburn's ballhawks on defense had one more big play left in them. On third and 15, Robinson pulled down his third interception.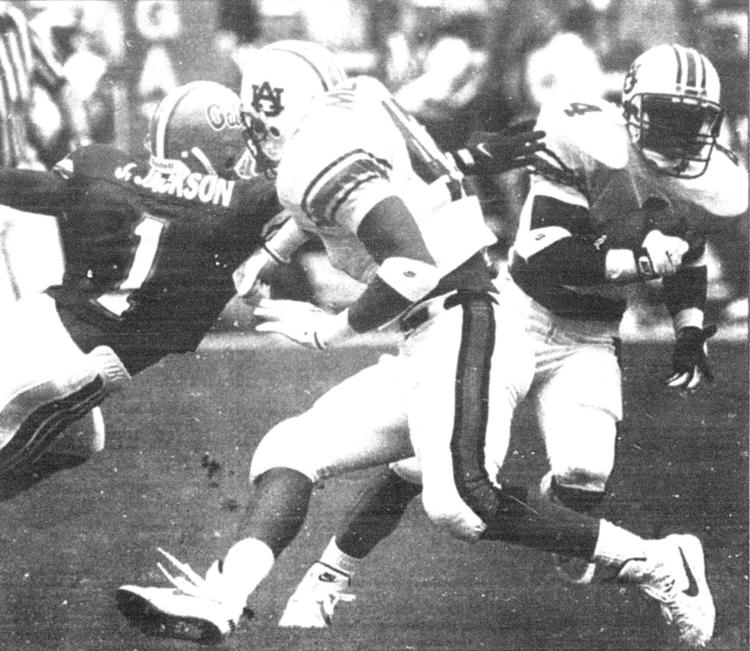 "Patrick Nix came in that huddle," Thomas remembers so vividly, "and the way I would tell the Florida story is, he came in and he said, 'Guys, just give me a little bit of time. We're finna' go down here and win this game.' And if you looked around that huddle, in that moment, you didn't see anyone that doubted the fact that we were about to win that game.
"We knew were going to win it. And I would say the word would just be 'believe.' We just believed that we were supposed to win. It was our moment."
They always believed — even when it all looked bleak.
Auburn got the ball back on its 45 with 1:20 left. Nix hit Sanders to push Auburn across midfield, but then missed his next three passes. Sanders dropped the last one before Auburn took its last timeout, facing fourth and 10.
Auburn didn't seem to flinch. The Tigers knew going in that Robinson and those defensive backs were capable of making those big interceptions, even against Spurrier's passing attack. They knew Anderson and Thomas and the rest of the offensive line could stand toe-to-toe with Carter and those guys, even at the end of the game when they were pinning back in pass rush.
They knew Nix had magic in his fingertips.
"We all believed in each other," Fuller said.
Auburn did it again. Nix hit Bailey on the sideline for 14 yards and a first down. The Tigers were making another miracle. Nix fired to sophomore Willie Gosha 20 yards downfield. The youngster from Walton Beach, Fla., drug his foot on the sideline in his home state, and got Auburn to the 8-yard line. There were 36 seconds left.
"I'm not sure, 25 years later, words can even describe it," David Housel said. The former athletics director and lifelong Auburn man said he remembers the simple joy and the jubilation from that moment, when Sanders leapt into the Florida air and caught that touchdown pass. He was watching from the press box. The Auburn fans in pockets around the stadium jumped up together and embraced.
He isn't sure of the words, but he's sure of something else:
"I'm going to tell you what, 25 years from now — 50 years since that play, that game — it's still going to live in the hearts and minds in Auburn people, and they're going to remember where they were and what they did and how it felt when that play happened and Auburn won that game."
Fuller had two IV bags pumped into him in the jubilant locker room.
"I'm sitting at my locker dehydrated, cramping — but, hey, you'll do that to get a W for the Auburn Tigers," Fuller said.
Fuller coached at Alabama A&M for 14 seasons, and now works with a job placement company in Huntsville. He remembers the Auburn fans welcoming them home at the airport. Thomas said the celebration's mostly blank after Sanders caught that touchdown. His most vivid memory is that huddle before that final drive, and the unforgettable look in Nix's eye. Thomas now works in finance in the Montgomery.
Musburger, of course, 25 years after talking up that 16-point spread, now runs a sports gambling news network. The Auburn fans partied all the way back to the Plains. Plexico's crew took a detour to meet another friend who was in grad school in Tallahassee. He woke up on some living room floor wrapped in a Seminoles blanket. "They liked Florida losing, too, so we were all celebrating together," he laughed.
Auburn's magic winning streak ended later in the season against Georgia, with a 23-23 tie. Auburn lost to Alabama the next week at Legion Field, 21-14.
Spurrier's empire at Florida continued to grow. Bowden never reached the same success and his tenure at Auburn ended in 1998.
But for two seasons — that were meant to be spent suffering under probation — Auburn took fans on a thrill ride that culminated there in The Swamp, winning 20 straight games total and going 20-1-1 in two seasons.
"We wanted to make history by being the first team to go undefeated two years in a row," Fuller said. "We hadn't been able to play for the conference or the national championship — maybe we could make history and be written in as national champs. We felt if we did what we had to do those last two games, we probably would've been able to be national champions, being written in.
"That was our goal, but we fell up a little short — but, hey, I'd go to war with those guys any day, and they know. That's what we were talking about this weekend, reminiscing with all those guys."
Yes, Fuller, Thomas, obviously Nix, and so many more from that team are still close to the Auburn football program and still close with one another. They'll be watching Auburn's return to The Swamp this Saturday.
"I didn't think people would still be talking about it, but people are still talking about the 1994 Florida game," Fuller said. He said even when his team wasn't playing for a championship in those seasons, it was playing for Auburn alums, and playing to set up the Auburn program's future. "So that just goes back to what the coaches were telling us back then: 'Hey, leave a mark. Leave a legacy here at Auburn.'
"That's just what I want people to realize about that team, the players: We came out and we played with Auburn on our hearts and with Auburn pride."
Forget titles. Forget bowls.
On one magic day in Florida sun, that Auburn pride was plenty enough.