David Housel can't say for sure exactly how this year stacks up with all the others.
It's impossible to compare with any real certainty. After, all there have been a lot of legendary feats accomplished on the Plains over the decades. Measures of success are so subjective, no one can really know for sure if this academic calendar year of Auburn athletics truly stands as the school's best one ever.
Who's to say? Housel can't.
And all around him, over by the back booth at Chappy's where the former Auburn athletics director so often spends his time, he hears them.
"They're still talking basketball, and this is almost July. That's never been that way before," he said.
He'd know. And he knows what he's hearing.
"They're talking baseball, which has never been that way before," he went on Tuesday, as summer burns over the city.
"I think Auburn, this year, kind of puts Auburn on the launchpad to be known as a great athletic program in many areas — not just one or two sports."
Auburn was just that in 2018-19, even outside Auburn's first-ever run the men's basketball Final Four, and the baseball team's fifth-ever charge to the College World Series that capped the calendar. As Auburn boasts, it was the only athletics department in the country this year to send teams to a college football Division I FBS bowl win, the men's basketball Final Four and the baseball College World Series. According to AU research, this is just the fourth time a school has ever accomplished that feat since the College World Series began in 1947, after only Kansas in 1992-93, Texas in 2002-03 and Louisville in 2012-13.
It didn't stop there. Auburn's soccer, softball and women's basketball teams all made it to their sports' NCAA Tournament. Gymnastics made it to its Sweet Sixteen and sent Derrian Gobourne to nationals as an individualist on vault. The men's swimming team competed in the NCAA Championships.
So did the men's and women's golf teams, both competing at the NCAA's highest level in the postseason.
The women's golf team advanced through stroke play at the NCAA Championships and reached the national semifinals in match play — marking another claim to a 'final four.'
More proof that Auburn was everywhere this year: Men's golfer Jovan Rebula even played in the Master's this spring.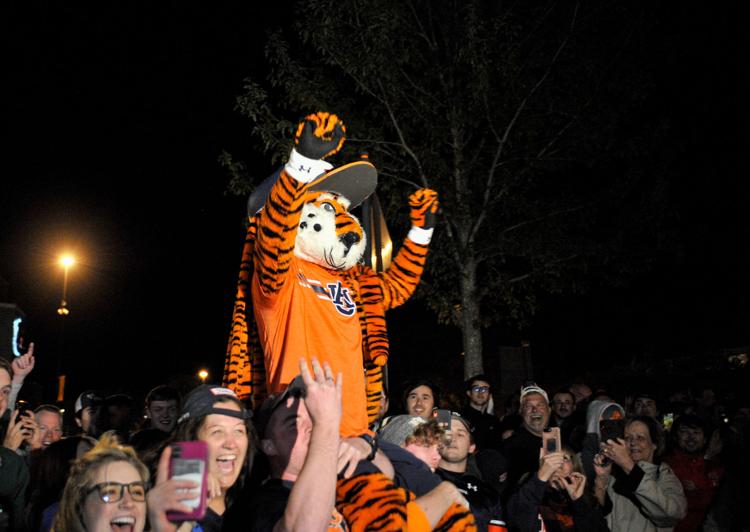 And Auburn fans are quick to mention that its equestrian program won another NCEA Championship.
"I think, across the board, you would have to say this is one of Auburn's finest years," Housel said over the phone Tuesday, thinking back when asked how it stacks up in Auburn history. "You can't ever say the finest, but certainly one of the finest. You would be hard-pressed to find one that surpassed this.
"While football is still the bellcow at Auburn, and always will be, you would be hard-pressed to find a year that all the other sports had this kind of attention."
It's been a whirlwind all year. In that whirlwind, men's basketball head coach Bruce Pearl famously started answering questions about Auburn being a "football school" by saying Auburn is an "everything school."
Last Thursday, his former player Chuma Okeke became the first Tiger picked in the NBA Draft since 2001.
There isn't much precedent for this kind of success at Auburn.
In 1993-94, the Auburn football team went undefeated on sanctions in the same academic year that the baseball team made a run to the College World Series and Wesley Person was drafted into the NBA — but Person and the men's basketball team went 3-13 in the SEC that year.
In 1986-87 on campus, football won 10 games, baseball made the NCAA Tournament, women's basketball made the Elite Eight and men's basketball made the second round of the NCAA Tournament.
The year before, Bo Jackson won the Heisman Trophy and men's basketball made its first-ever run to the Elite Eight, but baseball didn't make the postseason. Had Jackson not gone through his mishap with the Tampa Bay Buccaneers and played baseball that spring, things could have been different.
Then in the late 1980's, Pat Dye's SEC Championship seasons overlapped with women's basketball's runs to the women's Final Four, but men's basketball and baseball weren't as consistent as far as reaching the postseason.
Only this year, it seems — after the founding of the soccer team in 1993 and the softball team in 1997 after those years — has Auburn traveled so far for so long.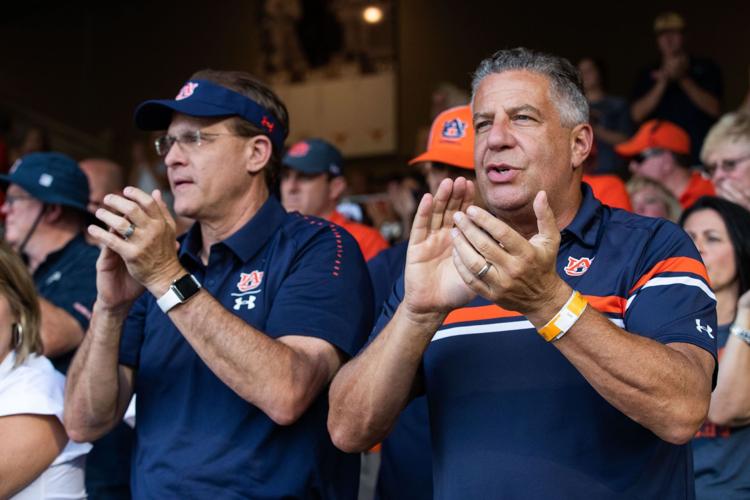 Allen Greene, Auburn's new athletic director, has seen it all — all in his first year on campus.
"It's an exciting burden to have to travel to all these different places, and try to figure out how you're going to go from one city to the other, and interrupt vacations," Greene said last week in Omaha, Neb.
"It's been incredibly memorable, and the reason why it's been memorable is because I've gotten to know our student-athletes and our coaches," he said, just down the hall from Auburn baseball's despondent locker room moments after their final loss. He said something similar outside Auburn basketball's locker room in Minneapolis two months earlier.
"When you see and understand how much work they've put into their craft, it fills you with joy to see them be successful," he said.
For Greene, he says, it's about the athletes. He's impressed. Spectators from around the country should be, too.
From the outset, it seems that only Texas Tech could compete with Auburn's all-around success this year across so many sports that are all so popular. Texas Tech was the only other school to send teams to both the men's Final Four and the College World Series — and the Red Raiders also brought an outdoor men's track and field national championship back to West Texas where track is wildly popular. But Texas Tech football didn't make a bowl game. Auburn football didn't reach the expectations its program set out for itself on the gridiron, but did blast Purdue in the Music City Bowl to propel the team into 2019.
Then, in 2019-20, it'll be on all those athletes to try to make this past year a launchpad — not a pinnacle — for the growth of Auburn athletics.
"I don't remember a year that had the excitement that this one had," Housel put it simply.
The athletes will determine what's next.