It took a burning resilience, a grimace through adversity, and one magic swing of the bat.
But even with all those pages in the storybook, Auburn wouldn't have been able to do what it did last weekend in Atlanta without two career performances from two emerging young pitchers, shouldering Auburn on its way to the Super Regionals.
Freshman Richard Fitts fired for six scoreless innings in the Saturday win and redshirt sophomore Bailey Horn pinned down six scoreless innings of his own in the Sunday victory, and the Auburn baseball team swept host Georgia Tech in two games to win the NCAA Tournament's Atlanta Regional and advance to baseball's Sweet Sixteen.
Auburn (36-25) will travel to take on North Carolina (45-17) in Chapel Hill, N.C. in the Super Regional round this weekend. Auburn's advanced to Super Regionals in back-to-back seasons for the first time in program history.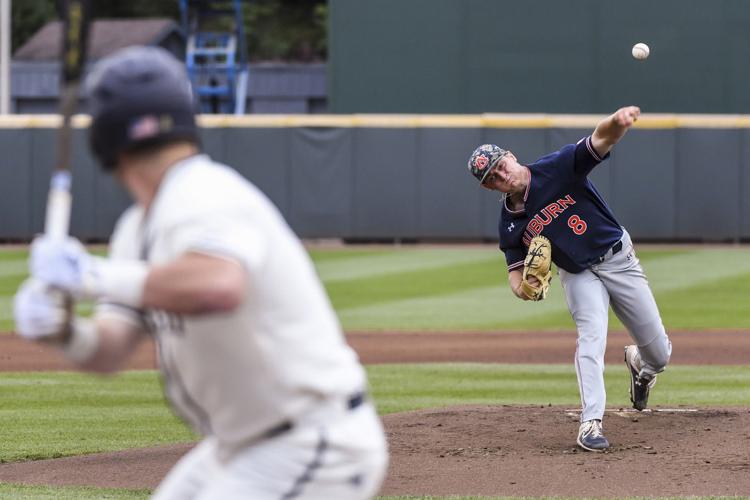 Steven Williams' two-out, three-run, walk-off home run in Saturday's 6-5 win will go down in Auburn legend, but the Tigers wouldn't have gotten to that position without heroics from Fitts, rising to the occasion when the Tigers didn't know who to turn to next — and they later sealed the region win on the arm of Horn, roaring on the mound when his teammates needed him the most.
"Time and time again, this could have ended so many different ways," Auburn head coach Butch Thompson put it simply after the Sunday celebration settled.
Without Fitts and Horn rising to the biggest moment of their careers, Auburn probably wouldn't be going to Chapel Hill.
Auburn's bullpen seemed depleted when the Tigers turned to Fitts on Saturday.
Staff ace Tanner Burns was left lost and searching for his usual power as the sun set over Russ Chandler Stadium then, while Georgia Tech led 5-1 and Burns, Thompson would confirm later, struggled with injury, still not 100-percent.
Burns has suffered from shoulder tightness ever since late April, when he left a game at Vanderbilt with the injury. Starter Jack Owen, who opened the weekend for Auburn in its 16-7 win over Coastal Carolina on Friday, had already missed time this season with an injury of his own. All of this was after Auburn's would-be ace entering the season, Davis Daniel, went down with injury that led to season-ending Tommy John surgery.
Thompson looked deep in the bullpen when he turned to Fitts, trying to keep his last known trump card, go-to closer Cody Greenhill, up his sleeve.
Fitts, the rookie from Helena, stepped on the mound with a 5.67 ERA, and an 0-3 record in five starts this season.
He stepped off it in the top of the ninth after putting in a workhorse performance, allowing four hits and no runs in six innings, keeping Auburn in the game and in striking distance for Williams' lightning bolt shot to deep right a few moments later.
Horn's Sunday effort speaks for itself in much the same way. Horn made just his third start of the season Sunday. His first two were in non-conference games and in neither game did he pitch past the first inning.
Sunday's start was a regional final.
He blew through six scoreless innings allowing just two hits and walking only one, allowing the Auburn offense to build a 3-0 lead on the way into the seventh, and to hand the ball to Greenhill to close out the 4-1 victory.
"I knew I had it in me," Horn said after the regional title was won. "It's taken some time over the year. I believed in our team. We all believed in each other.
"The game's bigger than just one person. And we knew we could come out and win this."
Horn came to Auburn out of McLennan Community College in Texas. He had surgery 14 months ago, Thompson said, and that's hampered the start of his career on the Plains. Sunday, he must've paced some in Georgia Tech football's indoor practice facility nearby as the Tigers waited out a near-two-hour rain delay that paused the game in the middle of the fourth inning. After cooling down, he warmed back up to come out and pitch two more scoreless innings.
On the big stage, when it mattered most, Horn shined — just like Fitts.
"This is my first time pitching in a regional, so I guess I was a little bit more nervous than usual, but I knew that I had everybody behind me," Fitts said after Saturday's win.
"Tonight I had really good command over all three of my pitches, which I hadn't had in all of my starts and all of my appearances," he went on. "The difference isn't much. It's just me going out there and focusing one pitch at a time."
As Thompson said, without them, things could've gone differently for the Tigers.
With them, Auburn's moving on to Chapel Hill.