Travis Williams remembers going nose-to-nose with his brother, just about ready to fight.
This was years ago in the Auburn weight room, during another era yet part of another timeless football season on campus. The leaves were turning again outside and the weather was cooling again, but in a fiery workout, two hot-headed youngsters and bullish linebackers almost went to blows.
It was 2004 or 2005 or so, back when the now-linebackers coach at Auburn was in his playing days in school. Travis Williams was getting into it with his fellow linebacker Antarrious Williams. The two aren't actually related despite their last names, though Travis said they were so close they might as well have been. Yox is the only name former Auburn strength coach Kevin Yoxall went by.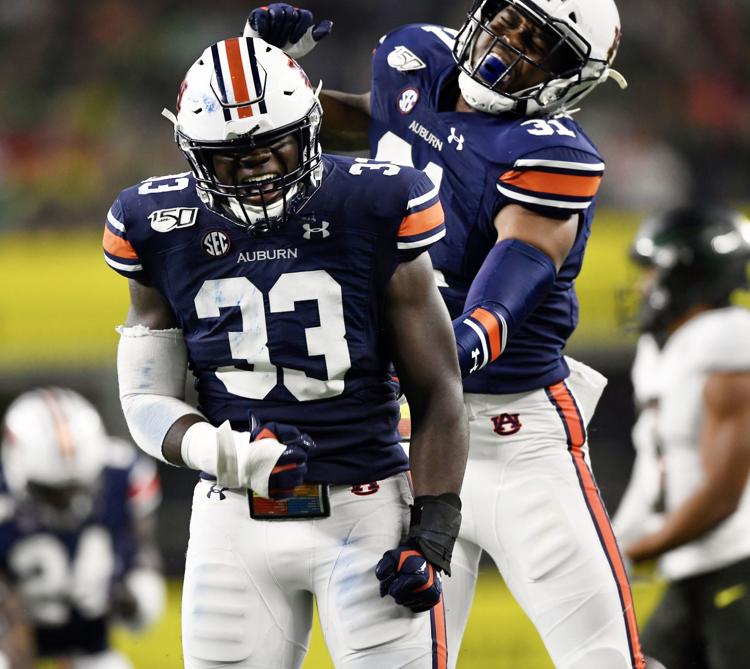 They fought over football, with fire born from their desire to lead and to win — and now, years later, that's exactly the kind of desire Travis Williams wants to instill in his young linebackers now in his shoes at Auburn.
K.J. Britt, Chandler Wooten, Zakoby McClain and Owen Pappoe are the new generation in that spot, walking the same halls on campus and pouring out the same kind of sweat in the weight room, bent on roaring as Tigers on the football field.
Williams was a part of an illustrious group. He and Antarrious were best friends and roommates, he explained this preseason. Fellow linebacker Karibi Dede stayed right across the hall. They followed in the footsteps of Karlos Dansby and Dontarrious Thomas. They were fierce and feared when Williams won All-SEC honors during Auburn's perfect season in 2004 and during his senior season in 2005.
"We were just so obsessed with being great and being leaders," Williams said, going back to that fight. It was his fault, he laughs now. Antarrious had an injured arm and was going through a light workout, when Travis saw him and insisted he put more weight on the bar — his heart set on his teammate being the best he could be, but his young, hot head going about it the wrong way before Yoxall broke it up.
"Coach Yox come get us to talk it out, hug it out," he said. "But that's my guy, to this day.
"I wanted to be a leader, (Antarrious) wanted to be a leader, Dede wanted to be leader," he also said. "So we used to have battles. But that's a good thing."
The current crop will have some stories like that down the road, if Williams has his way.
He's pulled from his own experience and used an old-school approach to throw his current players together in constant competition with each other — and alongside each other.
Britt and Wooten both play middle linebacker. They're both juniors who've been groomed to take over a leadership role in a key position after the departure of former captain Deshaun Davis. McClain is an emerging talent as a sophomore playing outside with Pappoe, the touted five-star freshman.
Through two games, all four have rotated onto the field in defensive coordinator Kevin Steele's 4-2-5 defense. Britt has 10 tackles, Pappoe has six, McClain has five and Wooten has four.
And they're inseparable. Just like Williams and his old buddies, Britt and Wooten are roommates and Williams said players are always hanging out in their dorm room playing video games or whatever else.
"That's my roommate, so we talk at night, watch film together, talk ball together," Britt said of Wooten this preseason. "We know, for him to be successful, he knows that I'm going to have to help motivate him. For me to be successful, I dang sure need Chandler.
"I need him in my life and I'm sure he needs me in his life."
Williams put those two against each other at middle linebacker with plenty reason. First, the middle linebacker is the lead communicator on the field on defense, and he wants to have two 'quarterbacks of the defense' available at all times in case one goes down.
Second: "It creates a culture of competition," he said.
Unspoken, the third reason might just be so they'll have the chance to forge life-long friendships like he did.
"I rode in the car with them, and I was in the backseat just asking them questions just to see how the summer was going and everything — and just listening to those guys talk and give insight on the team and the defense and the different things they will do on their own at the dorms … Both of those guys are special," Williams said.
With Pappoe and McClain — a superstar signee and a strong sophomore giving him a run for his money — the next leaders of the defense might just be blooming on the field with them already.
Britt and Wooten drill him, Williams says. "In '04 and '05, you're the leader: What did you do?" they'll ask. "OK, what if this person's not listening? What would you did then?"
They'll say, "Coach, can we watch the first game you ever started?"
It probably reminds Williams of his old days with the linebackers, in the dorms or across town out for pizza.
The seasons change and the years go by, and youngsters now face a different world than he did back then.
But if Williams has his way, his new generation will have the same bond to lean on.
"X's and O's — we've got great coaches," he said. "But I think, inside that locker room, there has to be a special bond in order to be a championship team."