There are 32 sparkling team helmets across the NFL, and Derrick Brown could've worn any one of them this fall.
Instead, he's strapping on the AU again.
And to his left and to his right, all around Auburn's superstar defensive tackle, there'll be plenty more pro-caliber talent around him on the Plains this fall.
Brown leads a stacked group of Tigers defensive linemen, with three of them back after considering NFL departures last winter, and all of them bent on making that D-line the talented anchor of the Auburn defense.
It'd be no stretch to say that the defensive line marks Auburn's best collection of talent in a single position group leading into 2019 season.
By the end of the year, those same Tigers want fans and experts wondering if it's the best defensive line in the entire country.
Returners and newcomers
» Who's back?: Senior Derrick Brown, senior Marlon Davidson, senior Gary Walker, junior Big Kat Bryant, junior Nick Coe, junior T.D. Moultry, junior Daquan Newkirk, junior Tyrone Truesdell, sophomore Coynis Miller, redshirt freshman Caleb Johnson.
» Who's new?: Freshman Derick Hall, freshman Jaren Handy, freshman Charles Moore, freshman Colby Wooden.
The Outlook
Brown's announced return seemed to send shockwaves across the Plains last January. Draft-eligible redshirt sophomore Nick Coe had already quietly decided he'd be back at Auburn for another year, and after Brown announced his return, Marlon Davidson's announcement followed soon.
Brown was projected by many experts to be a sure-fire first-round pick in the 2019 NFL Draft if he had entered, but the All-SEC talent came back to Auburn with plans on graduating in December. Coe and Davidson were found in the middle rounds on mock draft projections at the time, but have held off their pro dreams for another year as well.
Then-senior Dontavius Russell is the only major piece missing from that group from last year, which helped key the nation's 14th-best scoring defense. Russell was picked in the seventh round this April.
With Brown and Russell plugging the middle, Davidson worked outside at defensive end while Coe roared in the pass-rushing Buck position, piling up a team-best seven sacks last season.
This year, junior Tyrone Truesdell figures to plug into Russell's spot, with familiar play-making names like Big Kat Bryant and T.D. Moultry making their way back into the rotation as well.
The Tigers will certainly have plenty of talent needed to rotated two platoons deep and keep fresh legs attacking opposing offensive lines all season.
The questions lie in just how fierce Auburn's defensive front can be this year.
Their Words
"The goal when I came here was to make Auburn great again, and have an outstanding team and win a national championship," Coe said back in February.
"That was my main goal the whole time, and it's still my goal right now."
Off the field, it seemed like Auburn had taken one big step closer to that goal just a month earlier, when Coe, Brown and Davidson all announced their return.
Brown, at the center, was "really" the one who made the decision for the entire group, Coe admitted then.
"When he made the decision, we were all happy," he said. "I was happy, because I know how much better we could be as a defensive line with Derrick and Marlon coming back, and also myself."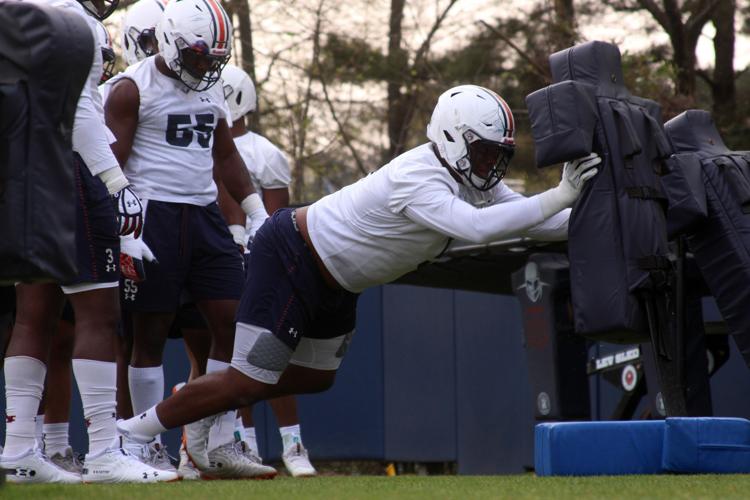 Bryant said during spring practice that the Tigers behind them on the defensive line learn from those star players and feed off their energy.
"I think it's going to be a dominant force," Brown said in February, looking ahead to this season. "It's all our last year, so you've got to understand it's different. You're competing for jobs now.
"As long as I'm competing with these guys, we're going to have fun doing it."
Auburn Outlook Series