Meet the young Tigers, making up the new-look linebacker crew at Auburn this fall.
Soon enough, the rest of the SEC will.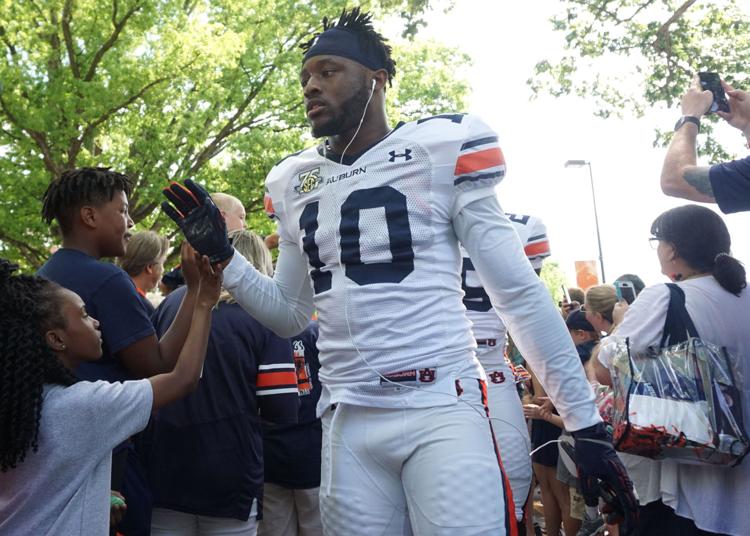 With steady veterans gone and no one but new blood left to fill major roles in the heart of the defense this season, Auburn will see its biggest turnover on defense in the linebacker room — but there, coach Travis Williams has brought in a talented crop of young players eager to prove their star ratings right and make an immediate impact on the Plains.
The measurables are certainly there, and so is the hype. The question lies in whether Williams can send his group of hand-picked high school all-stars growing into their own potential, and toward becoming a force just as fierce as the Tigers linebackers that came before them.
Returners and newcomers
» Who's back?: Junior K.J. Britt, junior Chandler Wooten, sophomore Zakoby McClain, redshirt freshman Michael Harris, redshirt freshman John Marsh.
» Who's new?: Freshman Owen Pappoe, freshman Kameron Brown, freshman O.C. Brothers.
The Outlook
Deshaun Davis is gone, and so is the All-SEC stalwart's longtime riding partners at linebacker, Darrell Williams and Montavious Atkinson. They anchored the Auburn defense last season, as seniors with several seasons' worth of starts under their belts.
In their place steps reserves who've watched and waited in the wings, plus a high-profile signee from across the state line in Georgia bent on living up to his billing.
K.J. Britt and Chandler Wooten are both juniors, who were second on the depth chart last season behind Davis and Williams respectively — at middle linebacker and at strongside linebacker.
Atkinson topped the Tigers' depth chart at weakside linebacker, but often rotated with Williams while Davis kept in to lead the defense when Auburn went with an extra defensive back in the formation.
Behind Atkinson, sophomore Zakoby McClain sat and waited.
Those three are all in the mix for playing time this fall, and so is Owen Pappoe, the prize jewel of Auburn's 2019 signing class. He was rated as a five-star player by both ESPN and 247Sports, and ranked as the nation's No. 1 outside linebacker in the class of 2019 by both those outlets. He was rated as a four-star and ranked fifth national at his position by Rivals.
And so far, as an early enrollee at Auburn, the Tigers coaches and players alike have been impressed with him.
Their Words
"He doesn't act like a freshman and the moment is not too big for him," Auburn head coach Gus Malzahn said on April 13, just after Pappoe made his introduction to Auburn fans at the team's A-Day scrimmage. "He can really run, he has really good instincts and I think he had a really good spring — especially for a freshman."
For the Tigers linebackers, though, leadership starts with Britt, who's been groomed for that spot behind Davis, the Auburn defense's on-field and vocal leader last season and in seasons before.
"Overall, they've had a very good spring," Malzahn said of the linebackers as a whole. "K.J. Britt is leading that group, really taken over for Deshaun Davis and it's his moment and he's been waiting on this moment. He is some kind of physical. He's really leading that group."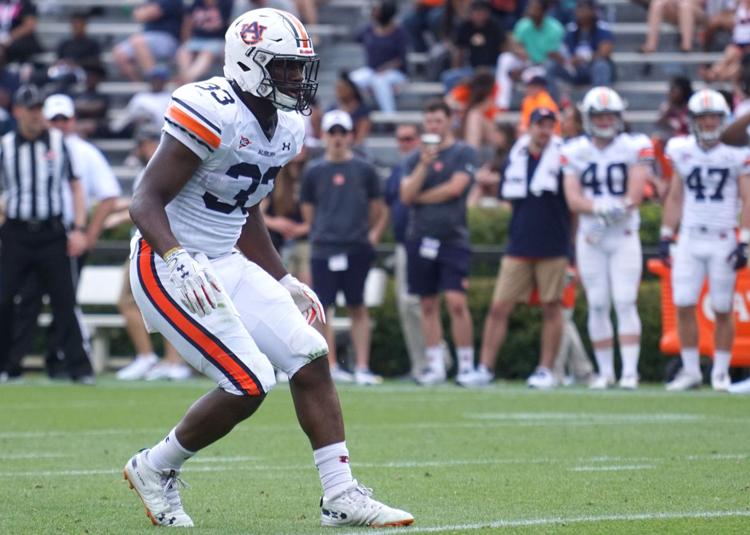 Straight from the old veteran's mouth, Davis said himself back in November that the then-senior wasn't worried about the future of the linebackers group without him in 2019 and beyond.
"Those guys in our room, like I say, I'm not worried at all," he said then. "KJ is a good linebacker. Chandler has played a lot; he has gotten a lot of game experience for us. He's made some plays for us. I think Zakoby McClain, he's going to grow over the years. He's probably going to be a pretty good linebacker here. He's got some good recruits coming in.
"The sky's the limit for that group."
Auburn Outlook Series