Auburn has never started a true freshman quarterback in a season opener.
That could change Aug. 31 in Dallas.
The Auburn football team will enter fall camp with its quarterback questions falling on the shoulders of two young talents: true freshman legacy player Bo Nix and redshirt freshman project Joey Gatewood.
Auburn's never gone into a season with a true freshman as its Day 1 starter. Only twice before has Auburn gone into a season opener with a redshirt freshman as its starting quarterback.
Either way, a bit of history will be written when Auburn's offense trots out on the field to face Oregon in AT&T Stadium this fall. Auburn entered the spring with four quarterbacks vying for playing time this year, none of whom had ever started a game at this level — before Auburn head coach Gus Malzahn announced back in early May that the race for the starting job had been narrowed down to two players.
All Auburn eyes will be on those two when the Tigers open practice in August.
Returners and newcomers
» Who's back?: Redshirt freshman Joey Gatewood, redshirt freshman Cord Sandberg.
» Who's new?: Freshman Bo Nix.
The Outlook
Both the top two quarterbacks from last year's depth chart are gone. Two-year starter Jarrett Stidham was drafted by the New England Patriots in the spring, and his backup Malik Willis is seeking a transfer destination after Malzahn narrowed the starter battle down to Nix and Gatewood.
Sandberg stands behind Nix and Gatewood now, with the 24-year-old former minor league baseball player bringing plenty of life experience to the quarterback room and making what would seem to be a steady presence available for emergency situations alongside those two young stars.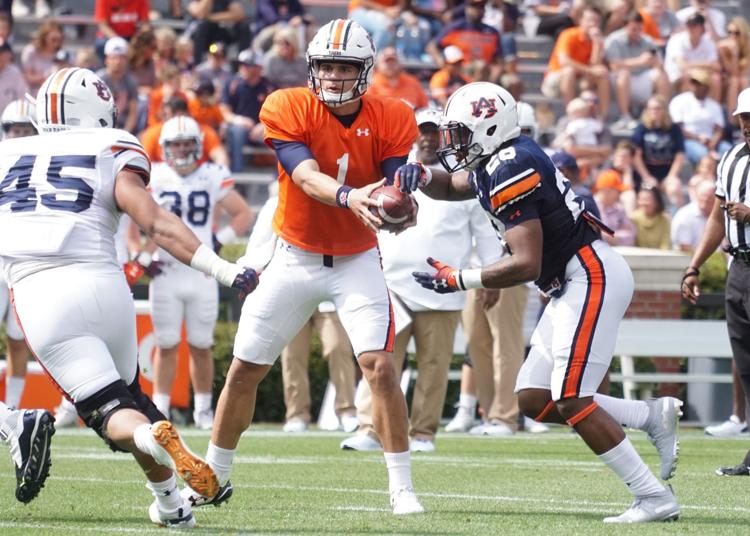 Bo Nix is the son of former Auburn quarterback Patrick Nix. It seems like he's been built for this position — to lead the Tigers out on the field at Jordan-Hare Stadium. He won back-to-back Class 6A state championships with Pinson Valley High School, with his dad coaching the team on the sideline the whole way. He rolled up wild numbers, won trophies and awards, and signed with his father's alma mater where he's already been praised by coaches and teammates as being a leader in the locker room.
Gatewood's story is less picture-perfect, but his talent seems undeniable — and so does his potential.
He split snaps with other quarterbacks in high school at Bartram Trail in Florida. He watched and waited in the wings last year before taking some garbage-time snaps at the end of the Music City Bowl.
But he towers over the Tigers' huddle, standing 6-foot-5 and weighing 233 pounds against Nix's 6-foot-2 and 207 pounds. He showed his arm strength and agility in the A-Day game this spring. He signed with Auburn in the class of 2018 rated as a top-100 athlete by all three of Rivals, ESPN and 247Sports. Nix had all the same honors in the class of 2019, but Gatewood's high rankings surely come to him as much from his size, athleticism and potential than it does from his in-game success in high school.
Regardless of who takes the first snap against Oregon in the season opener, the other will surely have his own chance to shine in game action this fall.
Their Words
Malzahn called Gatewood and Nix "1" and "1A" back in May after spring practice. "One of those two guys will be our starting quarterback for our first game," he said, at a visit to an alumni club event in Dothan. "They'll compete during the summer and during fall camp and we'll make a decision."
The two of them separated themselves, Malzahn said.
"We went into spring with a very open mind and wanted to put in a lot of different scenarios and situations. So, he's earned it," Malzahn said of Nix, "as well has Joey Gatewood. He really improved from the fall, and both those guys were very desperate to win the position. That's really what stood out to our coaches."
Back during Auburn's A-Day game on April 13, Nix completed 11 of 17 passes for 155 yards and two touchdowns, while Gatewood fired for 130 yards and two touchdowns on 8-of-12 passing.
"Both of them are straight ballers," receiver Matthew Hill said then of Nix and Gatewood. "Both came in ready to play. Joey, I've been with him since I came in, so I've seen him develop. I knew what I was kind of expecting out of both of them. I'm proud of the way both of them played."
That's when Auburn receiver Seth Williams threw some hefty praise on Gatewood's ability as a player:
"Baby Cam Newton. I'm telling you, he's another Cam Newton back there," Williams said. "Once he gets live, he turns into a whole 'nother person," he said, remarking how reporters and onlookers didn't get a good look at Gatewood's running ability in the spring scrimmage where quarterbacks aren't contacted.
Nix, of course, received his own heaps of praise this spring.
"Bo is going to be special," running back Kam Martin said after the A-Day game. "From Day 1 of practice, Bo's been taking care of his business. He makes some freshman mistakes, but he wants to get better, he wants to be coached."
Auburn Outlook Series