JaTarvious Whitlow smiled wide outside the locker room in Nashville, moments after Auburn's romp over Purdue.
The Tigers had just powered their way to a Music City Bowl win last December, and the young man they call 'Boobee' was already fired up for 2019.
"We're going to come out next year like we came out in this game — aggressive, playing hard, playing smart, and playing Auburn ball," he flashed his familiar smile.
Whitlow is coming back, along with his veteran partner Kam Martin and a strong stable of Tigers running backs, all bent on bringing the power back to the program that fans often say deserves the moniker of 'Running Back U.'
Returners and newcomers
» Who's back?: Senior Kam Martin, junior Malik Miller, junior Devan Barrett, sophomore JaTarvious Whitlow, sophomore Shaun Shivers, redshirt freshman Harold Joiner.
» Who's new?: Freshman D.J. Williams, freshman Mark-Antony Richards.
The Outlook
One of the men who built Auburn's reputation as a running back factory is now back coaching the Tigers. Carnell 'Cadillac' Williams, the Tigers legend and 2004 All-American, is back on the Plains and enters his first season coaching running backs at Auburn.
He has quite a few weapons to work with, starting with Whitlow, who roared onto the SEC scene last year as a redshirt freshman, and Martin, the cool-headed veteran leading the group's room, along with the track star Shivers.
New signees D.J. Williams and Mark-Antony Richards, both from talent-rich Florida, will bring their fresh legs to the group this season.
Whitlow rolled up 787 yards and six touchdowns on 150 carries last season in a breakout role. Martin was Auburn's No. 2 rusher, piling up 458 yards and a score on 103 carries. Shivers ran for 371 yards and three touchdowns on 70 carries, flashing his breakaway speed. Shivers and fellow sophomore at receiver Anthony Schwartz both missed spring practice to run varsity track on Auburn's track and field team.
Malik Miller brings size to the backfield. He scored against Ole Miss last year. Harold Joiner became Auburn's do-it-all man on offense this spring, taking reps at running back and receiver.
Richards was rated as consensus four-star player by all of ESPN, Rivals and 247Sports.
D.J. Williams was rated as a four-star player by ESPN and was listed as a three-star prospect by both Rivals and 247Sports.
Their Words
D.J. Williams rushed for 56 yards on 10 carries with Auburn's second-team offense in the A-Day scrimmage this spring, turning heads in his first public performance in orange and blue.
"D.J.'s going to be a beast, man," Martin said right after. "He just got here in the spring — in January — and he's been stepping up. He always asks me questions; he wants to get better. He's going to be real special here."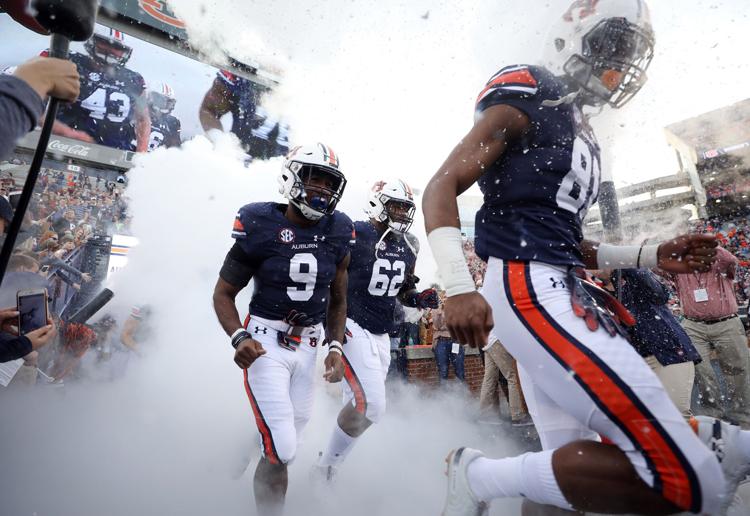 The Tigers expect the same out of their other new piece, Richards.
"Mark-Antony, I really believe, was the most versatile running back in the country," Auburn head coach Gus Malzahn said after Richards signed with Auburn in February. "He can do a lot of different things. He's a great running back, but he can catch the ball out of the backfield. … Really reminds me of Kerryon Johnson. He can do a lot of different things. This guy is a real special player. Very excited about Mark-Antony."
Auburn has known commodities leading the charge in Whitlow, Martin and Shivers, and the only questions seem to come with those young guys and their futures at Auburn — and just how fast that future comes, in how soon they make their impact on the Tigers' running game.
Auburn Outlook Series