Auburn star middle linebacker Deshaun Davis returned to practice for the Tigers this week, after going down with an injury scare during Auburn's loss last Saturday at Mississippi State.
Davis suffered a knee injury early in the game's fourth quarter, and had to be helped off the field while putting minimal weight on his left leg.
He eventually returned to the game later in the fourth, and Tuesday, Davis and Tigers head coach Gus Malzahn said that Davis returned to practice for the team's light Sunday workout earlier in the week, and that he was set to practice the rest of the week.
"I think I'll be fine Saturday," Davis said, looking ahead to the Tigers' next game against Tennessee.
Auburn hosts Tennessee at 11 a.m. on Saturday in Jordan-Hare Stadium.
Davis is a star player on the Tigers' defense, having totaled a team-high 53 tackles this season.
He recorded 10 total tackles and was attributed with partial credit for a tackle for loss in Auburn's loss at Mississippi State.
Earlier this season against LSU, he recorded 13 tackles, with four coming for a loss, while recording two quarterback hurries.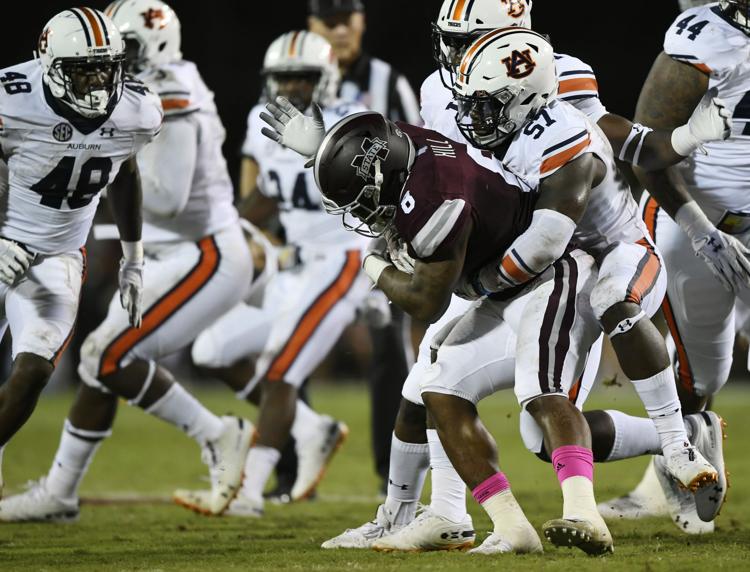 Davis was injured last Saturday on a play in which he and defensive lineman Derrick Brown combined to stop Bulldogs quarterback Nick Fitzgerald for a loss of a yard on fourth-and-1, to force a turnover on downs.
Davis said as he was trying to pull Fitzgerald down, his foot got stuck in the ground, and a pile of players fell over onto him.
He said was in pain for the rest of the night, but was cleared to play through the pain after it was determined the injury wasn't severe.
"I think we dodged a bullet with that," Malzahn said, speaking moments before Davis during the team's regular press conferences on Tuesday.
Davis said the left knee is the same one he injured when he missed his senior season of high school football at Vigor.
"It was kind of scary for me because it was the same knee that I had surgery on my senior year in high school," Davis said. "I tore my ACL and I knew how it kind of bent on me. It was kind of awkward and I was feeling some sharp pains through my knee. I was just praying that there wasn't a tear or anything like that.
"A bruise or something, I was happy for — to say the least. I didn't want it to be a tear. I didn't want to have surgery or anything like that."
When Davis went down last Saturday night, and as he laid on the turf in pain near the Mississippi State sideline, several Tigers defenders traveled across the field to huddle near him, and check on him.
"That's our leader on the defense," Auburn junior safety Jeremiah Dinson said in postgame Saturday. "We're behind him. He went down and it kind of scared me a little bit, but he came back in the game, and that just shows the type of player he is."
For Auburn's defense, Davis is that type of player — and that type of leader.
"In a game like that, you're not supposed to sit out unless you can't walk — and I could walk fine," Davis said in postgame Saturday.