Auburn took one last look back.
That's according to Tigers senior wide receiver and team captain Ryan Davis, who said he and teammates took the time last week during the team's bye to review, re-assess and re-evaluate before the final four games on its schedule, while looking back to the first eight.
"Basically, I just learned that we're really, really close to being undefeated," Davis said, speaking Tuesday after a week to reflect.
He isn't off-base. A last-second field goal sailing left or right would've reversed the result of Auburn's loss to LSU. Two video-reviewed plays made inside the 1-yard line at Mississippi State went a long way in deciding that game. If Auburn could rewind a few turnovers, or play back a few dropped passes, Auburn could've beaten Tennessee, too.
But none of that is changing now, and Davis knows that. The Tigers took their last look back, though, he said, to learn more about themselves and improve for the stretch run of the season coming up.
Now, the bye week has passed. The Tigers aren't pausing or slowing up again until after they go through Tuscaloosa.
Auburn's putting the past behind it, using what it's learned, and charging ahead full-speed into November.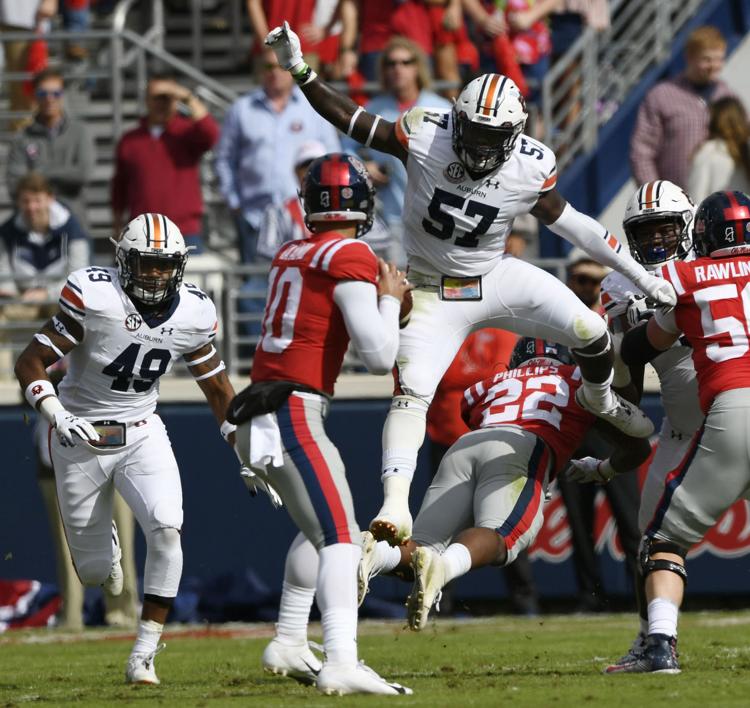 "We could have been in a better position than now, just looking back at it. But now, we can't look back anymore," Davis went on.
"We've got to move forward and just try to correct those things to end off these last four games the right way."
Ending the season 'the right way' is how Auburn head coach Gus Malzahn has worded his team's goal at this stage of the year, after Auburn's high expectations and championship aspirations have fallen by the wayside, and all the Tigers can do is make memories down the stretch run.
"Defeat November" is how Tigers star senior middle linebacker Deshaun Davis puts it.
With archrivals Georgia and Alabama still on the schedule, and Texas A&M looming next for this Saturday, Auburn is looking to fire out of its bye week recharged and refocused in order to do just that.
"It was big for me," Deshaun Davis said of the bye last week, "because I was, you know, going through some nagging injuries. Nothing too serious, but it gave me a lot of time to do some extra recovery, extra film.
"With this week, I'm still recovering, I'm still watching film, trying to defeat November. We've got a good Texas A&M team, starting out with them, so hopefully we start out with a W."
Auburn kicks off with Texas A&M at 11 a.m. Saturday in Jordan-Hare Stadium.
A week from Saturday, the Tigers challenge Georgia on the road at Sanford Stadium in Athens, Ga. Then the Tigers host provisional FBS member Liberty in their home finale Nov. 17 before they close the regular season at Alabama Nov. 24 in Tuscaloosa.
"I definitely think if we were able to finish these last four games with a W, the entire vibe around here would definitely change," Deshaun Davis said. "We had championship hopes coming into the season, but right now, we don't control that destiny anymore.
"If we were to finish these last four games with a W, we can do the same things we did last year, making this a good year and a memorable year."
Auburn picked up big rivalry wins over both Georgia and Alabama last season on raucous nights in Jordan-Hare Stadium, and that stretch started with a 42-27 win for Auburn over Texas A&M in College Station, Texas, the week before that Georgia game.
"I think for us, last year in November was huge," Auburn quarterback Jarrett Stidham said Tuesday. "We didn't know exactly how it was going to play out, obviously. But we came together, the entire month and really played well each week.
"It started off with A&M last year, and obviously it's starting off with A&M this week. I think you take a lot from it, from last year's experience, but I know our guys are really excited for it and ready for the challenge."