Bo Nix took the snap, in victory formation, and went down to his knee, then down to the turf, splayed across the grass on a field he knows so well.
His Pinson Valley teammates around him erupted in celebration, as did supporters all around in Jordan-Hare Stadium, as the final seconds ticked off the game clock.
Nix had just kneeled out the clock, and his Pinson Valley team had just beaten Saraland 26-14 to win the Class 6A state championship.
And as jubilation erupted around, and fireworks got set to rocket up into the Auburn sky, Nix laid on that ball, in a moment of peace — on his home field.
Bo Nix won the biggest game of his high school career Friday in Jordan-Hare Stadium — on the same field on which his father, Patrick Nix, made so many memories, and on which he's pledged play out his collegiate career starting next year.
Friday night, they made one more memory together, on the last night of the AHSAA's Super 7 event.
Patrick Nix is Pinson Valley's head coach.
It was a storybook moment, in many ways.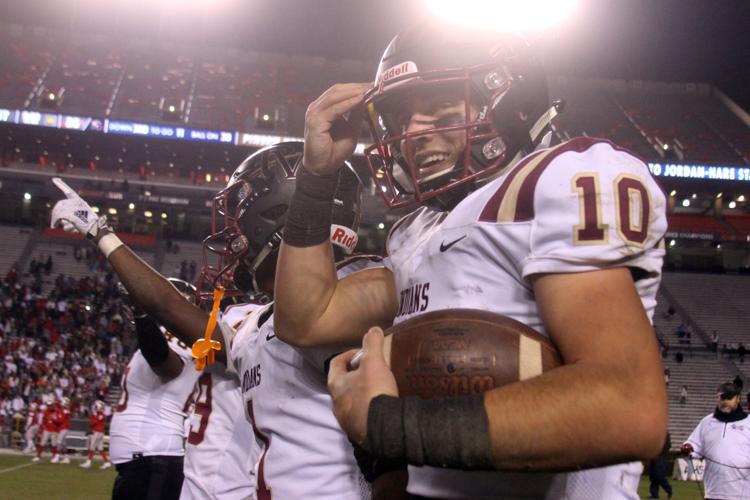 In other ways, as Bo Nix said, it was impossible to put into words.
"I'll remember it for the rest of my life," Bo Nix said moments off that field, after that celebration.
"Doing it here at Auburn — it's just a dream come true."
Bo Nix is committed to sign with Auburn soon as part of a touted 2019 signing class for the Tigers football team.
Friday night, he threw for 306 yards and two touchdowns with two interceptions while rushing for 66 more yards and another score on 15 rushes, on his way to being named the championship game's Most Valuable Player.
In the final minutes, he ran to pick up a key first down which allowed Pinson Valley to wind down the clock — and he took the snap in victory formation on the last snap of the game, before going down to his knee and then down to the turf, laying there with the ball as the game ended.
"When I first went down, so many things went through my mind, from where I've been and who all I've been with, and my teammates and my coaches — It's almost like that last set of eight on squats, when you just want to fall down on your face and just lay there," Bo Nix said.
"I finally got to do it, after being a senior, and there was no better feeling. I'm glad I saved it for that moment."
Patrick Nix played through a prolific career at Auburn from 1992-95.
The Nix duo has now helped lead Pinson Valley to both of the school's first two state championships.
Earlier this week, Bo Nix was named the state of Alabama's Gatorade Player of the Year in high school football.
On his way to the state championship game in the playoffs this November, Bo Nix broke the AHSAA's record for all-time career yards for total yards. He's been touted as becoming the first AHSAA player documented to total more than 12,000 yards of offense.
Last year, Pinson Valley beat Wetumpka 31-10 in Tuscaloosa to win the school its first-ever state title in football. As a junior last December, Bo Nix threw for 223 yards and a touchdown while running for two more scores on his way to being named the title game's Most Valuable Player.
Last season, Pinson Valley finished a perfect 15-0 on the way to winning the Class 6A state championship. Friday night, Pinson Valley won the Class 6A title again at 14-1. The Indians' only loss this season came to Class 7A Hoover in the regular-season opener.
The AHSAA's Super 7 event, featuring state championship games from the state's high school football playoffs from all the body's classifications from Class 1A-7A, rotates annually between Jordan-Hare Stadium and the University of Alabama's Bryant-Denny Stadium in Tuscaloosa.
Patrick Nix stands seventh all-time on Auburn's all-time career passing leaders list, after throwing for 4,957 yards in his career at Auburn. He stood sixth on that list before Jarrett Stidham passed him this year.
Patrick Nix and Stidham are tied for seventh on Auburn's list of career leaders in passing touchdowns, with 31 each.
Patrick Nix's name lines the Auburn record books in other areas, too, marking top-10 entries in the school's lists for best career completion percentage, most career completions, most single-season passing yard totals, most single-season completions, and its list of leaders for career total yards and touchdowns responsible for.
His famous touchdown pass to Frank Sanders in the 1993 Iron Bowl is etched into Auburn lore. As a sophomore, he came on in relief of injured veteran started Stan White to helped lead an Auburn comeback in Jordan-Hare Stadium and preserve Auburn's undefeated season with a win over Alabama.
Bo Nix scored his second-quarter touchdown run in the same end zone of that Nix-to-Sanders play, near the same pylon.
Friday night, Bo Nix re-affirmed his commitment to sign with Auburn, unmoved by the Tigers' 7-5 regular season in 2018.