When Derrick Brown spells out all the factors that went into his decision, it starts to make some sense.
When his son Kai looks up from his father's lap, it all becomes crystal clear.
"He's very into lights," Brown said gently back in April, Auburn's fierce defensive lineman softly bouncing his baby on his knee in a room under Jordan-Hare Stadium just after the Tigers' A-Day spring game.
Brown's jersey was still stained with turf and dirt from the field outside. Moments earlier he was locked in the battle of the scrimmage, powering over muscle and man to be named the day's defensive MVP.
Then he was holding Kai, sat calmly in the media interview area after the game, gesturing around to the TV cameras swarming all around — all taking their turns to talk with the man who turned down millions of dollars.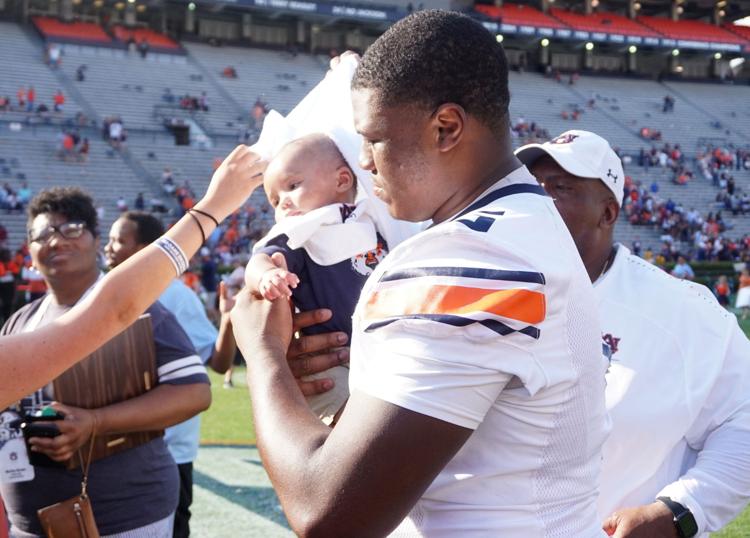 "Whenever you look around him, if he sees lights or anything near his face, that's what he's going to look at," Brown said, smiling down at his infant son.
He was barely bigger than the No. 5 worn across Brown's chest.
But in Brown's decision to come back to the Plains for his senior season this fall, Kai was huge — and family was everything.
Kai was born Dec. 20, right after Brown completed his junior season at Auburn and just before the team's bowl game, and while other elite players like Brown were contemplating jumps to the NFL or returns to their college teams. Brown was projected by analysts to be a sure-fire first-round draft pick if he had left. If he was a top-10 pick, he could've been signed for more than $20 million.
Instead, in that same moment in April, as other players geared up for the draft later in the month, Brown sat in Auburn, his orange and blue jersey still on his shoulders, and his son in his lap — all smiles.
Brown explained in the spring that he's content with his decision to play out his senior year at Auburn, on schedule to graduate this December and to step off campus with a degree in his hand and prepared to provide for his young family.
Family is what kept him at Auburn. His parents insisted that he would finish his studies, now or later, if he had decided to go pro early.
And now, more than ever, family is so much a part of his journey at Auburn. His younger brother, Kameron, signed with the Tigers in February, and the two will be teammates this fall.
"It's like, you just went from being a kid to now you've got to be a grown man," Brown said back in February in another visit with the media. "You've got to become the provider and you've got to become the person that's taking care of your son. You've got to weigh the options.
"I thought it'd be more beneficial for me, to be honest, to come back, finish, and get my degree — because when it comes time for my son to get his degree, I'm going to push for it. I'm not going to take 'No' for an answer, just like my dad has done with me."
Brown's parents didn't insist he come back, he said. They only told him that, either way, he had to graduate eventually. If he had left, Brown could've returned to Auburn for classes in the NFL's offseason to finish up. Cam Newton left Auburn after his junior season in 2010, and eventually completed his degree in 2015.
But Brown didn't want to wait that long.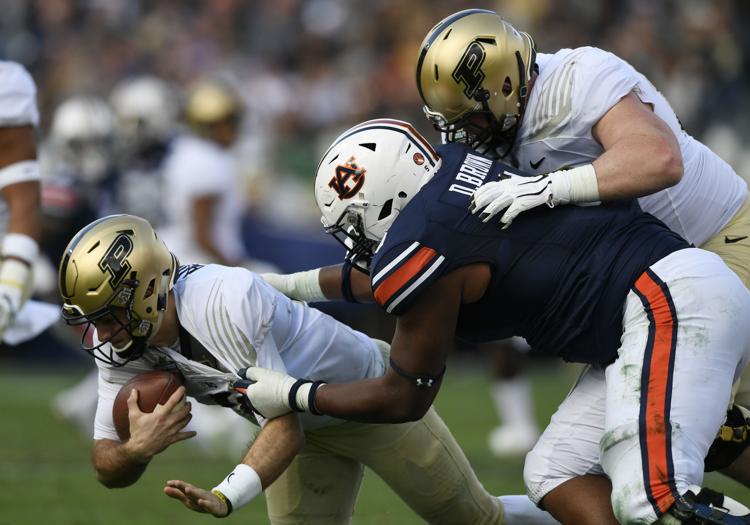 "I realized I had 27 credit hours left, so I was like, 'You know what? Let me just go ahead and knock this out in two semesters rather than play around with it for three or four years,'" he said.
Suddenly, Brown's once shocking decision to turn down so much money starts to make more sense.
"If I don't go this year, I could get hurt. I hope not to. But, you know, my degree in my hands is going to be so much more powerful than what could've had happened," Brown said. "I could've been in the league and I could've been hurt. … I felt it would've been harder that way.
Instead, Brown's back at Auburn for one more ride as a Tiger. He's going to enjoy it — and he won't be alone.
"Just being able to have my son here when I do graduate in December will be a nice memory I won't ever forget," he said.