That's what the Auburn offense did with the game on the line in crunch time last Saturday, when quarterback Jarrett Stidham fired a pass up to the back corner of the end zone, toward true freshman Seth Williams.
Williams lived up to the moniker. Touchdown Auburn. Jordan-Hare Stadium erupted.
Williams' 11-yard touchdown catch with 1:41 left in the fourth proved to be the game-winner in Auburn's 28-24 come-from-behind victory over Texas A&M.
It was quite the moment, for Williams and for Auburn — laying the team's comeback hopes out in the hands of a freshman.
But, as Tigers players will say, Seth Williams isn't a normal freshman.
He isn't a normal player.
"Seth is a freak," Stidham said, moments later, after the Tigers capped their comeback, celebrated with fans, and went in and out of a jubilant locker room before postgame interviews underneath Jordan-Hare. "He will continue to be a freak for a very long time.
"He's a true freshman, but you wouldn't think it, the way he's playing and just the way he's catching onto everything," the quarterback continued. "College football is an adjustment from high school, and so I couldn't be more proud of him."
Yes, just a year ago, Williams was on the high school field, at Paul W. Bryant just outside of Tuscaloosa.
Now, the youngster is one of Auburn's top targets. He's caught 16 passes for 332 yards and a team-high four receiving touchdowns this season.
He caught another 11-yard touchdown from Stidham earlier Saturday, in the game's second quarter. His two scores earned him SEC Freshman of the Week honors from the conference on Monday.
More importantly, they helped earned Auburn its sixth win of the season. The Tigers trailed 24-14 going into the fourth quarter before they erased the 10-point deficit in the closing minutes.
"I'm just happy the coaches and Jarrett trust me enough to throw the ball up to me like that, in that situation of the game," Williams said after the win.
"It was a pretty good feeling."
His performances have been anything but.
On the game-winner, Williams made a quick move off the line of scrimmage to push himself outside of the Texas A&M corner opposite him. Stidham, in the pocket taking the snap from the right hash, fired left to Williams, lobbing his pass to the far-side, back-corner pylon in the back of the end zone where, so it seemed, no one would have a chance at it but Williams.
Like the 'freak' Stidham calls him, Williams lifted his 6-foot-3 frame for a leaping catch, tapping his toes in green, end-zone grass to complete the catch in bounds.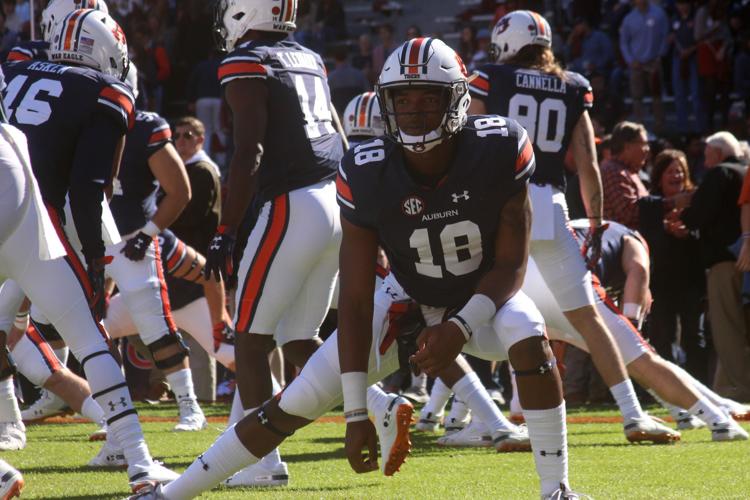 Williams caught his first collegiate touchdown earlier this season in nonconference action for Auburn against Southern Miss. In Auburn's late loss to Tennessee, Williams leapt up a Volunteers defender for a score in garbage time as the Tigers trailed.
In Auburn's bounce-back win over Ole Miss, he broke loose for a 62-yard gain down to the Rebels 1-yard line which set up an Auburn score.
After the Texas A&M game, he now stands as Auburn's leader in receiving touchdowns, and the team's third-best in receiving yards. Junior Darius Slayton has rolled up 439 yards on 29 catches, while senior Ryan Davis has compiled 396 yards on 43 catches.
But Williams is trailing just behind them — doing all of it in his rookie year on the Plains.
Saturday, Williams became the first freshman receiver at Auburn to pull down two touchdowns in one game since Ronney Daniels did it in 1999.
He's now also the first Auburn freshman to record more than 300 receiving yards in his rookie season since Courtney Taylor did it with 379 yards in 2003.
"What you see is what you get," Slayton said of Williams on Saturday. "You throw the ball up at that kid, and he just goes up and gets it.
"He's been a huge help for us this year, and he's going to be a really good player for years to come."