Travis Williams tilted his head to one side.
His ears perk up when he hears all the talk outside the athletics complex walls. The question all camp, burning like the August sun, is about who's going to be Auburn's starting quarterback in the national spotlight against Oregon.
But Williams has another story to tell:
"You're talking about a quarterback battle? I've got two linebackers right now, in Chandler Wooten and KJ Britt, that are head-to-head — I mean, battling it out," he said.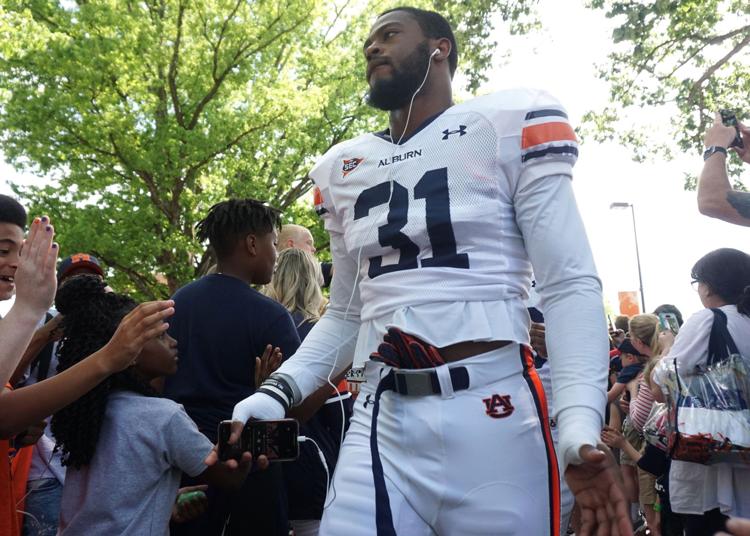 The Tigers' linebackers coach and former on-field Auburn great smiled on Thursday talking about them both, offering up for fans in orange and blue a little more drama to watch over this preseason.
Britt and Wooten are the two vying for time at the heart of Auburn's defense at middle linebacker — in the spot Williams calls the quarterback of the defense, and where he places just as much importance.
Britt is a junior from Oxford. Wooten is a junior from Acworth, Ga. Both will play in the first game against Oregon, Williams says.
Both will be tasked with feeling the shoes and replacing the voice of the former All-SEC Auburn captain at middle linebacker, Deshaun Davis.
Williams could just as easily slide one around, but he's thrust them both into heated competition, informed by his own hard-nosed experiences on the Plains through the fabled undefeated season in 2004 and his senior year in 2005 and from earlier.
"What it does is, it creates a culture of competition," Williams said, laying his plan out on the table last week. "In my room, it's not, 'OK, this person graduates so it's next guy up.' We don't do that.
"You get what you earn, and we don't have starters, we have standards."
Next to them, sophomore Zakoby McClain is working at outside linebacker along with freshman Owen Pappoe. All four of them will see snaps in the opener, Williams said — and, yes, that includes the touted five-star rookie, Pappoe. Auburn often plays with two linebackers in defensive coordinator Kevin Steele's scheme, trading a third out often for an extra defensive back.
Williams remembers his time at Auburn as roommates and best friends with his fellow linebacker Antarrious Williams. He remembers going nose-to-nose, getting into it with him in the weight room once, too. They were close enough to argue with each other, and close enough to fight for one another on the field.
That's what he wants now with Britt and Wooten — and it's by design.
"I don't know if y'all noticed," Travis Williams smiled, "I put Deshaun and Tre at the same position."
That's Davis and former Auburn linebacker Tre Williams, who Travis Williams put at middle linebacker back when he was first promoted to linebackers coach in 2016.
"I want to have two quarterbacks at all times, just like I had with Deshaun and Tre Williams," Travis Williams said.
"It's just like whoever our quarterback is going to be on offense," he also said, "that middle linebacker has to be a guy that communicates, has to be a guy that if a defensive lineman is not in their gap, you make a strength call and you've got to get in down there and slide him in the gap. … So we're trying to find that person that can quarterback."
Britt, listed at 6-foot and 236 pounds, watched and learned behind Davis at middle linebacker last year. Wooten, 6-foot-2 and 228, has played at outside linebacker at what Auburn calls the 'Money' position, where McClain and Pappoe are working now, and at the 'Sam' position used when Auburn does put that third linebacker in and moves to a 4-3 look.
All four will rotate in and all four will play against Oregon, Williams said — making this a battle and piece of drama Auburn fans can watch play out for themselves under the bright lights in AT&T Stadium on Aug. 31.
"You know, what's very pleasing to watch is just how close they are," Travis Williams said of his linebackers. "They're a really, really close group. I think Chandler Wooten and KJ Britt really has done a great job leading those guys.
"It's like a big brotherhood."
That's what he had, back when he was competing for championships in his time on the Plains.
He's hoping those will come too.