Auburn's season was pushed back to the brink in the fourth quarter last Saturday, or so it seemed, with a stadium's weight hanging on the each snap in the final minutes of the Tigers' game against Texas A&M.
Those snaps kept drifting back toward No. 8.
And time and again, with the ball in his hands, Jarrett Stidham came up clutch — pushing Auburn's offense down the field on two touchdown drives in the final six minutes of the game to complete his team's 28-24 comeback victory.
Stidham fired an 11-yard scoring strike to Seth Williams for the go-ahead touchdown with 1:41 left, finishing a 10-point, fourth-quarter comeback, and Jordan-Hare Stadium, exasperated minutes before when the Tigers trailed by two scores, then erupted as Auburn charged back to cap a thriller.
It was an up-and-down-then-up kind of day on the Plains.
But not behind that No. 8 jersey, Auburn senior wide receiver Ryan Davis said.
Stidham was cool and collected as he delivered the win.
"I think he was just very calm in that time, and he just had that killer in him, just wanting to finish the game," Davis said, in postgame moments after a jubilant celebration with teammates in the Auburn student section. "He gave us the chance to make plays.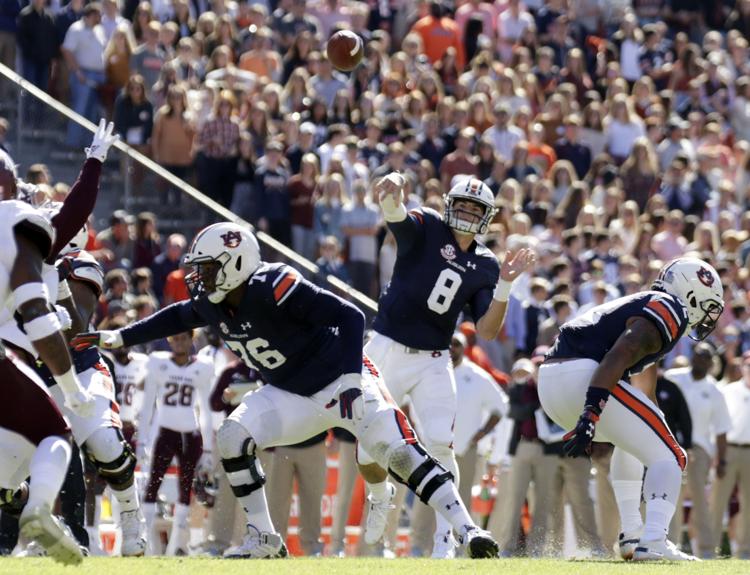 "Honestly, Jarrett was just being the baller that we know he can be."
It was Davis who Stidham connected with for one of the biggest plays of Auburn's season on that game-winning drive, as Stidham stood in the face of pressure from a blitzing Aggies middle linebacker, and made the right read to fire over his head into the hole he left behind, where Davis was crossing over in front of the line just past the line of scrimmage.
Davis found space as he crossed midfield, spun his way past would-be tacklers then zig-zagged down to the Texas A&M 11-yard line.
One snap later, Stidham lobbed a perfect pass to the end zone's far-side back pylon, which Williams pulled in for the score.
The Tigers' much-maligned star quarterback has seen his share of time spent as a focus of criticism from some Auburn fans and supporters this season, as Auburn's preseason championship aspirations have soured, giving way to a three-loss season by the end of October.
He stood plenty tall on Saturday when the game was in his hands, though, completing seven of eight passes for 125 yards and a score in those two late touchdown drives.
But Stidham spoke plainly when he described that crunch-time performance.
"Our number was called and we executed," Stidham said when he spoke with the media Saturday. "That's what it comes down to.
Stidham finished the game hitting 18 of 29 passes for 239 yards and two touchdowns. He connected with Williams for what as another 11-yard score during the second quarter.
"I can't speak enough about these players on the team," Stidham said later. "You guys sit here and ask me all the time, 'What's the issue with this, this and that?' This team is so resilient and we have great people on this team, and guys who just want to win.
"Sure enough, we found a way."
Auburn was in position to score the game-winner on that last series in the final two minutes because of the eight-play touchdown drive engineered by Stidham and the Auburn offense earlier in the fourth.
Auburn trailed 24-14 going into the fourth quarter. Auburn started the frame with the ball, but backed up to its own 2-yard line. The Tigers punted after three plays of trying to fight away from their own goal line, then went three-and-out on offense after a missed Texas A&M field goal in the ensuing minutes.
It wasn't until Noah Igbinoghene's interception gave Auburn the ball back with 7:14 left that the offense seemed to find its fire.
On that drive, Stidham hit Davis for nine yards, before dumping a short pass to JaTarvious Whitlow for a gain of 15 yards over the midfield stripe. After an eight-yard completion to Darius Slayton, and an incompletion that gave way to a Whitlow run to convert the third-and-2 play, Stidham fired to Slayton for a gain of 14, then hit him again for a leaping catch near the goal line.
After review, officials marked the ball at the 1-yard line making it a gain of 21. On the next snap, Stidham tossed to Chandler Cox, who powered in for the score behind Auburn's heavy goal-line formation. That made it 24-21 with 5:14 left.
After a defensive stop, Stidham and the Tigers offense got the ball back with 2:04 left, which led to the big plays to Davis and Williams.
"We gave him some options right there to read the field, and he made really good decisions," Malzahn said when going over those last two drives this weekend on the Auburn Football Review show.
"That two-minute situation — both those drives were executed extremely well."
A smattering of boos popped up in Jordan-Hare earlier in the afternoon during the game's second quarter, after second-string quarterback Malik Willis came in for an inverted-veer running play with Shaun Shivers, then stepped off the field as Stidham came back on after one play.
Stidham responded to that reaction by firing his first touchdown pass to Williams two plays later.
Williams, a true freshman, said Stidham works with receivers on red-zone throws like that one — and the game-winner later in the fourth — often after practices.
"We work that a lot," Williams said after the game. "We work on those throws in the red zone all of the time after practice. We have a feel for that and he knows where to throw it."
Stidham knew where to throw it on play after play in those late series Saturday.
By the end, he knew how to win it.