Jeremiah Dinson reached for his buzzing phone, sometime back in January.
Maybe it was a new message in the group text, or a FaceTime call.
He and his Tigers teammates were all spread out then, back before the start of the spring semester, and several of the team's other junior players, just like Dinson, were weighing their decisions to either leave Auburn for the NFL Draft or come back for another fall on the Plains.
Time and again, he'd get word from another teammate — and he'd swipe open his phone then smile.
Eight third-year Auburn players 'seriously considered' forgoing their remaining eligibility to pursue pro football, but elected to return to Auburn instead, including Dinson, the All-SEC defensive tackle Derrick Brown, offensive linemen Marquel Harrell and Prince Tega Wanogho, plus more.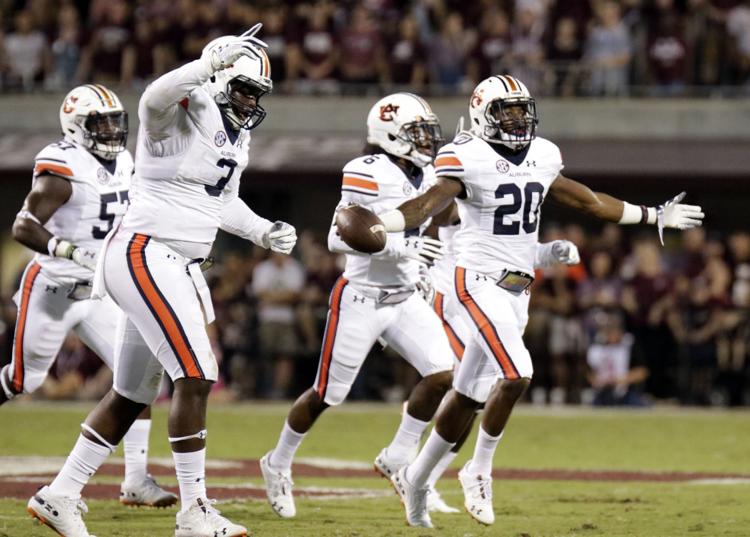 And every one of those decisions gave the Auburn returners even more reason to get excited about 2019.
"I was fired up," Dinson agreed Monday, speaking alongside several of those other players who all chose to come back.
Defensive linemen Marlon Davidson and Nick Coe were two of the others, and Dinson's teammates in the defensive backfield Daniel Thomas and Javaris Davis rounded out the group — all individually making their decisions based on what's best for them and their families, but, as Dinson said, keeping one another in the loop when they decided on where they'd be playing next fall.
Every time another teammate decided to come on back, it was like the team was picking up another big recruit, Coe nodded.
"I was very excited, just having my brothers beside me again," Coe also said. "It's just a great feeling when somebody gets to, like, come back into your life and just be there for you."
Most of those Tigers made their decisions over the holiday break earlier this postseason, before or after the team's win in the Music City Bowl.
Three Auburn players decided to forgo another season of eligibility to chase NFL dreams, namely quarterback Jarrett Stidham, cornerback Jamel Dean and wide receiver Darius Slayton.
The last returner in question to announce that he'd be back was Davidson, taking to Twitter to make his decision known on Jan. 8, a day before the spring semester started on campus, and two days after Brown made national headlines by announcing his decision to be back.
Brown was widely touted to be among Auburn's best NFL Draft prospects, if not its best, and a possible first-round pick.
When he decided to suit up in orange and blue for one more year, he got to celebrate with those other juniors coming back for more.
"Everybody had the same common interest of winning," Brown said Monday. "That's what I was fired up about.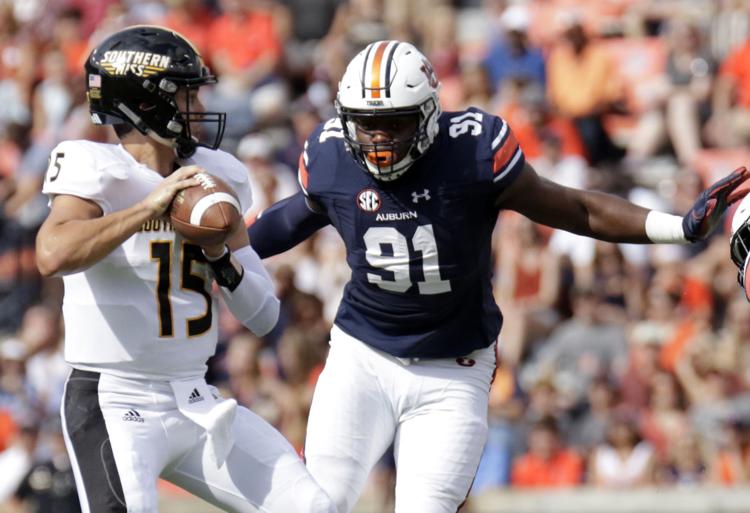 "Everybody talking, we all agreed on, 'If we're going to come back, we need to come back and do it right, and let's go out with a bang.'"
Auburn head coach Gus Malzahn spoke briefly Monday, saying those eight players all 'seriously considered' heading out for the NFL.
"We all talked, but it was like, you know, 'You've got to make the best decision for you,'" Dinson said. "Everybody respected that boundary but everybody, at the same time, was like, 'Hey, we've got something special. We could do something special.'
"So, I mean, everybody respected each other's boundaries, but I had D.T. nagging me every day about it," he laughed, referring to Thomas. "I had Javaris a little bit too — but I also nagged them, too, though."
Dinson recorded 64 total tackles for Auburn last season, while hauling in two interceptions. Davis recorded 41 total tackles with two picks of his own. Thomas was tied as Auburn's second-leading tackler, recording 74, while also pulling in two interceptions.
Harrell and Wanogho will both be back on an offensive line that returns all its starters from the 2018 season.
Davidson had 46 tackles with 4.5 for loss and 3.5 sacks, while redshirt sophomore Coe added 27 tackles with 13.5 for loss and seven sacks.
But the returner that got most Auburn fans the most excited with his announcement was Brown, who had 48 tackles with 10.5 for loss and 4.5 sacks. Brown was named to the All-SEC second team after the 2018 season — and he's an NFL-caliber talent who'll be suiting up in an Auburn locker room next season instead of somewhere in the league.
"It did feel good," Dinson said, of hearing about Brown's return last month. "That was one of the best ones, right there. I really thought he was gone. No question about it. But that just put the cherry on top, to be honest with you. I'm glad he came back. I'm glad he made his decision.
"And I'm glad each and every guy that came back made their decision," he added. "I'm happy."
They're coming back — and according to Brown, they're all on one accord.
"There's nothing else we need to do. We need to worry about winning," Brown said.
"We've got to do everything from this spring to this summer to put us in position for when the fall gets around, that we don't need have any more sad Saturday nights."