Gus Malzahn slung out a fist-pump, over a raucous locker room.
"Great job," he applauded, moments before, celebrating with his team under Vaught-Hemingway Stadium, just after a 31-16 win at Ole Miss two Saturdays ago.
He was celebrating his team's fight through adversity. He had just congratulated a standout player on defense. Then, that's when his attention turned to his offense.
"Hey, how many yards'd we rush for, Kirk?" he turned and asked, amid his postgame speech, looking to Auburn athletics' Associate AD for Communications Kirk Sampson.
"269!" Malzahn shouted, pumping his fist. "Running the football!"
His players erupted in celebration around him.
"That's how we win here at Auburn, men!"
Auburn had just powered its way to the 200-yard rushing mark, and beyond, for the first time in SEC play this season while rolling over Ole Miss that afternoon two Saturdays ago, moments before that locker-room was celebration captured and later shared by the university's 'Auburn Football Review' show.
Finally the Tigers, representing a program known far and wide for run-first football, had put together its breakthrough performance in the running game.
And it did so on the feet of several different running backs, with Auburn's playmakers in the backfield finally putting their pieces together to roll up a powerful performance.
Breakout star JaTarvious Whitlow rushed for 170 yards on 19 carries to lead the charge, while catching four passes for 38 more yards and a score. He took touches for five big plays that went for 16 yards or more, including a 54-yard rumble down to the Ole Miss 1-yard line that resulted in a fumble into the end zone and a touchdown for the Tigers when it was recovered by receiver Anthony Schwartz.
But Whitlow didn't do it alone. Freshman back Shaun Shivers posted 45 yards on 10 carries, his season-high in carries in games against FBS competition. Redshirt sophomore Malik Miller, who's settled into a role as a pass-blocking, pass-catching third-down back, punched in two short-yardage touchdowns from inside the 2-yard line in the win.
Then there's the team's second-leading rusher, Kam Martin, the junior veteran of the group, who stepped in to rush for 18 yards on four carries.
So far this season, Whitlow has rushed for 626 yards, Martin has run for 272 and Shivers has rushed for 212.
But it was in Auburn's last game, against Ole Miss, that those Tigers shined the brightest, while working together.
If you asked them, they'd probably say they wouldn't have it any other way.
Shivers said last Tuesday during the bye that none of the players in the Tigers' backfield have any issue with sharing carries and splitting playing time.
"We have no problem with it," Shivers said, a few days after the Ole Miss win. "We encourage each other on the sideline. When Boobee (Whitlow) gets a big run, I'm on the sideline yelling, telling him to run. If Kam's in the game, I'm telling him, 'Let's go, Kam. Let's go. You've got to run hard, get your pads down.'
"This past game, I'm telling Boobee, 'When you get it, just go, Boobee. Just go.' We just encourage each other all the time. When we're all on the sideline, when the defense is on the field, we'll talk and discuss with each other what we could've done better. They'll come and ask me, 'What do you think I could've done better?' And we'll just go from there."
That team-first attitude has been there for the Tigers since the preseason, when coaches presumed Auburn would use more of a by-committee approach in running the ball this season, especially when compared to what former feature back Kerryon Johnson did for the Tigers a season ago.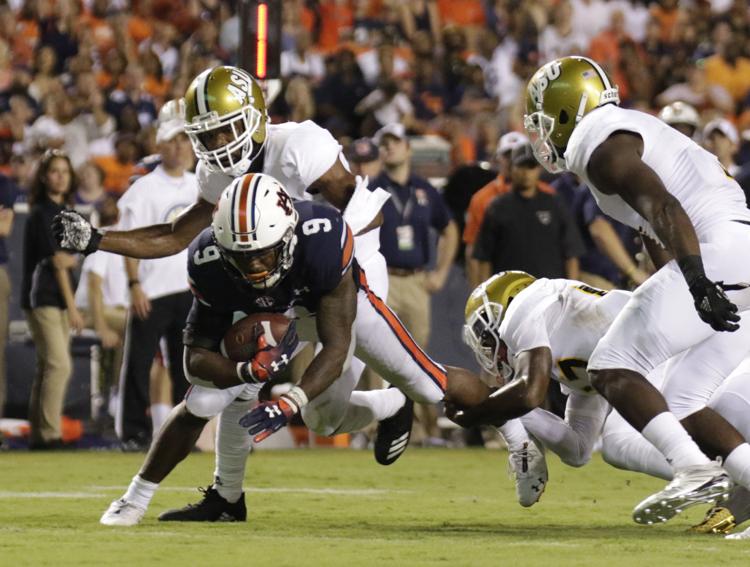 But over in Oxford, maybe, the Tigers coaches and players found a few more keys to the winning formula in making the running game's whole even greater than the sum of its parts.
Auburn's struggles in the run game up to that point have been well-documented. Behind a reshuffled offensive line, Auburn struggled in that phase of the game through its first six games of the season against FBS competition.
The Tigers rolled up 429 yards on the ground against the FCS's Alabama State in the second game of the season, but hadn't topped the 200-yard mark in any other game this season up to the Ole Miss contest. Against Arkansas, Southern Miss and Mississippi State, Auburn rushed for 91, 96 and 90 yards, respectively, to mark the first time since 1999 that Auburn fell short of 100 rushing yards in three straight games.
Auburn, the producer of 1,000-yard rushers in each of the last nine seasons, and the alma mater of Bo Jackson, Cadillac Williams, Joe Cribbs and so many more, has struggled to gain yards on the ground at times this season.
That explains Malzahn's excitement after the Ole Miss win, after the Tigers bowled over the Rebels.
"That's how we win here at Auburn, men. Great job, men," he continues, in that video clip from inside the locker room. "Impose your will, in all areas — special teams, defense, offense. Couldn't be happier for you."
In Whitlow, the rising star of a redshirt freshman from LaFayette, the Tigers have seemed to have found their spearhead for the stretch run of the season, starting Saturday against Texas A&M — and a glimmer of hope, maybe, in keeping that streak of making 1,000-yard rushers alive. That streak started in 2009, in Malzahn's first season on the Plains as Auburn's offensive coordinator.
But, with him, the Tigers have more playmakers that could keep Auburn's running success rolling.
"He is producing," Malzahn said of Whitlow, during his last visit with the media last Tuesday during the bye week. "There is no doubt, but we are excited about the other guys, too, and we are a running-back-by-committee, somewhat. In the last game we had a lot of guys doing a lot of different things.
"You can't have enough depth at the running back position."