Ryan Davis called it a dream, as he sorted through his thoughts in a subdued media room last Saturday.
Davis had just broken Auburn's all-time career receptions record, in a 27-10 loss for Auburn at Georgia.
His mind went back and forth as he spoke. He had just reached an impressive milestone, special to him and important to many. But the team he captains had just lost, and that disappointment was heard in his voice, though he tried to keep hold of his appreciation of the record and his reverence for players that came before him.
As he talked, though, making heads or tails of it all, he went back to the beginning — to the start of his career at Auburn.
And that put everything into perspective.
"It's just something you kind of dream about," Davis said, moments removed from the locker room under Sanford Stadium last Saturday. "You definitely want to leave your mark when you come in as a recruit — you think about all the stuff you want to do, and stuff like that.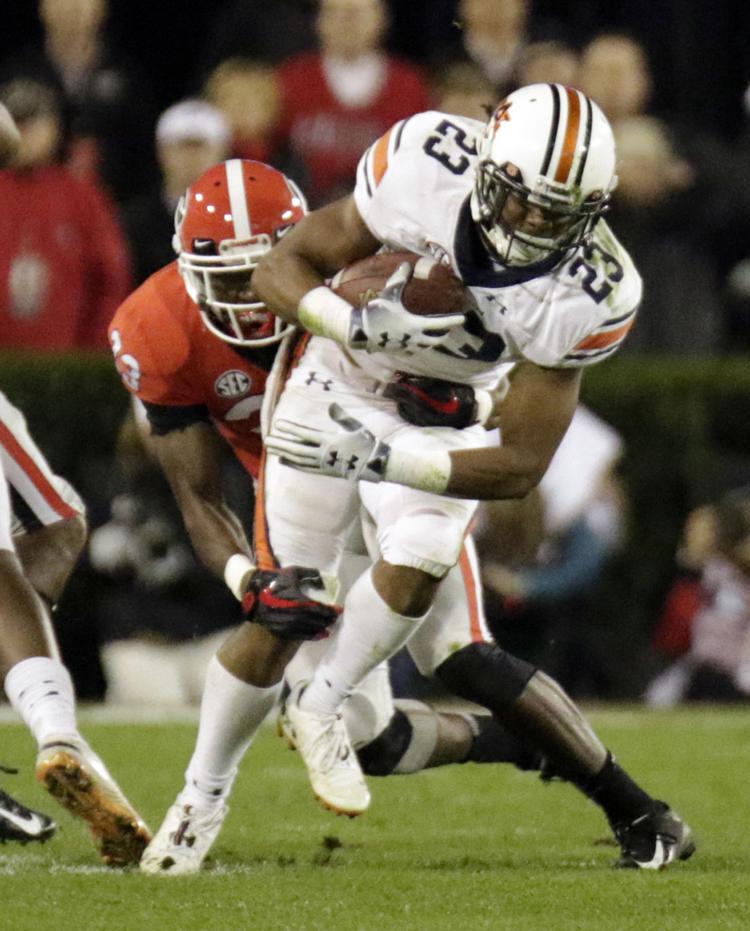 "I never imagined myself being the most all-time."
Davis caught his 153rd pass at Auburn, tying Courtney Taylor for the most receptions by any player in school history, on the first play from scrimmage last Saturday, when Davis caught a 10-yard pass from Jarrett Stidham early in the game's first quarter.
Later in the first, Davis pushed out in front of Taylor, catching a record-breaking nine-yard pass from Stidham on the Tigers' second series of the game midway through the first.
Davis finished with 13 catches in the game, and now stands as the program's career leader in catches with 165.
Taylor caught 153 passes for Auburn from 2003-06.
"I knew that I could put the work in and let the chips fall where they may," Davis said, going back to his recruitment and his arrival on the Plains. "But the fact that I'm looking back now, kind of reflecting, seeing how I got to this point, I'm kind of proud of how everything fell.
"I definitely would've rather it been in a winning effort, so I'm a little down about that, but just, talking about the record itself besides the game, I'm definitely happy about what I've accomplished so far in my Auburn career."
Davis signed with Auburn in the spring of 2015 out of Lakewood High School in St. Petersburg, Fla.
Last year, as a junior, he hauled in 84 receptions for 815 yards and five touchdowns. This season, he's pulled in 56 passes for 468 yards.
He leads the Tigers in receptions and receiving yards this season. He's been a captain for the Tigers all year, voted to that spot by his teammates.
Taylor, who helped key Auburn to an undefeated season in 2004 catching passes from Jason Campbell and then later Brandon Cox, now stands second on Auburn's career receptions list.
Karsten Bailey, who caught 150 passes from 1995-98, is now third.
Auburn legend Terry Beasley is now fourth on the list, with 141 career receptions.
Davis looked to the past toward players like those when he considered the weight of his career-long accomplishment on Saturday — and to the future.
Davis is listed on Auburn's rosters as 5-foot-9 and 185 pounds.
He said Saturday that he hopes his play could help pave the way for more players with his size making their name in college football, and on the Plains.
"I hope I'll be remembered as one of the best to come through here. I'll leave that to everybody else to decide," Davis said. "I definitely feel like I came here and left a mark. I feel like I came in here with my own style of play, something different that maybe Auburn receivers haven't been like — me also being a smaller receiver, as well.
"People don't probably think smaller receivers can get in the record book. It's definitely a good feeling. Other smaller receivers can see that they can come in and do the same thing I did. It's always about building for the next generation. Hopefully recruits that come in will see that I did it and can come in and do the same thing and do better."
Davis finished Saturday's game with 13 catches for 72 yards. The game ball from his record-breaking catch was saved by Auburn officials, as the team shared on its social media pages Saturday.
"Ryan Davis" and "AU career reception leader" was written on trainer's tape fixed to the side of the football.
"Ryan Davis is a special player," Auburn head coach Gus Malzahn said after the game. "He's meant so much to us during his time here. That's a big record. He deserves it.
"He's a wonderful person, he's a great competitor, and he's electric with the ball in his hands."
On a disappointing night in Athens, Davis' accomplishment gave the Tigers something to celebrate.
Ask them, and they'll say Davis is a teammate worth celebrating — just like the record-breaking effort.
"I gave him a big congratulations on the sidelines," Stidham said. "He's worked as hard as anybody could work and he deserves every bit of recognition that is thrown his way. I can't speak enough about Ryan Davis.
"He's the epitome of what an Auburn football player is, and what it should look like. I'm blessed to be his teammate."