Auburn's quarterback battle has been narrowed down to two.
Redshirt freshman Joey Gatewood and freshman Bo Nix are the top contenders in the team's competition to find a starter behind center, Auburn head coach Gus Malzahn announced Wednesday at an alumni club event in Dothan.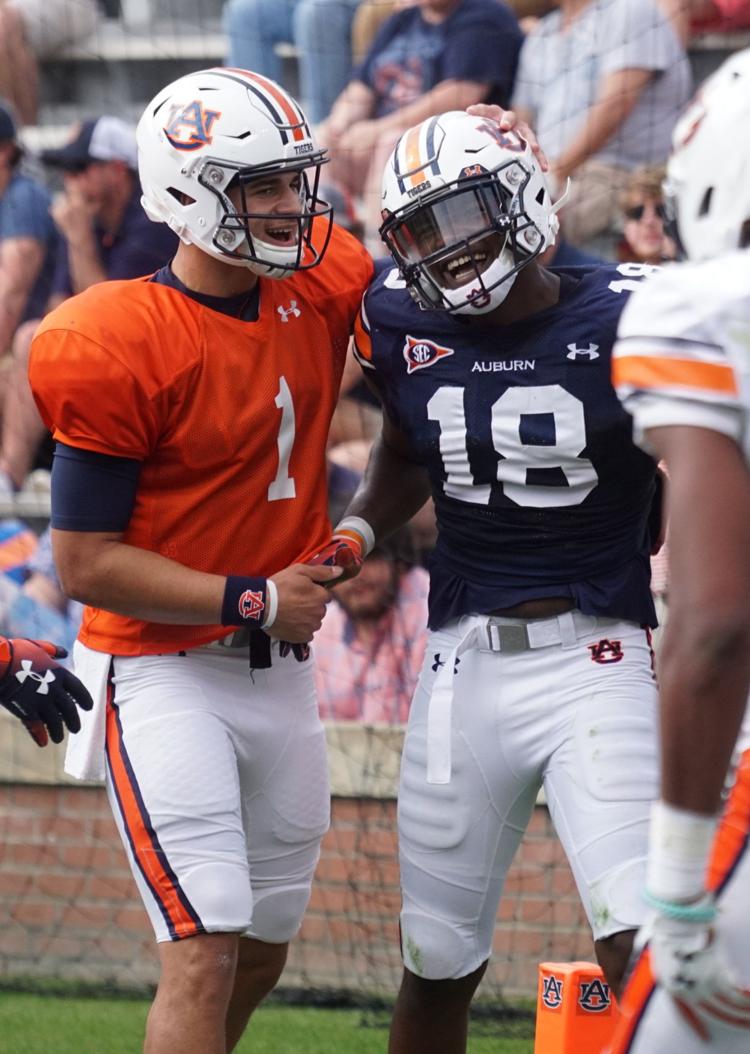 Malzahn said the two set themselves apart in competition during spring camp.
Gatewood and Nix are "1 and 1A" on the depth chart, he said.
"One of those two guys will be our starting quarterback for our first game," Malzahn said. "They'll compete during the summer and during fall camp and we'll make a decision."
Malzahn met with the media just before speaking at a Wiregrass Auburn Club event at the Windmill Station event venue in Dothan.
The decision comes shortly after the Tigers closed spring camp with A-Day on April 13, and finished exit meetings with players heading into finals and graduation on campus.
Malzahn said publicly naming a top two now allows those players to work more closely with No. 1 receivers during voluntary workouts in the summer, while also offering a vote of confidence behind them as they work to step up as leaders in the weight room this summer.
Auburn coaches entered the spring saying the Tigers would split repetitions equally between four contenders for the starting job — Gatewood, Nix, junior Malik Willis and redshirt freshman Cord Sandberg.
Gatewood redshirted last year as he sat behind established Tigers starter Jarrett Stidham. From Bartram Trail High School in Florida, Gatewood had the chance to showcase his skills to fans late in Auburn's Music City Bowl win last December, and at the A-Day game this spring.
Nix is a freshman early enrollee and a legacy quarterback — the son of former Tigers quarterback Patrick Nix. The younger Nix won two straight Class 6A state championships in each of the last two seasons as the starting quarterback at Pinson Valley High School — while the older Nix was the team's head coach.
As younger players, Malzahn agreed both have the chance to take big steps forward soon as they pick up more repetitions in practice and work more with first-team players.
"I just feel like both those guys have a chance to really zero in," Malzahn said. "The more reps they get, obviously the better they're going to be.
"But they showed that they can lead our offense and both of them have a chance to be a very successful quarterback here at Auburn."
The battle for the starting job will carry on into fall camp, Malzahn said.
But now, the Tigers have their top two going into the summer.
"They can start getting the majority of the reps with (first-team) receivers and all that. I think that's the big thing," Malzahn said. "It's extremely hard to develop any kind of timing, chemistry, when you're rotating a bunch of quarterbacks. And so when you've got a chance to narrow things down and let those guys go at it and start working this summer — Summer is critical, critical, critical as far as receiver-quarterback development and really, probably, leadership development."
The Tigers open their season Aug. 31 with a showcase showdown with Oregon in AT&T Stadium in Arlington, Texas.