Kenny Dillingham's voice crackles in from above, wiring to Gus Malzahn word from his eyes in the sky.
He'll chime in reading the down and distance at times, during the heat of game action on a given Saturday. Sometimes the offensive coordinator will call into the headset helping his head coach identify a certain matchup. Sometimes he'll point out a defensive tell, or call eyes to a key player.
But then, sometimes, he just keeps quiet.
Sometimes he just lets Malzahn's mind work.
When he's on a roll, Auburn's play-caller is hard to stop — gnawing on his Dubble Bubble, his eyes darting from his playsheet to the playing field, and his thoughts racing as he matches wits with some of coaching's other best and brightest at college football's highest level.
Auburn's seen that old familiar rhythm plenty this September, reminding everyone watching just how the Arkansas innovator made his name in the ranks.
Malzahn has proven again that he's still a force behind that playsheet.
And he's proven that he's right back where he's at his best now, calling plays for the Auburn offense again in 2019.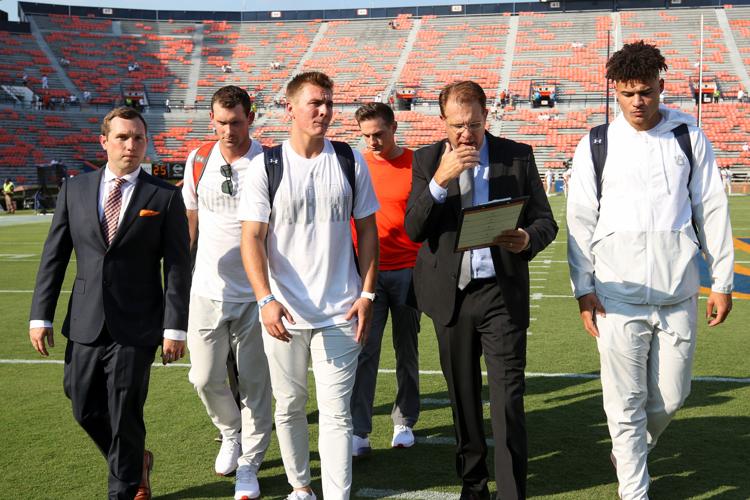 "I like it a lot when they work, I'll tell you that," Malzahn joked last Saturday after his team's victory at Texas A&M, when asked how he likes calling plays again. He spun the question into a self-deprecating laugh. But his smile betrayed him. Then his words.
"That's what I love to do," he admitted — before pushing the attention back to his players.
Malzahn drew up a winning scheme over there in College Station, where his Tigers won 28-20 on the road, and danced around one of the SEC's top rushing defenses with reverses and Wildcat gadgets and more, all by Malzahn's design. Texas A&M held Auburn to just 19 rushing yards in 2018. Malzahn studied that Aggies defense going into the 2019 game, and schemed his team into going up 21-3, zipping all around the Aggies' strength, while barely even running the ball inside.
Auburn's 4-0 this season, and 5-0 since Malzahn took over play-calling at Auburn again, including his offense's explosion in the Music City Bowl last December, which welcomed him back to working in the weeds.
In his seventh season at Auburn, Malzahn is a changed man in some ways — and in some ways, he's simply back to being the old Malzahn from some of the Auburn offense's most high-flying successes.
The switch started in Malzahn's own heart. When winds of change were blowing over the Plains last December after a lackluster season, Malzahn knew inside that he wanted to get back where he's at his best, doing what he loves.
As the 'hot seat' chatter swirled, Malzahn picked up the playsheet again — and that's gotten him fired up inside again.
"Oh, there's no question," said that familiar voice now in his headset, that's helped make the change possible. Dillingham agreed in the preseason that the prospect of calling plays has excited Malzahn again.
Dillingham's hire made it happen. Malzahn called plays at Auburn in every year he was offensive coordinator on the Plains under Gene Chizik from 2009-11, and through each of his first three seasons as head coach after he was hired ahead of the 2013 season. Midway through the 2016 season, he publicly gave up play-calling duties to then-coordinator Rhett Lashlee, and after that, he hired experienced play-caller Chip Lindsey to run the offense down-to-down in 2017 and 2018.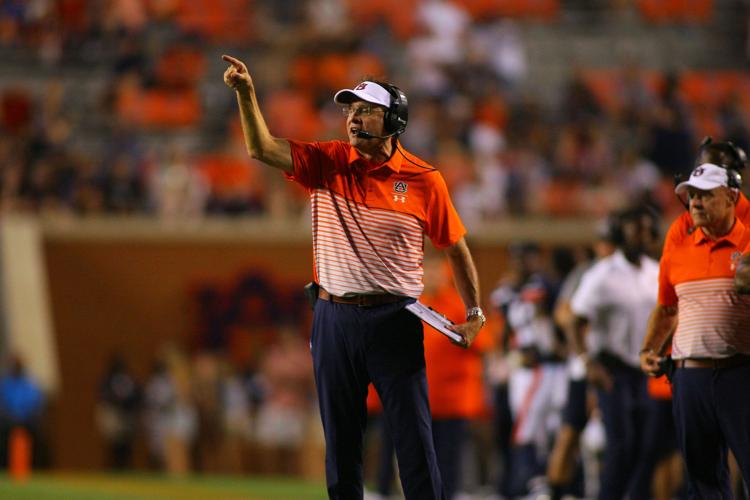 Then, after the 2018 season went south and Lindsey left, Malzahn turned to Dillingham — a rising young coach in his late 20's — and brought him on board. It's a deal: Malzahn gets assistance from Dillingham, and Dillingham gets to learn under Malzahn's wing. Dillingham was in the same position at Memphis, where head coach Mike Norvell calls the plays.
"There's 100 different ways in which you can attack a defense, and 100 ways a defense can attack," Dillingham laid it all out on the table, back during preseason camp.
"I think the key — the best play-callers, the best offenses in college football — have an identity to how they want to attack," he said. "And I think the biggest thing with Coach Malzahn is, him being back in that role, he knows how he wants to attack."
Auburn's on one heartbeat now — running with the vision of one innovative mind.
"More than anything, we're on the same page," Malzahn said, of how he works with Dillingham now on gamedays. Dillingham sits above in the coaches' box during games and relays information down to Malzahn on the sideline by headset.
He said sometimes he catches a rhythm calling plays, and there isn't much Dillingham needs to say other than the down and distance. Sometimes, though, he can fall out of rhythm. There's a gameplan going in, drawn up by Malzahn, Dillingham and co-offensive coordinator Kodi Burns, but there's still plenty to communicate.
"We prep the what-ifs," Malzahn said. "'If they do this, what do we need to call?' 'If they do that, what's the matchup?' 'Where's No. 24?' He gives a lot of great information.
"It's been very natural," he went on. "I thought it would be, and it has. And Kodi Burns does a good job, too. He knows our offense inside and out, and he gives some great information, too."
Malzahn admitted, in a sharp suit up on a polished stage at SEC Media Days this summer, that he made a mistake when he gave up play-calling. Far from his natural element, with a visor and a whistle on a practice field, Malzahn said he took some advice somewhere along the line, presumably about how to be a head coach and how to manage a team in this pressure-packed world of college football — but that he's learned, since then, that particular piece of advice doesn't really apply best to him.
He'll trade that suit for the visor and the whistle.
"He tried to walk away," Dillingham explained. "You can't be half in and half out. And I think for him, he's excited to be back in it, where everything that he used to do, we can do again.
"The worst thing you can be offensively, is half-this, half-that. And I think that's why, when he tried to walk away the last few years, it was so it wasn't a half-and-half deal. And now we get to go all in with what he believes in and what's been successful."
It's 'all in' again for Auburn, with Malzahn back on the reins on offense.
Sink or swim, Auburn's head man is steering the ship.
He wouldn't have it any other way.