With a bounce off the glass, Jaylin Williams had the crowd's attention.
Then with a thunderous slam, he had their amazement.
Williams threw down a spectacular alley-oop dunk on a pass from himself Saturday in Auburn's thrilling comeback win over Tennessee, making for a top-plays moment in Auburn Arena — and making an arrival statement from the freshman who has burst onto the scene for Auburn as needed late this season.
That dunk highlighted a solid eight-point performance in 15 minutes for Williams during the Tigers' 73-66 comeback win. Williams has emerged as an option for the team off the bench in the last two games as the coaching staff turns to different pieces with star Isaac Okoro out with injury.
Williams impressed in a season-high 16 minutes against Georgia two games ago before making an even bigger imprint on the Tennessee game.
"It was just kind of something that came natural to throw it," Williams shrugged with a smile after the game.
He was talking about that one play that had everyone talking. It came early in the second half with Williams driving near the top of the lane. He picked up the ball to attempt a shot but the defender cut off his look and put him in trouble of traveling — so he quickly threw it off the glass, then knifed through the busy lane and leapt over everyone to slam it down and finish the play.
Head coach Bruce Pearl couldn't help but smile, too.
"I actually told him before the game, I said, 'Do me a favor. I need Jaylin Williams out there. Do what you do,'" Pearl said after the game.
"And if you can get more guys out there — 'do what you do' — it'll help."
Senior Samir Doughty said the rest of the team has seen Williams flash that kind of ability ever since he arrived — but even Doughty, the grizzled veteran and transfer from VCU who has just about seen it all on the basketball court in different conferences and different parts of the country, said he was surprised to see Williams pull off that trick-shot kind of move while in the run of play.
"It was surprising that he did that during a game. I've never been a part of that where someone actually did that in the game," Doughty said. "But, I mean, it's something that he's capable of doing. Like every time he's around the rim, he's thinking 'dunk,' and I just feel like that's natural for him. And he's been like that since he's been with us in the summertime.
"He's just getting the opportunity to show what he's capable of doing."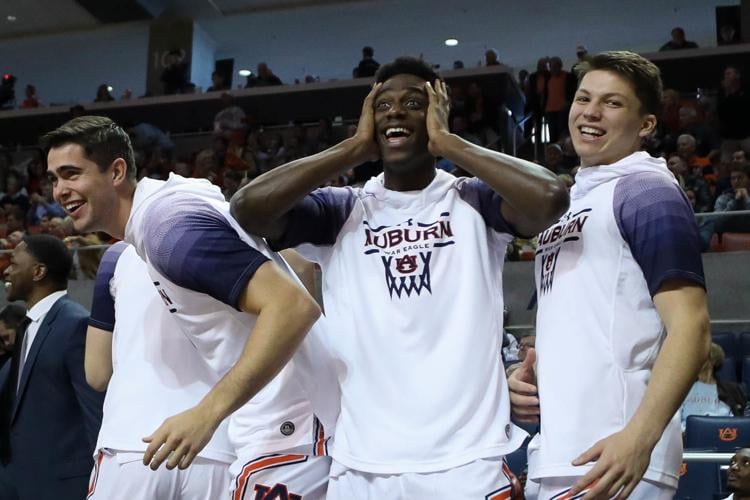 Williams has been called upon after Okoro went down with injury late in the Alabama game on Feb. 12. He didn't play in Auburn's loss at Missouri after that, but then he pulled down six rebounds in that Georgia game before the breakout performance against Tennessee.
Okoro has been a sensation for Auburn all season, and in those first two losses without him, it was proven that it's going to be an all-hands-on-deck effort for Auburn to replace his production — with Williams proving now that he can be one of those hands.
"I'm happy for Jaylin," Pearl said. "It's a coaches' job to put players in positions to be successful, and we didn't think that earlier in the season that Jaylin was ready.
"I'm so thrilled with how the bench reacts, because while Jaylin wasn't playing, he's working in practice, he's putting in his time," Pearl went on. "He's handling the fact that he's not playing like a pro, very, very unselfish. His family is staying patient. You've got to stay right and ready, and when you're number's called — he had some big-boy plays out there. He's got some big-boy ability."
Williams signed with Auburn out of Brantley County High School in Nahunta, Ga. He's listed at 6-foot-7 and 230 pounds.
"I know I can help the team out, but it really doesn't mean a lot to me to, like, get more minutes," Williams said. "Like in practice, I just want to make my team better, even if it's rotating in with the seniors, having more minutes, or being on the scout team and helping those guys out, helping them get ready for the next game.
"I'm just here to help the team."
As time goes on, it seems Williams will only be helping the team more and more.