Omari and Olivia Porter's Thanksgiving plans today are likely a lot different than those of their classmates and teammates at Auburn High School. Given their upbringing and their father's profession, that's nothing new for the siblings.
Omari and Olivia are the two youngest children of Auburn University assistant football coach Larry Porter and his wife, Sharmane. Together, the family has followed Larry across the country during a coaching career that has now surpassed two decades at the collegiate level.
The Porter family has witnessed the highest of highs in the profession during which the group celebrated as one, and they've endured low points during which their support helped make things easier. Through it all, they've stuck together to prove that even if a football coach's life is unconventional, the bond and love between the family is just as strong as anyone else's.
"Family has always been important, and it always will be important to me and my wife," Larry said. "It's our faith, it's our family and then it's football. That's kind of the way we've always approached it. For us, it has worked well."
Climbing the ladder
Larry and Sharmane met in the early 1990s when Sharmane was a student at the University of Memphis and Larry was the Tigers' star running back. The two got to know each other through mutual friends and eventually realized there was something special between them, which set the stage for their relationship.
Larry briefly played football after his stellar collegiate career but wound up injured. He turned to coaching at nearby Wooddale High School in Memphis for two years before UT-Martin came calling with an offer to become an assistant football coach.
"You could tell the passion was there then," Sharmane said. "He came later and said, 'You know, I got this job. What do you think about this if my principal will let me out of my contract?' The principal knew that it was one of his passions, so he allowed him to do that. I guess 20-something years later, that's it."
Larry and the couple's young son, Brandon, headed to UT-Martin in 1998 while Sharmane stayed back to finish her degree. This proved to be the first of many moves in the early years of Larry's coaching career.
Larry left UT-Martin after one season to coach the running backs at Arkansas State for three seasons, during which time the couple's second son, Omari, was born. The budding family then left for Stillwater, Okla., once Les Miles hired Larry to be Oklahoma State's running backs coach.
Following the birth of Olivia and three seasons at Oklahoma State, another change presented itself after the 2004 season. Miles accepted the head coaching position at LSU, and he wanted Larry to be on his first staff there.
For the fourth time in eight years, the Porters were on the move again.
While Larry was a student of the game and was gaining notoriety for his excellent recruiting skills, Sharmane did as much studying for her children. Sharmane's first act after every new coaching job was intently researching the schools in the area, and she would often visit campuses to seek out the best fit for her kids. If a school had great reviews but also had a front-office receptionist who was rude, it was quickly crossed off the list.
The move to Baton Rouge allowed all three Porter kids to display their personalities.
Brandon had become somewhat of an adventurer given his dad's constant job changes, and he embraced learning about the Louisianan culture and exploring what seemed like a whole new world. Omari's outgoing personality had him begging Sharmane to go door-to-door asking their new neighbors if they had kids he could play with, and he soon became close with Miles' son, Ben, and LSU assistant Bradley Dale Peveto's daughter, Payton.
Olivia's laid back demeanor allowed her to go with the flow, but she also tried not to get too close to others for fear of having to pack up and leave again. Still, she became best friends with Miles' youngest daughter, Macy.
Sharmane, meanwhile, developed a strong relationship with Miles' wife, Kathy. Sharmane always prided herself in having a short list of people she would allow to care for her children if she couldn't, and she watched in awe as Kathy navigated taking her four children to various sporting events and activities with incredible ease.
Sharmane and Kathy — a former Michigan women's basketball assistant — coached Macy and Olivia's YMCA basketball team when the two were around 6 years old, a point in time Sharmane still jokes was the beginning of her daughter's impressive athletic career.
While his kids thrived in the community, Larry and the Tigers thrived on the football field.
LSU won the 2007 national championship in Larry's third season as an assistant in the same year in which Rivals.com named him the National Recruiter of the Year. He received the award again in 2009 around the time the opportunity of a lifetime came his way.
Memphis blues
All three Porter children have someone different to thank for telling them the news that flipped their worlds upside down.
Olivia remembered playing with Macy when Macy said the Porters were moving soon, which left Olivia totally confused. Omari recalled a teacher at school mentioning his dad going back to Memphis, to which an elementary school-age Omari blurted out he didn't know where Memphis even was. Brandon, the oldest of the three siblings by 10 years, had been up to speed on what was happening thanks to the coaching carousel website FootballScoop.com.
Memphis fired longtime head coach Tommy West after the 2009 season, and the school wanted one of its own leading the rebuilding efforts. Sharmane had her doubts about the opportunity, especially after West's final press conference in which he passionately urged the school to "put something in (the football program) or do away with it."
After Larry and Sharmane prayed about it, they decided a return to Memphis was right for themselves and their family. Two of their kids, however, didn't share the same feelings.
Larry confirmed the news as the family sat together on the couch, which led to Olivia storming off, slamming her bedroom door and crying for what she said seemed like forever. Omari recalled feeling like it wasn't real until their final weekend in Baton Rouge, at which point he did anything he could think of to stay put.
"I stayed at my friend's house. The day they came and picked me up — it was my mom and my dad — I was hiding around the house not trying to get found," Omari said. "I was crying when they were pulling out of the driveway."
Omari and Olivia soon found themselves in a new school, Brandon was graduating from the Baylor School in Chattanooga, and Larry went to work trying to get his alma mater on the right track. It didn't take long, however, for every family member to see he was fighting an uphill battle with the Tigers.
Memphis had lost 17 games in West's final two seasons, and the situation hadn't gotten much better with Larry in charge. As Larry dealt with mounting losses, the children began to understand that winning — something they had grown accustomed to from rec-league games all the way up to life in the SEC — wasn't a sure thing.
After Memphis went 1-11 in Porter's debut season, Olivia politely asked her dad if they could go to LSU's bowl game since Memphis didn't have one.
The situation didn't get much better in 2011, Larry's second year on the job. The Tigers won two games and ended the year on a four-game losing streak. Shortly thereafter, Memphis decided to end Larry's time as head coach.
Larry called Sharmane on her way back from church with the kids on November 27, 2011 and asked her to turn the radio off so he could tell Olivia and Omari what had happened. Olivia, who already had a reputation of being a mini coach quick to criticize her dad's in-game decisions, spoke for everyone when she was told of his firing.
"When he got fired, Olivia was like, 'I thought everybody gets three years,'" Sharmane remembered. "It was like out of the mouths of babes. It was like, OK, if a kindergartner asks this question …"
Although the end of Larry's time as head coach was hard to swallow, he and Sharmane stood by their alma mater. They were at a Memphis basketball game the night Larry's replacement, Justin Fuente, was introduced, and Sharmane urged the crowd to get loud and support the new man in charge.
Sharmane took solace in the fact her husband's firing was a business decision. She also felt that everything that happened — good and bad — had happened for a reason.
"Where my faith lies is that God wouldn't have given permission if it wasn't supposed to happen. What if (Larry) would have had a heart attack and wouldn't be with us?" Sharmane said. "He was so involved. You already have time away from your family, but you're taking more time. He was like, 'Just stick with me, Babe. I know I'm supposed to do this and that, but it's stuff I want to do and achieve.'"
Brandon now lives in Memphis as he pursues a football career on the operations' side of the sport. Even now, he hears positive things when locals realize who his father is.
"It surprises me how many people I still run into who still have good things to say about him and wish he was still here," Brandon said. "The success they're having now, the foundation was one he helped lay while he was here as far as the different types of players that he started bringing in. It's unfortunate that he wasn't there to reap the benefits of it, but it is what it is."
Back in the SEC
Larry had new job offers within minutes of his firing, and he and the family were soon headed to Arizona State. He spent the 2012 season with the Sun Devils, served on Mack Brown's last staff at Texas in 2013 then took a job at North Carolina in 2014.
After his third season with the Tar Heels, an opportunity to coach at Auburn with Gus Malzahn presented itself before the 2017 season. The family had agreed not to move during Omari or Olivia's freshman years of high school, so Larry approached his son about what he thought.
Like his mother had done so many times before, Omari began researching his educational options if they headed to Auburn. He gave his father his blessing, and the family was set for a return to the SEC.
Sharmane said it was always important for her children to have at least some say in what the entire family did.
"We want them to have ownership in decisions. The decisions we make now are based on your family and your life," Sharmane said. "Once you get outside of this house, you want your grandkids to say, 'Thank you Grandma and Grandpa for my dad' or for their husband or wife to say, 'Thank you, Mr. and Mrs. Porter. You raised a great young man or a great young woman.'
"All these experiences — every place we have been should bring some type of growth. Not only do people touch your lives, but you touch everybody else's life."
The move to Auburn allowed Omari to make his own name on the football field, which brought about scholarship offers from programs across the country. Sharmane had asked all three children since they were kids to list their top colleges and explain why they wanted to go there; on July 18, Omari committed to Stanford, a school that had been on his list for years.
Olivia has followed through on the promise she showed during those YMCA days, as she has quickly become a standout player for Auburn High's varsity. She is fresh off a freshman campaign in which she averaged 13 points per game to help the Lady Tigers reach the state semifinals, and she tried out for USA Basketball's women's U16 national team in June.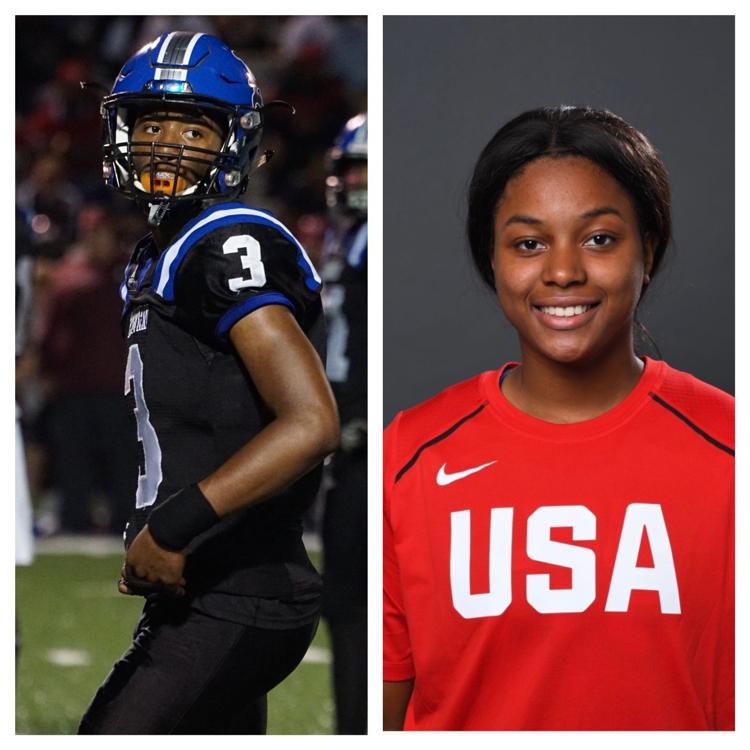 Larry is constantly busy as Auburn's tight ends and H-backs coach in addition to being the Tigers' special teams coordinator, but he makes a concerted effort to see as many of Omari and Olivia's games as possible. Larry has been known to offer tough love to both kids after games, but the two see it as their father pushing them to be the best just as he's done with so many of his players.
For Larry, their triumphs far outweigh anything he's achieved in his own career.
"They were born into this profession and grew up in this profession, and they've been around a lot of success at some of the programs I've been in," Porter said. "My greatest thrills have always come from seeing my kids achieve or obtain goals they've set out for themselves. That's always, for me, been a very rewarding feeling."
This Thanksgiving promises to be a hectic one for the Porters, as Olivia will be fresh off playing in the Inside Exposure basketball tournament in Jacksonville, Florida. Sharmane said she will likely get home around midnight Wednesday night and promptly start cooking for the next day.
The amount of time all five Porters get to spend together Thursday will likely be brief, especially with Auburn's looming Iron Bowl date with Alabama on Saturday. While those minutes may prove to be few and fleeting, their lives in a football family has taught them to appreciate however long they do have together.
"Growing up in this family, I think one of the big things you had to realize is you're not going to really get to spend much time with each other, especially me and my sister playing different sports in different seasons and with my dad coaching," Omari said. "When he's around, we try to spend as much time as we can with him. When me and my sister have free time at the same time, we try to go to the movies and spend that brother-sister bonding time. My mom's always here, so we always get to spend time with her.
"Really, you've just got to understand that you have to cherish the moments you do get to spend with each other."