Remembered as a legend, a leader, and a towering figure in sports in the state of Alabama, Auburn's first Heisman Trophy winner Pat Sullivan died Sunday morning.
He was 69. Auburn University athletics confirmed his passing with words from his family on Sunday afternoon.
Sullivan became an Auburn football icon during his stellar playing days at quarterback on the Plains, before he embarked on a near-30-year coaching career that took the Birmingham native through Auburn, UAB and Samford — all around his six-year stint as the head coach at TCU in the 1990's.
He's remembered maybe most fondly for his touchdown throws to Terry Beasley at Auburn, still recreated and celebrated by fathers and sons alike on the Plains. But his far-reaching legacy touched countless through his career and his life.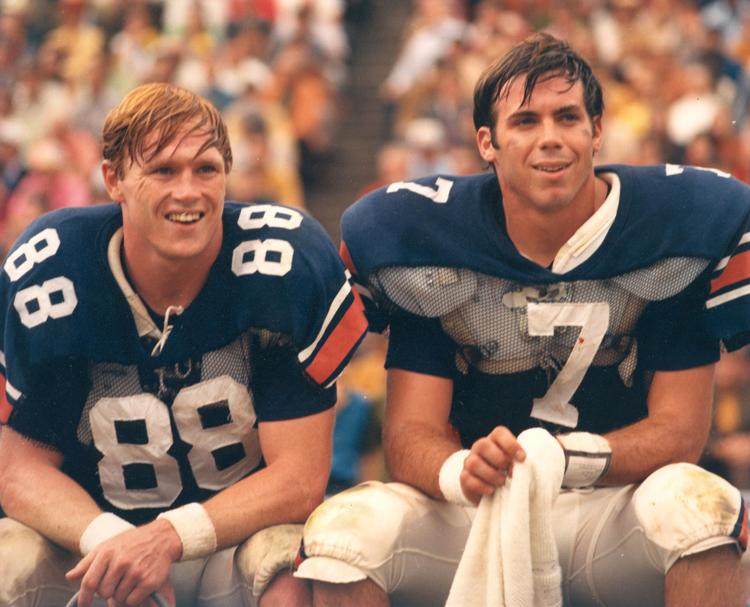 A statement from the Sullivan family sent through Auburn said Sullivan died surrounded by family.
"He was diagnosed with cancer in 2003 and fought a long and difficult battle as a result of his treatments," the family's statement reads. "The family is appreciative of everyone's outpouring of love and support."
Sullivan's statue stands outside Jordan-Hare Stadium in Auburn. Sunday, it was decorated with flowers and ribbons left in memoriam.
His influence was monumental.
"Pat Sullivan is, and always will be, the definition of an Auburn Man," Auburn head coach Gus Malzahn said in his own statement.
Sullivan won the Heisman in 1971, recognized then as college football's most outstanding player. After the NFL, he coached quarterbacks at Auburn from 1986-91.
Sullivan served as the head coach at TCU from 1992-97, rebuilding the program there and in 1994 winning TCU a share of the Southwest Conference title to mark its first claim to the league championship since 1959.
Sullivan started his battle with cancer during his time as the offensive coordinator at UAB from 1999-2006.
"He was a friend, mentor and a man of great character, who was beloved by many generations of Auburn fans," Malzahn said.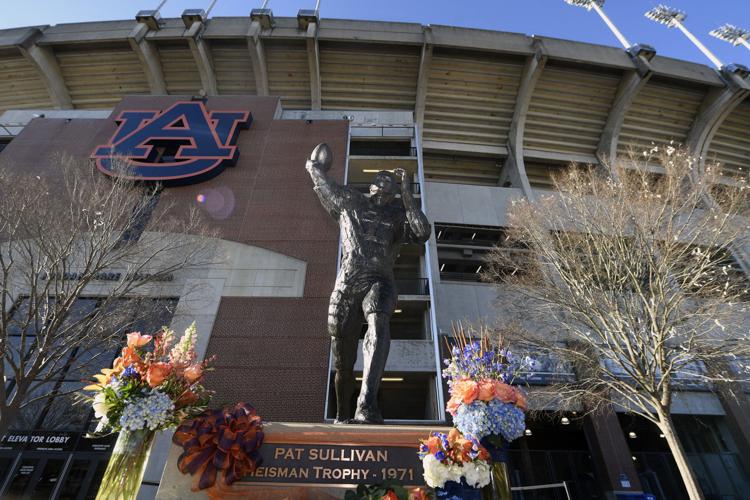 "He certainly will be missed. Our thoughts and prayers are with Pat's wife, Jean, their three children and the entire Sullivan family."
Sullivan's last labor of love in football came during his eight years as the head coach at Samford from 2007-14. In that time he built the program to new heights, winning the Southern Conference in 2013. In 2010, he traveled to New York to celebrate Cam Newton's winning of Auburn's third Heisman Trophy along with fellow winner Bo Jackson.
In 2011, he brought Samford to Jordan-Hare Stadium for its first game against Auburn since 1993. Samford hasn't played Alabama since 1944, hasn't played UAB since 1992 and hasn't played Troy since 1998, but the Bulldogs' recent games with Sullivan's alma mater have helped put the program on a bigger stage.
Earlier this year, it was announced he'd be a member of the 2020 Samford Athletics Hall of Fame class.
"Pat Sullivan gave Samford all and more than we could have asked," said Samford school president Andrew Westmoreland in a statement released on the school's website.
"We extend our support and sympathy to Jean and the Sullivan family and we remember Pat as making an extraordinary difference at Samford and in all other aspects of his life and career."