Jordan D. Hill
Prep writer
How much success can Auburn have running against SEC competition?
The Tigers bounced back after a so-so first two weeks on the ground with considerable success against Kent State, but the challenge of running on the Aggies is an entirely different beast. Texas A&M has been excellent on stopping the run in 2019, giving up only 83.7 yards per game through three contests. The Aggies held No. 1 Clemson to 121 rushing yards two weeks ago; given Auburn's shaky run game and on-the-mend offensive line, it's hard to see the Tigers mustered any more than that.
How does Bo Nix handle his first true road start?
Nix is no stranger to not playing at home thanks to the Dallas game, but it will not compare to how loud Kyle Field will be Saturday afternoon. Nix will likely have moments of inconsistency given the pressure and his relative inexperience, but I expect him to perform well and keep Auburn in the game. Expect Tigers head coach Gus Malzahn to give Nix some screens and easy completions early to build the true freshman's confidence against a talented SEC West opponent.
What can Auburn do to limit Kellen Mond's production?
Getting Mond uncomfortable is as easy as the Tigers' pass rush getting after the junior again and again. The loss to Clemson in Week 2 was by far Mond's worst showing in 2019, and his struggles came in part due to Clemson's ability to rattle him. Mond was sacked twice and hurried four of his throws, leading to a paltry 24-of-42 showing with one touchdown and one interception. Auburn has held its own against the pass this season (only allowing 191.3 yards through the air per game), and it will be imperative that the Tigers do it again to win their conference opener.
Will Auburn show the same strength on defense in a road environment?
The Tigers' defense had a few missteps here and there last week, but they returned to form just in time to leave Kent State in the dust. The challenge is much greater this week against a formidable Texas A&M offense, but there's little reason to wonder if the likes of Marlon Davidson and Co. can make their presence felt. Despite the 12th Man constantly backing the Aggies, anticipate the Tigers making plenty of plays defensively to lead to a game that comes down to the wire.
Final score?
Texas A&M wins 21-17. Both teams appear fairly even entering the game, so I give the advantage to the home team and the more experienced quarterback. Nix and the Tigers will deliver some big plays, but ultimately the Aggies hand them their first loss of 2019.
---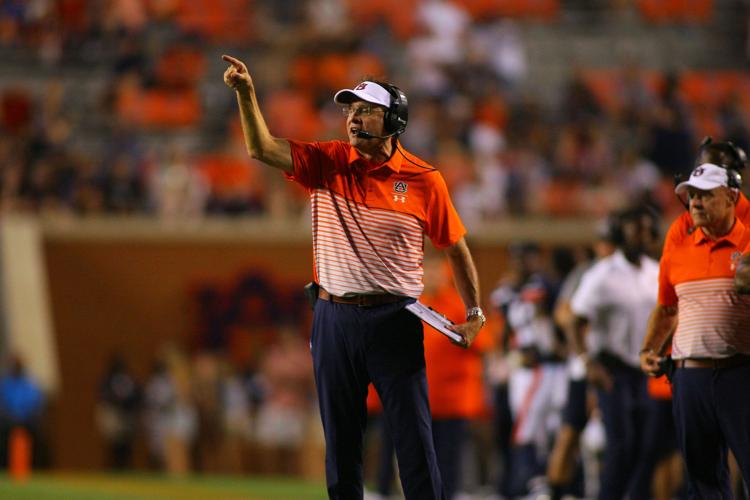 Justin Lee
Auburn writer
How much success can Auburn have running against SEC competition?
Kent State was simply outmatched last week in Jordan-Hare, but Auburn proved itself against stout competition in the opening week against Oregon, and if the Tigers can string together four good quarters of running the way they're capable, I think Auburn's plenty capable of rolling up rushing numbers even against Texas A&M's defense. This is the Texas A&M defense that held Auburn to 19 rushing yards last season, so it will be a mighty challenge and a major key to the game. But with JaTarvious Whitlow and that offensive line, Auburn's capable of rolling up big gains against the Aggies, if those pieces play up to their potential.
How does Bo Nix handle his first true road start?
I suspect he'll settle in and be the ice-cold player he is after just a series or two. My big question lies in whether he'll have to do it himself with his arm as he seemed to have to do late in the Oregon game with his team trailing, or if his teammates can put him in a more favorable position in College Station. Internally, and mentally, Nix has the training and the experience to respond well in the face of the challenge.
What can Auburn do to limit Kellen Mond's production?
It's all about pressure — and wouldn't you know it? Auburn has one of the most touted defensive fronts in the country. Texas A&M's offense will do what it can to scheme around that pass rush, with quick screens and extra blockers loaded into the backfield, but even against Oregon, after the Ducks did so much of that, Auburn's defense started getting to Justin Herbert late in the game. If Auburn can throw off Herbert, and keep him quiet for all of the fourth quarter and most of the third, the Tigers are capable of doing the same with Mond if they're playing at their best.
Will Auburn show the same strength on defense in a road environment?
Safety Daniel Thomas said this week that he actually likes playing on the road, because the stadium is quieter when the home offense is on the field, and that allows his defense to communicate better. I think Auburn can flex the same muscle on the road. That shouldn't be a problem. If they can't in this game, it's probably for a bigger reason than just that the team is away from Jordan-Hare Stadium.
Final score?
In what would be a surprise to most, I project Auburn to win fairly decisively, 31-17. Despite how unimpressed some might have been with Auburn's win over rising Tulane, or how some seem to want to chalk that Oregon win up as flukey, I have seen Auburn take strides forward in several areas on the field when compared to last year. I'm not sure how much Texas A&M has improved. This Auburn team seems close to turning a corner. Of course, whether the Tigers can make that turn or not remains to be seen.
---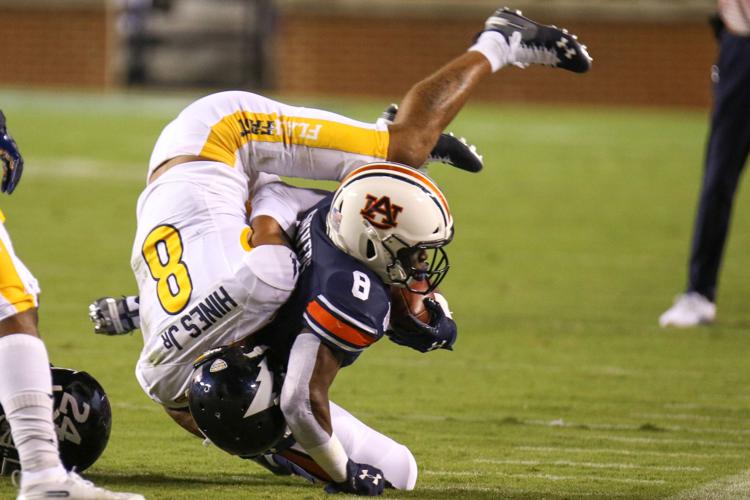 Jon Dykstra
Sports Editor
How much success can Auburn have running against SEC competition?
The Tigers seemed to find their rhythm last week against Kent State, but that was against Kent State and this is Texas A&M. The injury status of Prince Tega Wanogho at the left tackle spot is also massive with his backup Bailey Sharp out for the next six weeks. The Tigers can't afford their left tackle to be anything less than 100 percent in their first SEC test. If the traditional run game struggles early, this could be a game where Joey Gatewood is more readily mixed in.
How does Bo Nix handle his first true road start?
The Aggies held Trevor Lawrence to 268 yards with a touchdown and an interception when Clemson played Texas A&M a couple weeks ago and that game was at Clemson. If they were able to stifle the nation's best quarterback like that, expectations for Nix at Kyle Field need to be kept realistic. Nix can't be counted on to throw for 300 yards and three touchdowns. The freshman needs to simply manage the game and avoid any major mistakes. Showing the growth he has made in his decision-making ability from the first half of the Oregon game until now is imperative.
What can Auburn do to limit Kellen Mond's production?
Mond has thrown an interception in each of his first three games this season. For the Tigers to win, that trend likely needs to continue. As is always the case with the Auburn defense, it all starts with generating pressure on Mond and getting him off his spot. Clemson found tremendous success with that and it led to their relatively easy win over the Aggies. Auburn considers itself to be a dominant defensive unit as well. They need to prove that against a good quarterback. Mond isn't Justin Herbert, but he can be dangerous if not harassed. Auburn needs the second-half defensive attack of the Oregon game for a full game on Saturday.
Will Auburn show the same strength on defense in a road environment?
The same concern with the Auburn defense still exists from Week One. Will they show up ready to play from the opening whistle? Against Oregon, Herbert sliced them up early. Against Tulane and Kent State, inferior opponents got three points on opening drives. Auburn can not afford a slow start against a Texas A&M team that will have something to prove after that Clemson showing. The Tigers have to come off the bus ready to go to pull the upset in College Station.
Final score?
The Aggies are going to take this one, 27-17. Until I see different, I assume it will be a slow start from the defense and Mond will lead a touchdown drive to open the game. Nix will show flashes, but playing from behind in a hostile environment, he will also be forced into a couple costly mistakes. The Aggies hold a lead throughout with Auburn staying within striking distance, but Texas A&M punches a score in late to provide the final 10-point margin.