Opelika baseball has developed a proud tradition of excellence and has now turned to one of its own that helped establish that standard to help lead the program.
A former Opelika standout who graduated in 2008, assistant coach Zach Blatt was announced as the program's new head coach Thursday.
"Opelika High School welcomes Coach Zach Blatt as our new head varsity baseball coach. Coach Blatt has proven to be a valuable asset to our students and community over his career," Dr. Farrell Seymore, Opelika High Principal, said in a statement. "His experience in developing players at the high school level, his unique understanding of our community's baseball tradition, and his ability to connect with our athletes is consistent with the expectations of Opelika baseball. We look forward to our program's continued athletic and academic excellence under his leadership."
Blatt has been an assistant baseball coach since 2013 and an assistant varsity football coach since 2016. Additionally, he has served as the primary coach in charge of strength and conditioning programs.
"Coach Blatt is a very hard working, high energy coach that is going to be very successful for many years to come," Opelika High Athletic Director Mike Pugh said in a statement. "I am very excited to have him as our head baseball coach and look forward to working with him."
Blatt replaces Nick Richardson as the program's head coach after Richardson announced last week that he was taking a job with Tuscaloosa County High to be closer to his family after two years with Opelika.
"Coach Blatt is one of the hardest working coaches that I've ever been blessed to work with," Richardson said. "He was one of the first people I met when I got to Opelika. He keeps a great rapport with the players, he's a hard worker; he's the best high school pitching coach that I've had a chance to work with. He's going to do great things here and move right along. He's ready for the job and Opelika made a great hire in Coach Zach Blatt.
"He brings energy and effort to practice every single day. I think he'll continue to do that and put his own spin on the program. There's no doubt in my mind that he's going to be successful."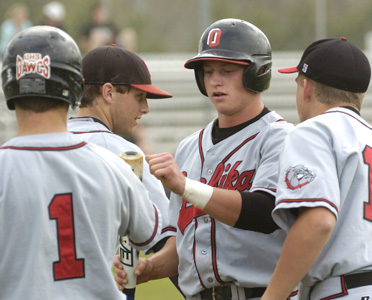 As a player at Opelika, Blatt earned Opelika-Auburn News Player of the Year honors as a senior after finishing the year with a 12-2 record from the mound. He allowed just 17 earned runs with a 1.56 ERA while taking home Class 6A Pitcher of the Year honors from the Alabama Sports Writer's Association and being named to the ASWA's Super 10 team.
In his time as a player, Blatt took the opportunity to learn from former head coach Barry Hightower who coached at Opelika for 12 years until his resignation in 2011. As an assistant coach, Blatt also worked with and learned from head coaches Billy Jones and Richardson. Through each opportunity to either work with or learn from the previous head coaches over the years, Blatt took to heart the understanding and the "energy, consistency and hard work" that it will take to be successful with the Bulldogs.
"I feel honored to be able to coach where I played, and coach at a school that is as good as Opelika is," Blatt said. "It's a great school and community. I'm honored to have the opportunity to be able to be the head baseball coach.
"I had some really good coaches in Coach Hightower and Coach Jones, and I wanted to take that opportunity and hopefully build on what we did when I was a player here."
While Opelika is 46-32 overall the past two years with two appearances in the Class 6A playoffs, Blatt wants to take the team deeper into the playoffs. He is aiming to return the program to the state championship which eluded his team when he was a senior in 2008 when the Bulldogs went to three games before coming within two outs of winning a 6A state title.
"I hope the kids see my point of view, being there and being so close. We've been so close the last few years of making a run," Blatt said. "I hope what I bring to the table can help us get over that hump."
Blatt is not just looking at the short term payoff, however. Like his predecessors, Blatt hopes to continue the legacy of strong community baseball and building the excitement up for future generations to come through the program.
"Coming into a situation where you have the community support, you know that when you play at home there's going to be people there, there's going be their kids watching – at the end of the day, you want those young kids that are the future of the program to be there and say, 'Hey, I want to play baseball at Opelika High School,'" Blatt said. "That's what I hope to continue. Coach Richardson has done a great job of establishing that in the youth program and I hope to build on that."
After signing with Auburn University, Blatt had 60 total relief appearances in four years with the Tigers. Blatt earned his Bachelor of Science in Physical Education from Auburn in 2013 and earned his Masters of Education in Physical Education in 2014.