When the Auburn High Tigers entered the locker room at halftime of their rivalry game against Opelika in August 2018, the mood felt a lot like gloom and doom. That is, until Mohamoud Diabate had his say.
The Tigers trailed the Bulldogs 15-7 at the break after a first half that saw a normally-stingy Auburn defense give up far too many explosive plays, which included an 80-yard touchdown pass early in the opening quarter. Auburn had just been gashed again before the second quarter ended on a 29-yard touchdown pass, and the Tigers were looking for someone to stand up and make a statement.
"We were down at halftime, and he came in there and was like, 'Yeah, we got this,'" teammate Omari Porter said. "We were kind of all down about losing to Opelika at halftime. He said, 'We've got to finish the game out. We've got to get a win.' That's what we did."
Auburn rallied in the second half and held the Bulldogs to only one touchdown to help the Tigers take a 22-15 victory. Diabate made countless plays after his words of inspiration but none bigger than the final one, when he raced around an Opelika offensive tackle and hit the Bulldogs' quarterback to knock the ball loose and thwart a last-second Hail Mary attempt.
Diabate's statement and stellar play was just par for the course at Auburn High during a career in which he became a four-star college recruit and played in the 2019 All-America Bowl. That reputation and ability has followed Diabate to Florida, where his role has grown as a true freshman in the weeks leading up to the Gators' game against Auburn this afternoon.
"What we look for here are guys that want to be the absolute best of the best," Florida head coach Dan Mullen said. "When you look at Mohamoud, he's obviously a tremendous athlete and has great position flexibility. He's also an extremely high-end student and a high-end young man, which really fits the Florida profile.
"He's come here, and he works his tail off. He's got a great attitude and a great work ethic. He's had opportunities, and he's taken advantage of that opportunity to find a role. He's played some significant time for us as a freshman already."
'A natural-born leader'
Adam Winegarden took over as Auburn High head coach prior to the 2015 season, Diabate's freshman year. As Winegarden and his staff took stock of the program and what they had to work with, it didn't take long for the coaches to identify Diabate's potential.
Winegarden said Diabate grew in his ninth-grade year, leaving Diabate bigger than before while still maintaining impressive speed. His performances coupled with his work ethic led to Diabate starting as a sophomore, which is not exactly common at a Class 7A program like Auburn.
Diabate, of course, wasn't exactly your run-of-the-mill 10th grader.
"He showed flashes his sophomore year," Auburn High defensive coordinator Patrick Plott said. "In his sophomore year, the later it got in the season the better he got. We knew we had something special with him his sophomore year."
The flashes Diabate showed as a sophomore turned into full-game performances as a junior. Diabate became a mainstay on an Auburn defense that only gave up 10.2 points per game, and he ended the season with 82 tackles, 20 tackles for loss, 10 sacks, one forced fumble and three blocked kicks.
For Winegarden, what separated Diabate from the other pass rushers he's coached over the years was his explosive quickness and closing speed. Winegarden said that while most pass rushers maintain the same speed in pursuit, Diabate actually speeds up in the final five yards, which often leads to devastating results for the opposing quarterback.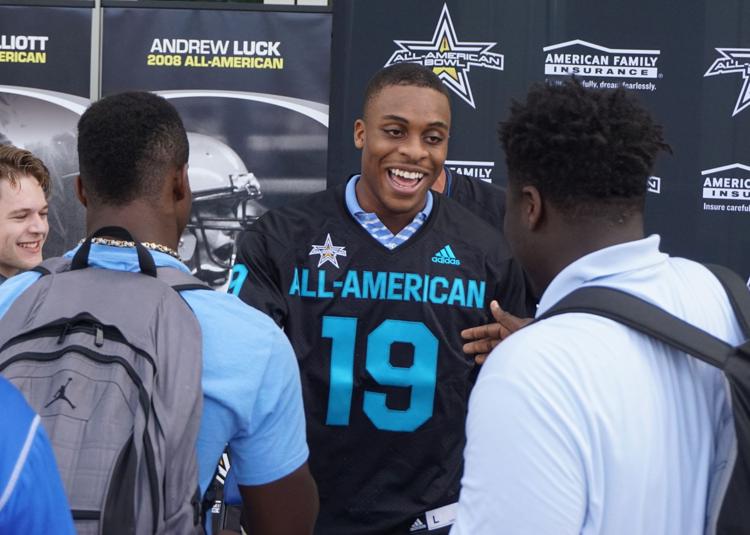 Diabate's efforts as a junior led to major attention from recruiting sites and colleges alike. Even with all the attention, Diabate never wavered from a pursuit of excellence that has pushed him throughout his career.
"Him just staying after practice was one of the little things that he did. Him always taking extra coaching — even if he did something right, what can he get better at? It was just little things that all add up," Porter said. "It was never being satisfied with what he put out there. He was always trying to get better and trying to work up to meet his full potential."
Diabate's commitment to the game came hand in hand with his team-first attitude, which was evident throughout his senior season. Diabate spent time at various positions for Auburn in 2019, playing defensive end, inside linebacker and outside linebacker to exploit various matchups and put his athleticism on display.
Diabate ended the year with 68 solo tackles, 19 tackles for loss, 11 sacks and 11 quarterback pressures. His production led to All-State first team honors for the second straight season.
Diabate's play was certainly worthwhile for the Tigers, but with it came leadership that separates great players from good ones.
Plott remembered Diabate making sure the other 10 Auburn defenders were aligned correctly, serving as a de facto coach on the field for the Tigers. Diabate's goal-oriented mindset was always at the forefront, and he made it evident to his teammates that anything less than their all wasn't welcomed.
"He's a natural-born leader. He's going to make sure he gets the best out of his teammates no matter what the circumstances are. He brings everybody up with him," Porter said. "Of course, he's going to laugh and joke with you, but when it's time to get to business he's serious and wants to get stuff done."
A stud in The Swamp
Diabate's work on the football field and in the classroom — where he was an honor roll student and had aspirations of studying petroleum engineering — led him to Florida, where he enrolled in January. He turned heads during fall camp, so much so that junior cornerback CJ Henderson tabbed him as someone capable of a breakout season.
It's hard to project a true freshman's playing time at an SEC school, but Diabate has made the most of the moment. Diabate has received more in-game reps due to injuries to other Gators, and he's played in all five of Florida's games while registering four tackles and half a sack.
"They're young players that are playing relative to the situation we're in," Florida defensive coordinator Todd Grantham said of Diabate and teammate Khris Bogle. "They've embraced the situation and made plays, and they've been productive. We'll continue to use them as needed. They've got bright futures here."
Per Florida's media policy for freshman players, Diabate was not made available for an interview.
Towson quarterback Tom Flacco was on the unfortunate end of Diabate's first collegiate sack last week on a play in which the true freshman and teammate Brad Stewart Jr. shared the tackle that took Flacco to the turf. Based on everything the Auburn High coaches and players have witnessed, Flacco will be the first on a growing list of QBs who Diabate has gotten the best of.
Diabate was back among his Auburn High teammates during Florida's first bye week to watch the Tigers take on Opelika in the game he altered with his words and his work the year before. His return was a chance for those who know him best to not only celebrate what he's already accomplished, but to think about what might be on the horizon for one of Auburn's finest.      
"I'm not really surprised at all that Mohamoud is playing like that right now and that coach Mullen is saying great things about him. He lived the fact that he was going to practice like it was a game, and he was going to do everything and not take any reps off," Porter said. "He has dreams of playing in the league, so he's going to do what it takes to give himself the opportunity to get a chance to play in the league.
"He knows what he has to do, and he's going to do it."