After a long hiatus, the start of the 2019 football season is finally here.
This week, local teams return to the field to kick off another fall of football. With the start of a new year comes the preseason edition of the Opelika-Auburn News Prep Power Poll.
This year's poll features a vote from sports editor Jon Dykstra, preps writer Jordan D. Hill and Auburn University beat writer Justin Lee. The poll reviews the strength of each team in their respective classifications as well as strength of schedule and the progress they've made throughout the year.
The offseason has seen many departures as well as the arrivals of new coaches and players alike for the teams in our area. With the various changes comes plenty of promise for a new year, one that everyone hopes proves to be one their team and their fans will never forget.
Central-Phenix City comes in at No. 1 after winning the Class 7A state championship last fall. Lanett, Chambers Academy, Opelika and Auburn round out the top five.
LaFayette and Notasulga follow close behind at No. 6 and 7, respectively. Reeltown, Smiths Station and Beulah round out the top 10.
1. Central-Phenix City
The Red Devils lost plenty of talent from last year's state title team, including quarterback Peter Parrish, running back A'Montae Spivey and safety Ray Thornton. Luckily, they have a wealth of talent that was waiting in the wings in quarterback Tucker Melton, running back Joseph McKay and safety Mike Harris. Central appears fully prepared to reload and again be in contention for a state championship, but the Red Devils will have to hit the ground running to stretch their current winning streak to 15 games. Central opens the season Friday in Montgomery's Cramton Bowl against Hoover, another squad that has a state championship in mind.
2. Lanett
Lanett had hopes of winning back-to-back state championships last fall, but a poor performance at Maplesville ended those hopes in the Class 1A quarterfinals. The Panthers graduated some major playmakers in guys such as Trikweze Bridges and Tifton Dobbs, but they return starting quarterback and Alabama commit Kristian Story. The loss of Bridges and Dobbs leaves major questions about the team's receiving corps, but the team returns some major speedsters like senior Quae Houston. Lanett's first test comes on Friday at Valley, the team that upset the Panthers in Week 1 last year.
3. Chambers Academy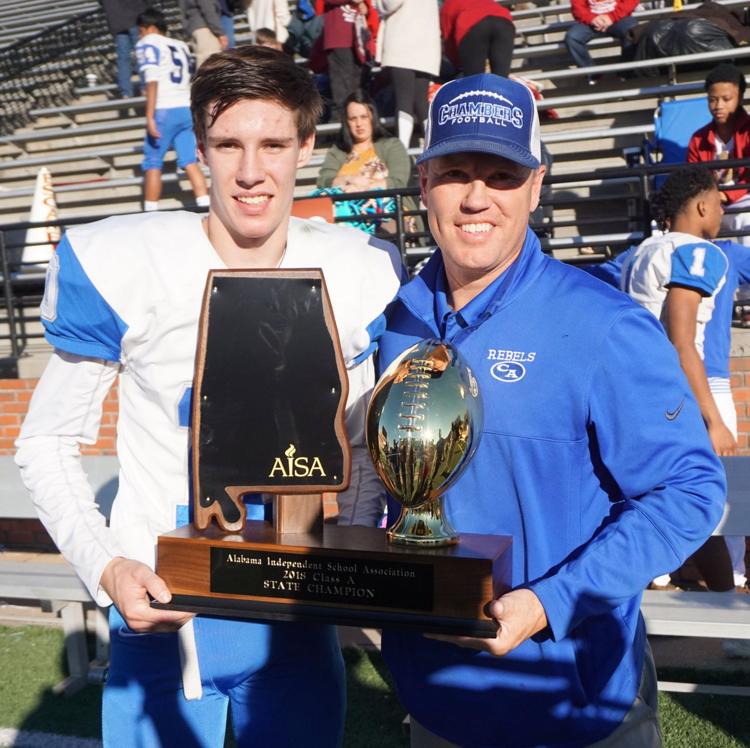 After knocking on the door the last three years, the Rebels promptly tore it down last season and captured the first state championship in program history. The Rebels have the challenge of replacing their top two running backs from 2018 in CJ Lyons and Jordan Gillespie, but they benefit in quarterback Payton Allen being back for his junior season. Tackling machine Braxton Allen is back on defense, and he'll likely carry the load at running back as well.  Chambers kicks off 2019 on Friday by hosting a rejuvenated Lee-Scott squad playing its first game under head coach Robert Johnson.
4. Opelika
The Bulldogs endured a tough regular season schedule in 2018 and made it to the state quarterfinals, where they barely lost to eventual state runner-up Saraland. Brody Davis steps in at quarterback for Samford signee Cade Blackmon, while Kani Kellum, Nate Evans and Eric Watts battle to replace running back Brantan Barnett. Opelika needs players to step up at linebacker, but luckily they have other defensive playmakers back like safety and Purdue commit Jaylen Stinson as well as defensive lineman Tre'Von Moore. Opelika will open the season Thursday at home against Callaway, a Georgia team that beat the Bulldogs 35-21 in route to an 11-win season last year.
5. Auburn
Auburn has established itself as a perennial contender in Region 2-7A and was a quarter away from winning the region in 2018. The Tigers are set up well to contend again – that is, if they can answer a few important questions. Eufaula transfer Matthew Caldwell and sophomore Patrick McGlon are battling at quarterback, while five players are in the mix at running back. The defense loses lineman and Florida signee Mohamoud Diabate but returns two key players in linebacker Aaron Diggs and cornerback Omari Porter. The Tigers open the season Friday by hosting Wilcox Central, the team the Tigers thrashed 42-0 last August.
6. LaFayette
LaFayette was slow out of the gates in 2018 before reeling off six consecutive wins to reach the second round of the playoffs. The Bulldogs graduated several reliable players from last year's team but bring back a great deal of talent for 2019, including new quarterback and safety Jordan Walker. The Bulldogs' defenses have gotten better and better throughout James Lucas' run as head coach, and he expects that trend to continue in 2019. LaFayette has a preseason game against Handley on Friday before its season opener at Lanett on Aug. 30.
7. Reeltown
The Rebels rolled through the regular season with eight victories in 2018, but several injuries derailed their chances and helped lead to a first-round loss to Daleville. Reeltown has several key contributors coming back for 2019, including running backs TraTra Hughley and Cameron Faison. Wide receiver and linebacker Eric Shaw – who committed to South Carolina last week – will fill important roles on both sides of the ball, and the Rebels are hopeful linebackers like Logan Hunt can helped him make plays on defense. Reeltown starts the season on Thursday at home versus Bullock County.
8. Notasulga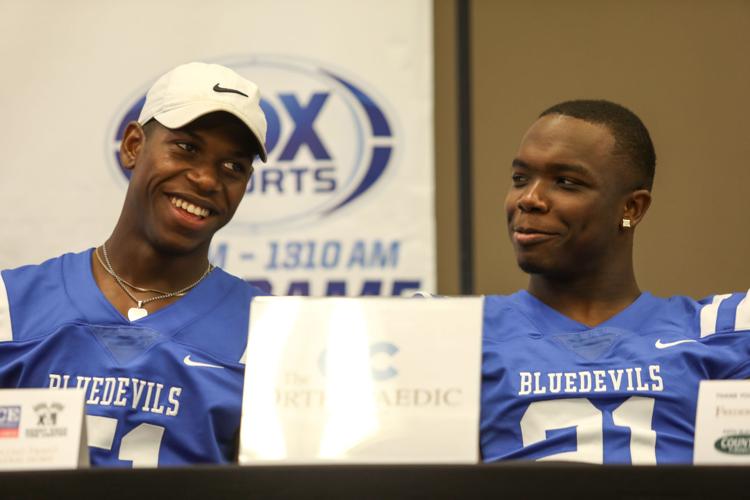 The bad news for Notasulga last year was injuries proved to be problematic and left the team with just four wins and a first-round exit. The good news is the result of the injuries was a lot of reps for younger players who are back for 2019. The Blue Devils graduated just four players from last year and have plenty of promise with standouts like running back Daryl Brown Jr. and offensive lineman/linebacker Jaheim Greer. Notasulga's path to a great season won't be easy given it is in the same region as Lanett, but there's still plenty of potential. The Blue Devils travel to Barbour County on Friday for their season opener.
9. Smiths Station
The Panthers were one of the pleasant surprises of 2018, as the team fresh off a winless season won six games and missed the Class 7A state playoffs by just five points.  The team graduated some key contributors from last fall but bring back several established players like quarterback Corey Minton and running back L.C. Harris, who rushed for 866 yards and nine touchdowns as a junior. The Panthers are still looking to settle guys at the rover position on defense, but other defenders like standout Jordan Jones should make it easier on the newcomers. The Panthers open the season Friday at Russell County in the first game for Warriors head coach Mark Rose, who was Smiths Station's head coach from 2008 to 2013.
10. Beulah
After an outstanding 2018 season, head coach Cody Flournoy left to become head coach and athletic director at Jackson. In Flournoy's place comes Matt Johnson, who was the Bobcats' offensive coordinator for the last two years and had been on staff for six years before that. Johnson expects much of the same for the offense and defense in 2019, and luckily he inherits a team that still has talent. Running back Chris Person is back after rushing for 1,040 yards last year, and the secondary has a trio of studs coming back in Deshawn Jones, Quay Johnson and Dylan Coleman. Beulah hosts Loachapoka on Friday.