MONTGOMERY – Ever since Kristian Story's senior year at Lanett ended with a state championship, the Alabama signee has added one major award after another. On Wednesday, Story added the accolade he wanted the most.
Story was named the Alabama Sports Writers Association's Mr. Football for the 2019 season during the ASWA's annual luncheon. Story received the honors after a stellar year that came to a close with Lanett winning its second state title in three years.
In addition to Mr. Football, Story was also named Class 1A's Back of the Year.
"My stomach kind of dropped because I was really nervous. I was like, 'Are they going to say my name?' I was kind of scared. When they finally did, my stomach dropped," Story said. "It was kind of a sigh of relief as well. I've been thinking about this the entire season, really. For me to actually finally the award, it feels good.
"This (award) is definitely at the top. This is the one I wanted the most, I would say. I don't know any better way to cap off your career than to win Mr. Football."
Story delivered a tour de force at the quarterback position in the fall in pursuit of another deep Panthers' playoff run.
Story quickly returned to form after offseason shoulder surgery, as he threw for 2,865 passing yards and 35 touchdowns and also ran for 1,293 rushing yards and 17 scores. His efforts helped him set two AHSAA state records for total touchdowns in a career (175) as well as total yards gained in a career (13,219).
Story's final game with the Panthers was one those around the program will not soon forget. In Lanett's Class 1A state title game against Mars Hill Bible, Story threw for a AHSAA Class 1A title game-record 249 yards and scored four total touchdowns to lead the Panthers to a 41-30 victory.
Story was named the game's Most Valuable Player for his performance.
Story's postseason awards seemed to begin piling up as soon as he was named the title game MVP. Since that time, he has been named the Gatorade Alabama Football Player of the Year, a Sports Illustrated High School All-American, a MaxPreps All-American and the Opelika-Auburn News' Offensive Player of the Year.
Tuesday's banquet added to Story's collection with a trophy he and his family won't soon forget.
"I've always said this is the Heisman Trophy for high school football in the state of Alabama," said Lanett head coach Clifford Story, Kristian's father. "I'm elated for him to be named amongst the best. He's a great kid. He does his work on the academic side and on the athletic side. He's the total package. Alabama is going to be getting a great one.
"I had to fight back the tears, I'm not going to lie. Some of them still came down by face, but they were not like I thought they would be. I'm just so happy for him because I know he really wanted to win this award."
Story was one of three local players nominated for awards at this year's luncheon. Central-Phenix City offensive lineman Javion Cohen was nominated as the Class 7A Lineman of the Year, and Reeltown receiver/linebacker Eric Shaw was nominated as the Class 2A Lineman of the Year.
Theodore's Demouy Kennedy ultimately took home the Class 7A Lineman of the Year award, while Luverne's Arian Gregory was named Class 2A Lineman of the Year.
"It means a lot. I only started playing lineman my sophomore year, so I've come a long way," Cohen said. "To be able to be up for this award is a great honor. I appreciate the Alabama Sports Writers Association for honoring me by being nominated."
Cohen came into the season with the reputation of being one of the state's top offensive linemen, and he didn't disappoint. The Alabama signee was a stud in his second season starting on the line and held his own for a 1,400-yard passer — Bowling Green signee Tucker Melton — and a 1,300-yard rusher — junior Joseph McKay.
Cohen's play helped Central advance to the Class 7A state title game for the second straight year.
Shaw, meanwhile, returned to the football field after his junior year ended early due to a knee injury and was simply outstanding. The South Carolina signee ended the year with 132 total tackles, 16 tackles for loss, six forced fumbles, three fumble recoveries and three interceptions.
Shaw was selected as the Opelika-Auburn News' Defensive Player of the Year for his efforts.
"It's a great event. It recognizes the top players in the state all at once," Shaw said. "It's really like a time to make friends, too, for the next level. There's a lot of people going to the next level. The whole event is just a great event."
Story said winning Mr. Football proved the doubters who thought a player from a small school couldn't take home the award wrong. He said as much as receiving the award meant to him, he hopes it also paves the way for future players in the state's smaller classifications to do the same.
Now, Story's next mission is finding a home for his two newest trophies.
Award Winners
2019 Mr. Football: Kristian Story, Lanett
Class 7A Back of the Year: Sawyer Pate, Thompson
Class 7A Lineman of the Year: Deomouy Kennedy, Theodore
Class 6A Back of the Year: Kris Abrams-Draine, Spanish Fort
Class 6A Lineman of the Year: Jackson Bratton, Muscle Shoals
Class 5A Back of the Year: Zyquez Perryman, Pleasant Grove
Class 5A Lineman of the Year: Trent Howard, Briarwood Christian
Class 4A Back of the Year: Rontarius Wiggins, Jacksonville
Class 4A Lineman of the Year: Will Breland, UMS-Wright
Class 3A Back of the Year: Daquan Johnson, Flomaton
Class 3A Lineman of the Year: Arian Gregory, Luverne
Class 2A Back of the Year: Jalen White, Daleville
Class 2A Lineman of the Year: Arian Gregory, Luverne
Class 1A Back of the Year: Kristian Story, Lanett
Class 1A Lineman of the Year: Mack McCluskey, Mars Hill Bible
AISA Back of the Year: Cephus Cleveland, Macon-East
AISA Lineman of the Year: Eli Richey, Southern Academy
Lanett's Kristian Story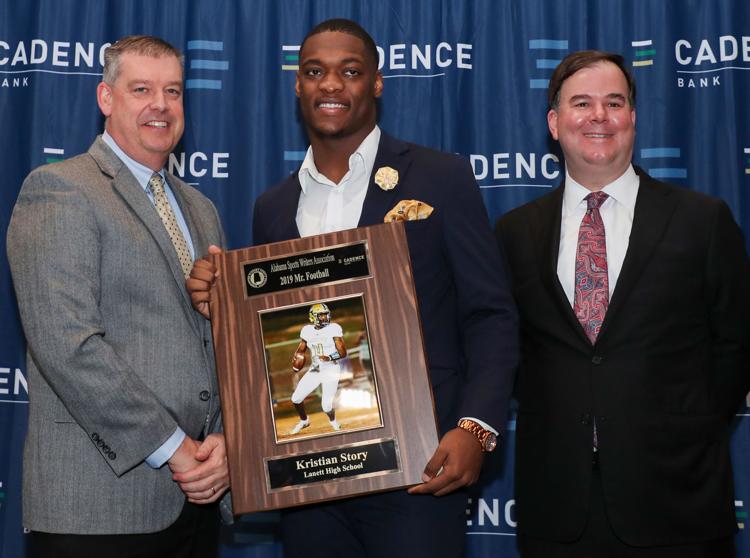 Lanett's Kristian Story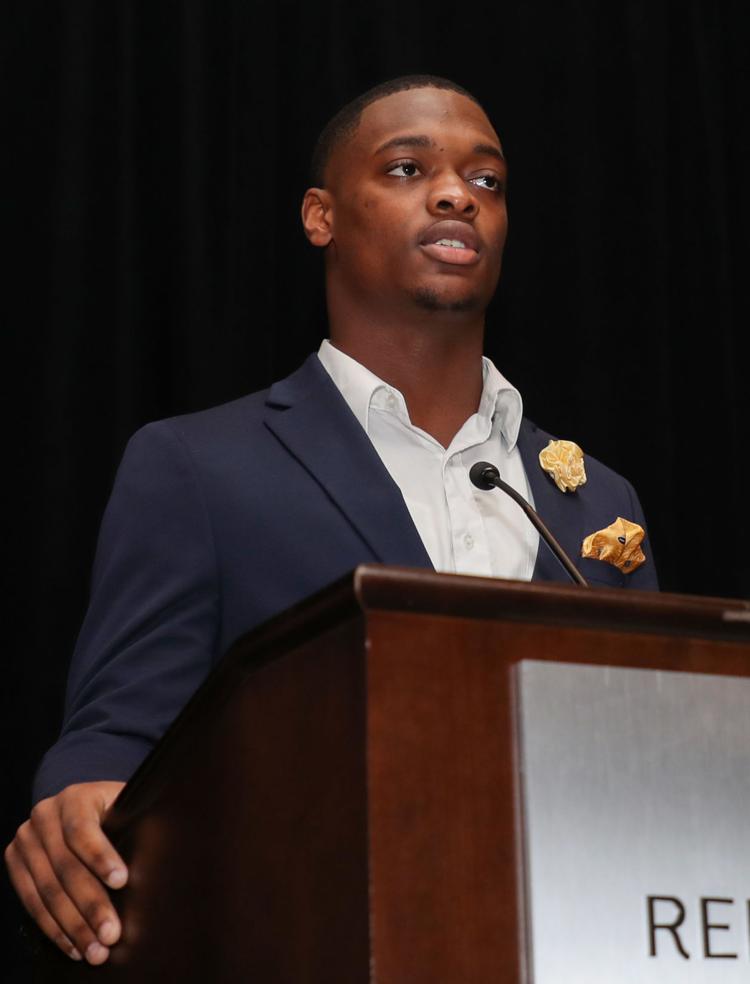 Lanett's Kristian Story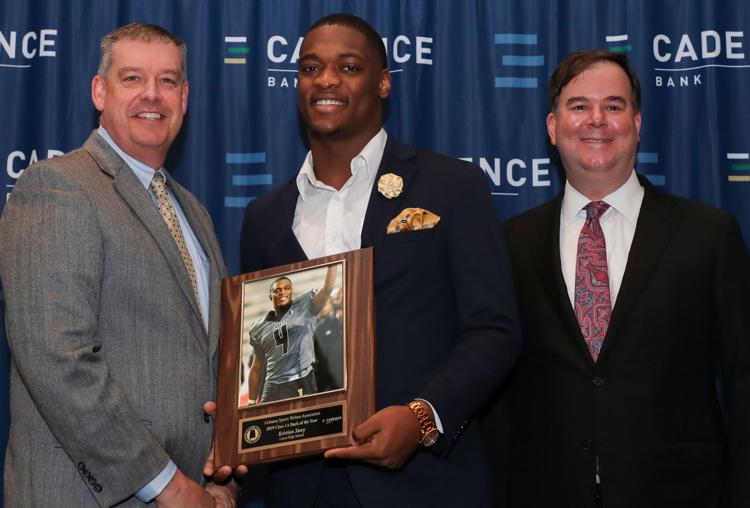 Lanett's Kristian Story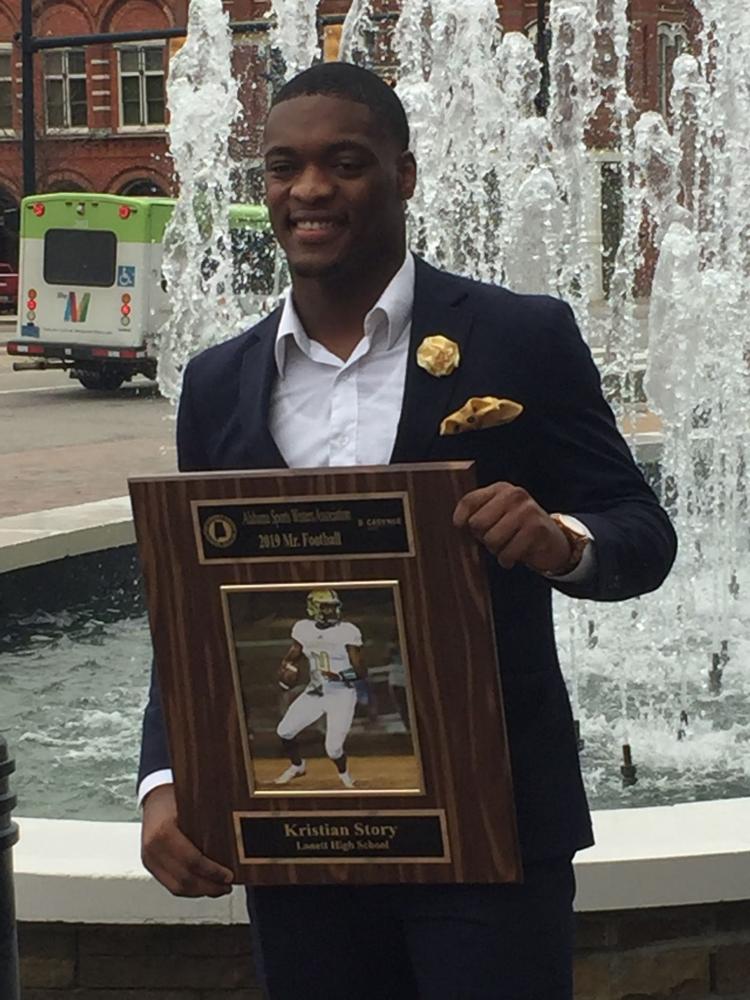 Lanett's Kristian Story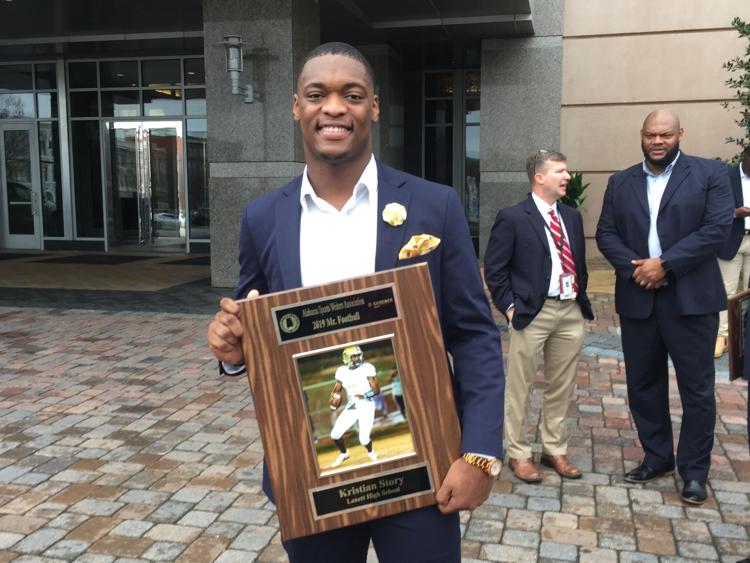 Lanett's Kristian Story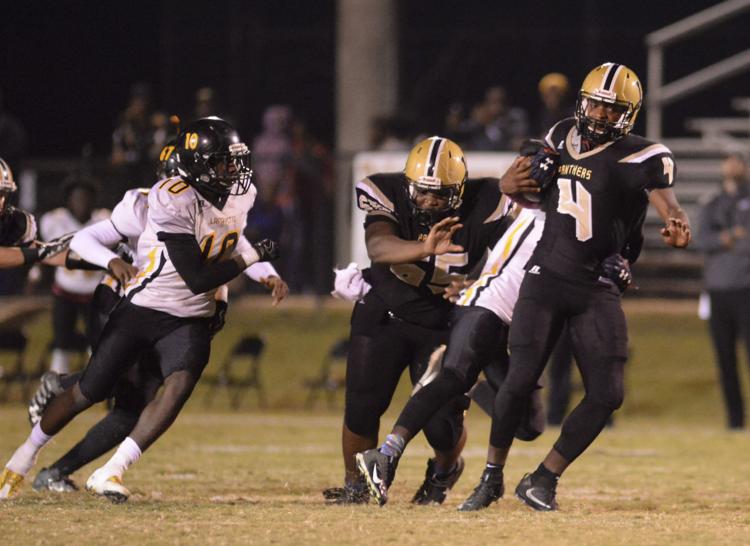 Lanett's Kristian Story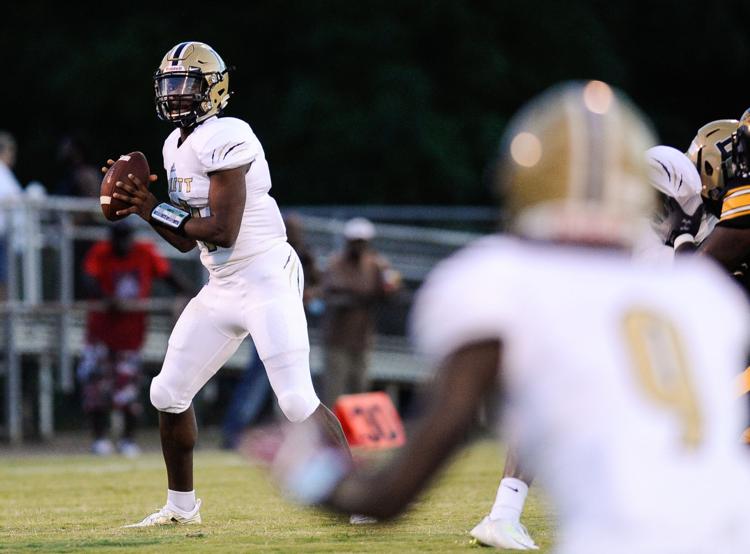 Lanett's Kristian Story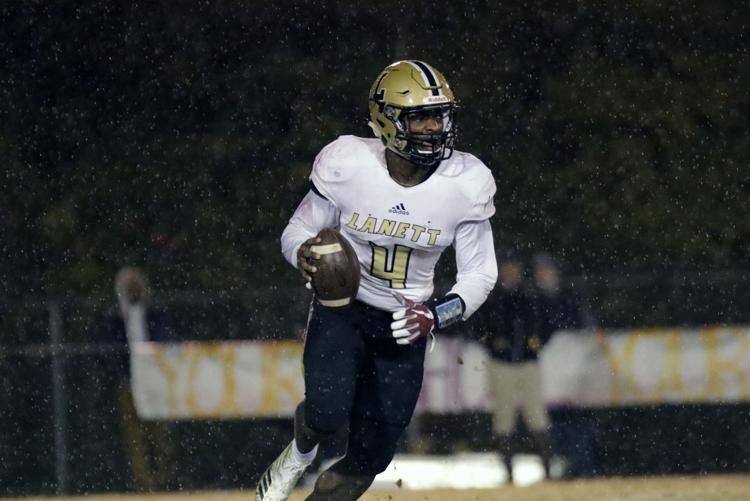 Lanett's Kristian Story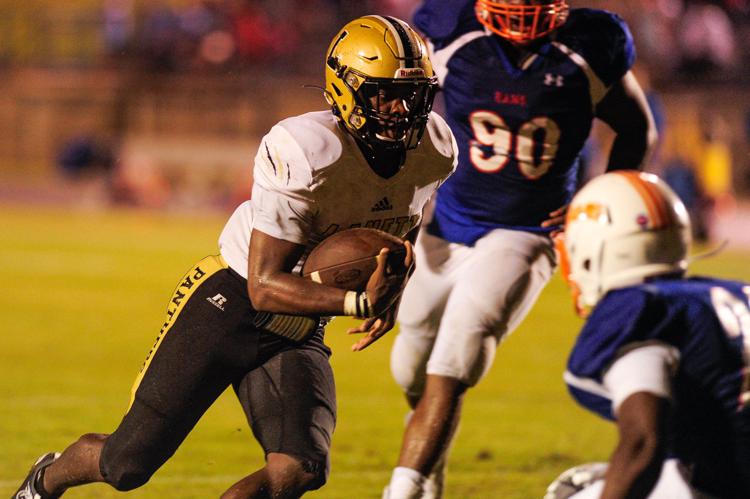 Lanett's Kristian Story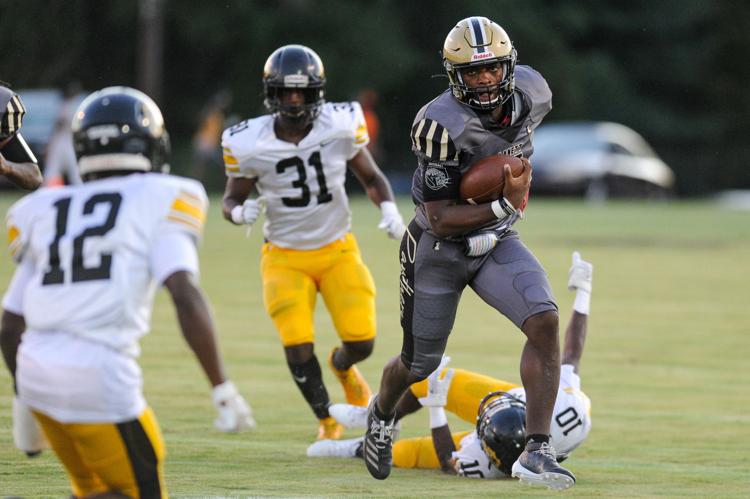 Lanett's Kristian Story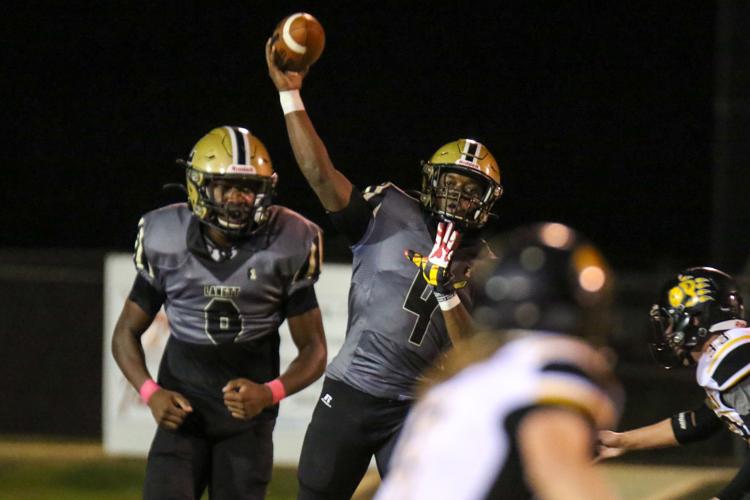 Lanett's Kristian Story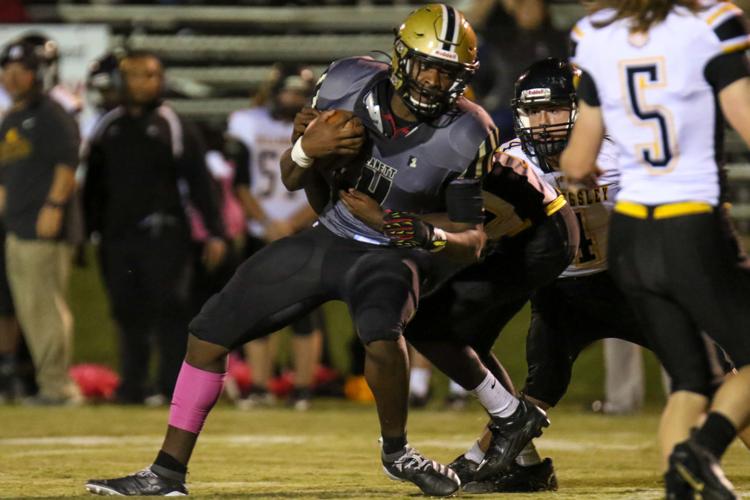 Lanett's Kristian Story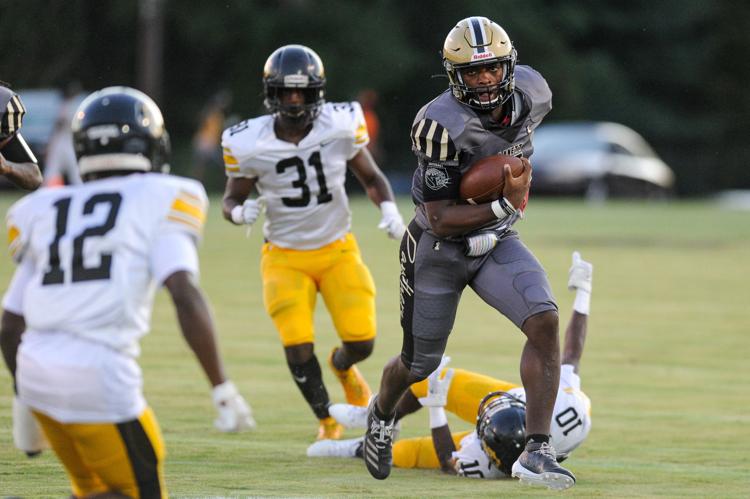 Lanett's Kristian Story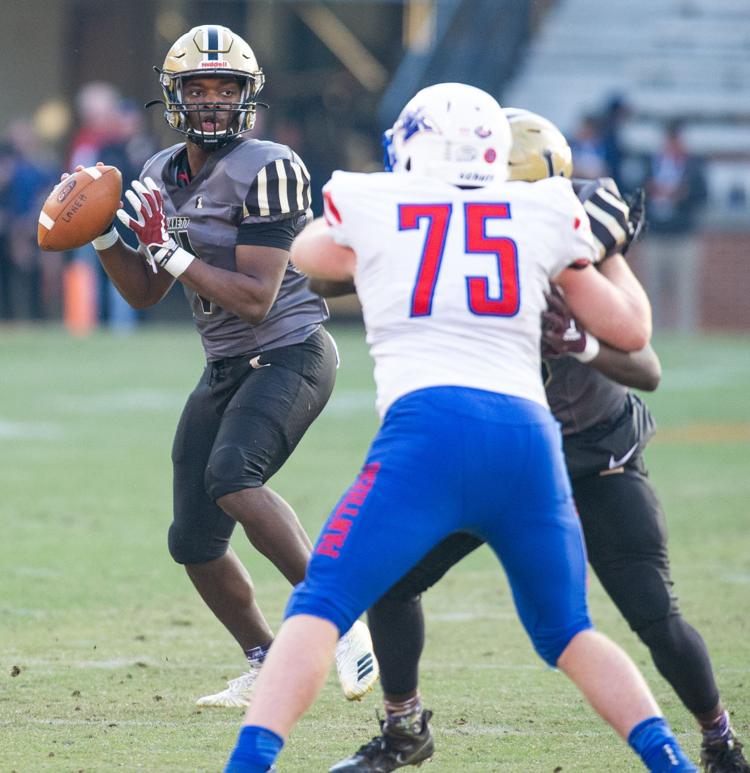 Lanett's Kristian Story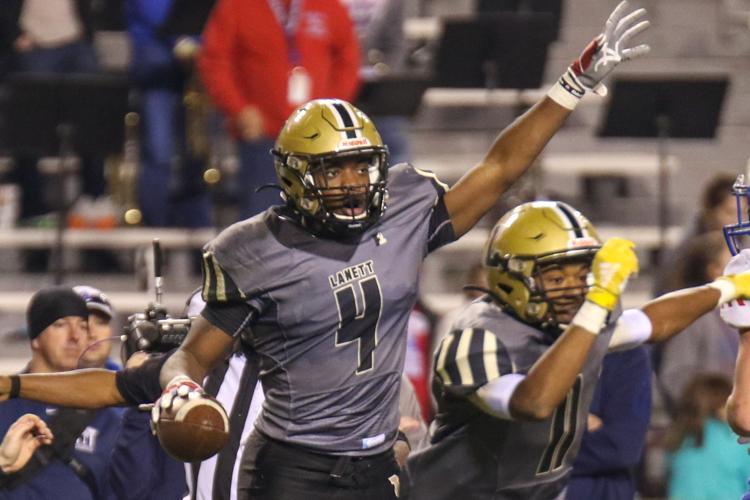 Lanett's Kristian Story