When it comes to the rivalry between Lanett and Valley, it didn't take Rams head coach Buster Daniel long to learn just how much the game means to both sides.
Daniel enters his third season at Valley and has been on the winning and losing side of the showdown in that time. No matter the outcome, Daniel understands the competition shared by both schools and what the matchup means to the players involved.
"It's been around a long time. In my opinion, it's one of the best rivalries around," Daniel said. "These guys, they live together and within four or five miles of each other. They're friends. They talk on the phone. They text. When we strap it on Friday night, they're not friends for an hour or so. After that, they're going to be friends again."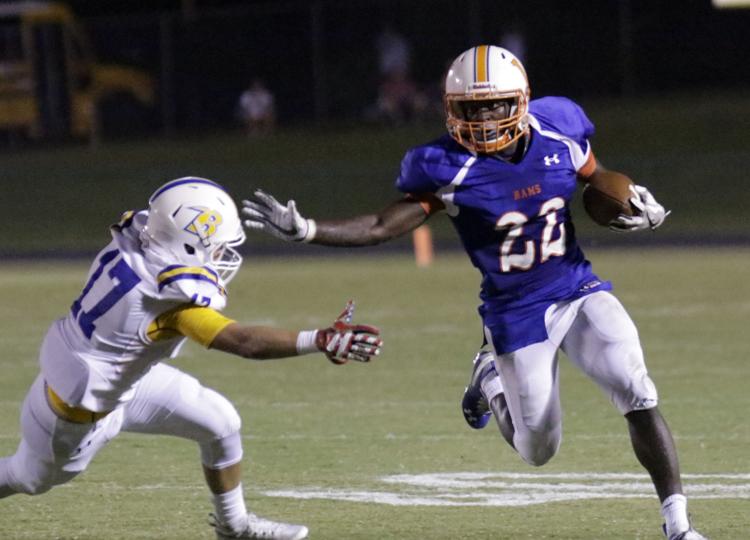 The Rams and the Panthers will battle for the 88th meeting in series history tonight at 7 p.m. CT at Valley's Rams Field. The game features plenty of intrigue on both sides, as Valley tries to build off a resurgent 2018 season and Lanett gears up for a potential championship run.
Valley enters 2019 after winning five games last season and reaching the playoffs for the first time since 2013. Lanett, meanwhile, won 10 games in its first year in Class 1A before losing in the quarterfinals of the playoffs.
The Panthers are eager to return to the championship form they perfected in 2017, and the mission starts against a familiar foe. Lanett came out on the wrong end of the last meeting, as six turnovers derailed the Panthers and led to a 28-22 loss.
Although Lanett head coach Clifford Story doesn't talk about that game to his players, he knows it hasn't left their minds.
"We try to put things behind us and move on. We've looked at that film, and they have looked at all the mistakes we made," Story said. "(The players) took it upon themselves to be like, 'If we don't do this or that, we should have won that game.' The coaches don't talk about it much. It's more of the kids than we do."
The Panthers lost several key players to graduation, but Story remains confident about his returners. It starts with his son, quarterback Kristian Story, who recently committed to Alabama.
The elder Story has also liked what he's seen from a retooled receiving corps that has more speed than ever before thanks to players such as Quae Houston, Larontavious Hurston, Austin Moody, Tray Abner and Caden Story. Defensively, Story pointed out BJ Smith, Eric McCants, Perry Jones and Dametrious Johnson as standouts.
The Rams, meanwhile, have stars of their own like running back BJ Baker but are also in the middle of a tight quarterback battle. Daniel expects Gabe Harmon and Will Kennedy to each get reps against Lanett, adding that how each plays will determine who winds up with the most snaps when it's said and done.
The main mission for Daniel's Rams is simple: slow down Kristian Story. Daniel has coached long enough to know completely stopping Story is unlikely; instead, he's preaching to his players the importance of open-field tackling.
Additionally, Daniel is looking to run the ball effectively and maintain long possessions in order to limit the amount of times Kristian Story gets his hands on the football.
For Lanett, Clifford Story is eager to take any explosive plays by Baker out of the equation. The Panthers head coach also emphasized avoiding turnovers, which proved critical in the Panthers' season-opening loss one year ago.
Story has seen firsthand what the rivalry is like for the players thanks to Kristian and Valley offensive lineman Daniel Osborne, who have been best friends since kindergarten. The two cheer each other on from afar most Friday nights, but tonight, the mission is to earn bragging rights one last time.
"They talk junk with each other pertaining to football. That's just the nature of it," Story said. "It's all fun, and at the end of the night we'll hug each other, shake hands and walk off the field."