The last three games between Notasulga and Loachapoka have decided postseason seeding, with the last two deciding who got the fourth and final playoff spot in their region. Tonight, the two teams face off understanding that this year's game may once again decide their postseason fates.
Notasulga (3-3, 1-1) hosts Loachapoka (2-4, 1-2) in the Battle of Highway 14's 45th edition. The rivalry has been recently dominated by the Blue Devils, who have won the last five meetings with their Region 4-1A foe.
Both squads enter this year's game fresh off impressive non-region victories.
The Blue Devils traveled to LaFayette last week and rode a fumble recovery and a great defensive effort to a 14-6 victory over the Bulldogs. Another solid showing from running back Daryl Brown Jr. — who had 76 rushing yards and one touchdown — set Notasulga up to beat LaFayette for the first time in the last eight meetings.
The win was a welcomed sight for Notasulga head coach Anthony Jones, as it snapped a two-game losing streak. The team's two turnovers and 12 penalties, however, let Jones know the team is capable of much more.
"We still haven't put that full game together yet," Jones said. "What we've got to do is we've got to clean up the penalties still. We've kind of been doing it all year, but I think that we've got to clean it up in order to have a full, good game. The penalties have to be cut down, and the turnovers definitely."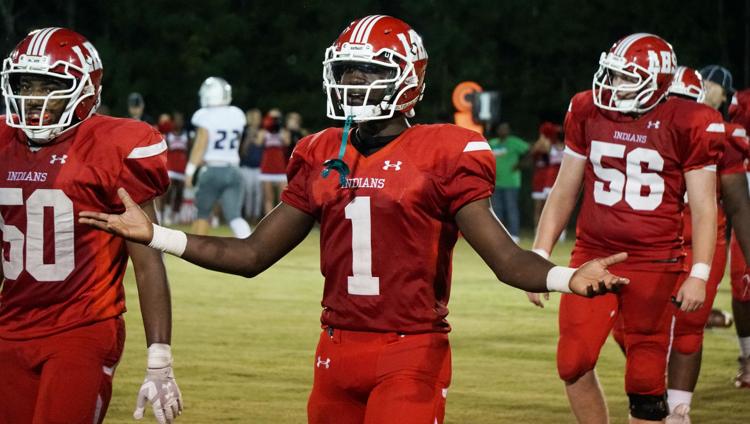 Notasulga had to sweat out 48 minutes against LaFayette, but Loachapoka sealed its latest win early in last week's 38-20 win over Horseshoe Bend. Indians quarterback Aaron Frazier made play after play against the Generals, rushing for two touchdowns and throwing another in Loachapoka's second consecutive victory.
Loachapoka head coach LC Cole applauded the work of Frazier as well as outside linebacker Brandon Bedgood, who tormented Horseshoe Bend's quarterback throughout the night. The back-to-back wins gave the Indians some much-needed momentum going into a game that may determine whether or not Cole's team makes the playoffs for the first time since 2016.
"We want to be in the hunt for the playoffs. That was kind of our mission when we started the season. We're back to the situation we were in last year that this is a must-win for us to stay in the hunt to try and get a playoff spot," Cole said. "We've talked about how important it is for us to win more than we won last year. That shows the improvement in the program and that we're moving in the right direction."
Cole complimented Notasulga, saying they the Blue Devils look better than they did last year and that they're aggressive and physical. Cole's goals for Loachapoka are to simply execute the game plan and also to limit turnovers, which was still a problem in the win last Friday.
Jones, meanwhile, said this year's Loachapoka team looks bigger and stronger than the one from 2018. He pointed to several players as ones his Blue Devils had to keep tabs on, including Frazier, running back Demontrey Moore and receivers Tyrell Pierce and Quinci Nelms.
Jones stressed the importance of tempo, saying he wants the Blue Devils to control the game and keep the ball out of Frazier's hands. In order to do that, Notasulga has to secure the football and avoid double-digit penalties.
The Blue Devils are riding high after beating LaFayette, but Jones knows that can all come undone against a hungry Loachapoka team. Notasulga players said this week they want to finish the season 7-3; in order to do that, it starts against the Indians.
"If we can get this win, we'll be a little more at ease going into the Verbena game. Right now, it's about handling this one and then handling Verbena," Jones said. "The season is going so fast. These next two games are going to decide a lot. We've just got to take it one day and one game at a time and get ready for Loachapoka."