When the LSU Tigers take the field Saturday at Jordan-Hare Stadium, there will be a contingent of Alabamians who might find themselves rooting for the road team. But it's not a player that will have these East Alabama men and women cheering for LSU; instead, it's a coach who used their high school to launch his career revival.
Come the 2:30 p.m. kickoff, Steve Ensminger will call plays for LSU against Auburn, the team that employed him from 2003 to 2008. His stops at Auburn and LSU are his last two at the college level, but in between, Ensminger spent one season coaching high school football.
This time nine years ago, Ensminger was 30 minutes east of Auburn, where the then-51-year-old was coaching at Class 6A's Smiths Station. Ensminger's stint as a Panthers assistant was a short one, lasting only the 2009 season.
That limited tenure, however, still left a lasting impression on the Smiths Station coaches, players and students who came to know him.
"Our relationship goes way deeper than football. He's just a really good friend. I couldn't be happier for him," former Smiths Station head coach Mark Rose said. "He's a working machine and a great football mind. He gets the most out of his football players, and he's so down-to-earth. He's just a great, great people person."
From Tiger to Panther
Ensminger's hiring at Smiths Station was a right-place-at-the-right-time situation, but it only happened after one of the darker moments of his career.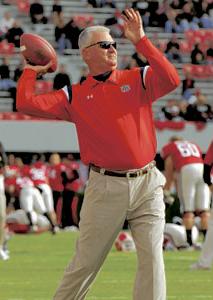 Auburn fired head coach Tommy Tuberville following the 2008 campaign, the team's first losing season since 1999. Tuberville's ouster also meant several assistants were also out of work, including Ensminger, who had spent the last year as the Tigers' offensive coordinator.
Ensminger soon began his search for a job. Thanks to a mutual friend, working with Rose came up on his radar.
Rose had just finished his first season at Smiths Station after previous stops at North Jackson and Tallassee. His eight-year stint at North Jackson came courtesy a recommendation from Phillip Lolley, the former North Jackson head coach who had just finished his fifth year as Auburn's director of NFL relations.
Lolley passed Ensminger's name to Rose. Soon enough, the two sat down for a lunch to discuss their philosophies.
It didn't take Rose long to realize he, a former Auburn offensive guard, shared a lot of characteristics with Ensminger, a former LSU quarterback.
"He's just an old-school guy that's hard-nosed and coaches (the players) hard. We both work them hard, have fun and love our kids," Rose said. "We always enjoyed the fellowship outside of coaching. We just had a lot of common in our philosophies of coaching kids hard, taking care of them and loving them. It was a great fit.
"We just met, had lunch and struck a deal."
Getting to work and getting it right
Ensminger came on board as the Panthers' new passing-game coordinator and quarterbacks coach, joining a staff that included Rose and offensive coordinator/offensive line coach Roy Brown.
Brown admits he was intimidated when he heard a coach with Ensminger's pedigree was coming on board. Brown soon realized Ensminger was more than comfortable just being one of the guys on Rose's staff.
"You think this guy's going to come in after being in college (coaching) and going to be uppity or think he's above everything else. He didn't," Brown said. "He never at any time tried to hold that over anybody or say in a meeting, 'Now, that's not how we did it in college' or 'That's not how I did it before' or anything else like that. He just went about doing his job."
Ensminger made no qualms about answering to Rose or doing daily chores like lining the field, washing uniforms or handing out equipment. That shouldn't be taken as a sign that he was complacent coaching high school football after years in the Big 12 and SEC.
Ensminger demanded excellence while at Smiths Station like he did as a college assistant. Just ask any of the Panthers players.
Coleman Rose was a seventh grader on the junior varsity football team, and as the head coach's son he was volunteered to catch passes from fellow JV player Nigel Lawrence. Rose and Lawrence would wake up at 5 a.m. twice a week and participate in quarterback drills led by Ensminger, who was meticulous about every aspect of the position.
"Every day, we started with the fundamentals of literally how to throw a football," Coleman said. "He had this form he had us do. I don't remember it exactly, but it was all the little details like squaring your shoulders, pointing your elbow, having a quick raise behind your head and having a quick release. I swear, we drilled that every morning before we did anything."
Lorenzo Betties, then a sophomore at Smiths Station, saw Ensminger in action on a daily basis thanks to the coach's work with the running backs as well as the quarterbacks. Even nine years later, Betties can still hear Ensminger's trademark call to his QBs, a critique regarding release time that routinely echoed on the field.
"It was, 'One, two, three — You're late! One, two, three — You're late!'" Betties said. "If you talk to anybody in the locker room, they're going to remember that. Everybody knows that saying. You were going to get it right before we left."
Perhaps no one experienced Ensminger's pursuit of perfection quite like Mike Nolin.
Nolin entered his junior year at Smiths Station as an unknown. Nolin had moved to Smiths Station from Palm Bay, Florida, the year prior and began practice at wingback before breaking his foot three weeks before the 2008 season.
Now fully healed, Nolin return to spring practice during his sophomore year of school ready to prove himself. Only now, he had his sights set on starting at quarterback, a position he played since he was 9 years old.
Nolin sat in on quarterback meetings led by Ensminger an hour before school started. The candidates didn't go to the gym to dive into the playbook or analyze routes; again, Ensminger was preaching flawless fundamentals.
"He never said this per se, but practice doesn't make perfect — perfect practice makes perfect," Nolin said. "The idea was that if you don't get it completely, 110 percent right in practice, it's not going to come to fruition in the games. He was really big about harping on that."
Nolin's commitment to shoring up his technique coupled with his scrambling ability made his push to start more and more realistic. By the week of the team's spring scrimmage, Ensminger appointed him the man for the job.
A head up when things were down
The Panthers began 2009 1-3 due in part to an inexperienced team featuring a brand-new quarterback. Even with the sour start, Amy Brown didn't see it affect Ensminger's attitude away from the field.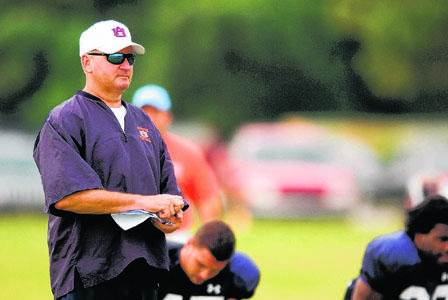 Amy Brown, Roy's daughter, served as her father's aide during first block of her sophomore year, which put her among the offices of the Panthers coaches. That allowed her to befriend Ensminger, who went out of his way to talk to her in a manner more personal than a quick, simple hello.
"I know this sounds so cliche to say, but he really is a friendly face," Amy said. "Not that he didn't take coaching seriously, but during football season the coaches are so in the zone and walking with their heads down in the hallways because they're thinking about game day. He was never like that. He was always uplifting and happy, smiling and easy-going."
"He was a down-to-earth, country-type guy. He fit in great there at Smiths Station and in that town," Rose said. "It was just his personality. He's sort of like me — we sort of can get along with all walks of life."
Smiths Station's stumble out of the gate continued for what remained of the season. After trouncing Columbus' Kendrick High School to improve to 2-3, the Panthers lost their final five games to finish 2-8.
In all, five of Smiths Station's eight losses were by nine points or less.
"We were there," Nolin said. "We had the talent and we had the coaching. We just didn't have the experience."
Then and now
In February 2010, Smiths Stations students, players and coaches got the news they had been dreading: Ensminger had been hired as LSU's tight ends coach.
The news was hard to swallow for Nolin, who had hoped to keep his mentor around for his senior season, but was equally as hard on Amy, who had lost a companion among her father's co-workers.
"I do remember him telling me when I was in my dad's office. I was pretty upset," Amy said. "I was excited for him to go back to LSU because I knew that was where he played ball, but I was sad. We didn't get him for very long, but I was glad we got him for the year we had him."
Ensminger may have been in Baton Rouge, but his influence was evident in the Panthers' 2010 season. Led by Nolin, Smiths Station won seven games, the team's highest win total since joining what was then Alabama's highest classification back in 1998.
Those on the 2010 team credit Ensminger for setting a standard that fueled Smiths Station to greater heights. Even with those triumphs, both sides couldn't help but wonder what might have been had Ensminger stuck around.
"Who knows, maybe we go 8-2 instead of 7-3. Maybe we go 10-0. Nobody knows what would have happened," Nolin said. "There would be times when he was at LSU where he would think about that year. That year was special to everyone who was a part of it. He was a part of that year — he just wasn't there."
Even though Ensminger's stay in Smiths Station was short, his attitude left a mark on those around him.
Brown said Ensminger taught him to enjoy the grind of coaching and to take in every moment, whether it was good or bad. Nolin pointed to how Ensminger compartmentalized between life and football, explaining Ensminger was all laughs when it was time to have fun but all business when it was time to go to work.
As much as those at Smiths Station leaned on Ensminger, Brown reasoned that Ensminger likely got just as much out of being there.
Whether it was coincidence or not, Ensminger's career took off again after leaving Smiths Station, as he was elevated to LSU interim offensive coordinator in 2016, briefly demoted in 2017 then given the full-time job for 2018.
"I hope it kind of recharged his batteries, getting back with those younger kids and getting back to Friday night where it's a job but it's not the same pressure as there is in college. That's where football all starts — the Friday night lights," Brown said. "Maybe it got him back to remembering why he first got into all this, I don't know."
Nine years after leaving Smiths Station, Ensminger remains connected to those who got to know him. That includes Amy, who asked her father a few days ago whether she could invite Ensminger to her wedding on April 20.
Whether or not Ensminger's schedule permits an appearance, they decided LSU's play-caller will have an invitation in the mail.
Rose also maintains a strong relationship with Ensminger all these years later. Rose saw a lot in himself when he first sat down with the veteran coach, and their passion for the game and working with young men helped them grow close during their stint together.  
As much as Rose's alma mater means to him, the former Auburn lineman will likely have mixed emotions Saturday with such a good friend on the other side.
"Every time he comes into the state, he texts me immediately and says he thinks of me when he comes to Alabama. We were rooting for him the other night (against Miami)," Rose said. "I texted him earlier (this week) and said, 'I knew you'd have them ready.' He thanked me and asked how we were doing, me and the family
"This all couldn't happen to a better guy."