Opelika quarterback Cade Blackmon said he's dreamed of taking his football career to the next level since he was a little kid. On Wednesday, Blackmon got one step closer to making that happen.
Blackmon signed to play football at Samford in a ceremony at Opelika High School on Wednesday. Blackmon, who originally committed to the Bulldogs on July 18, will enroll at Samford in January.
"For me to actually live that dream out today, I can't really describe it," Blackmon said. "I'm so thankful for everyone who's gotten me here. My dad always says, 'It's who you know that will get you there, and it's what you know that'll keep you there.' I've definitely been blessed to be around some great people."
Blackmon said he was drawn to Samford because of their prestigious academic status as well as the team's offense. Blackmon also said Samford's willingness to air the ball out was also attractive, as it fits his preferred style of play.
Blackmon threw for 1,485 yards and 13 touchdowns and also rushed for 63 yards and three additional scores in his senior season. Blackmon led a Bulldogs offense that averaged 30.8 points per game and put up 28 points or more in seven games.
Blackmon's strong senior season followed a junior year in which he battled injury but still threw for 1,361 yards and 10 touchdowns.
"It's always special when your kids get to go on and play college football because it's a dream for a lot of them, but it's really special with Cade. He's a guy who's been part of our program literally since he was four weeks old," Opelika head coach Erik Speakman said. "He's probably put in more time in this building than any player we've ever had due to the fact he's always here. It's a great day for Cade, Brian, Kellie and their family. We're really excited for him."
Several friends and family members poured into Opelika's indoor facility to celebrate Blackmon's signing, including his father Brian, now an assistant coach at Troy.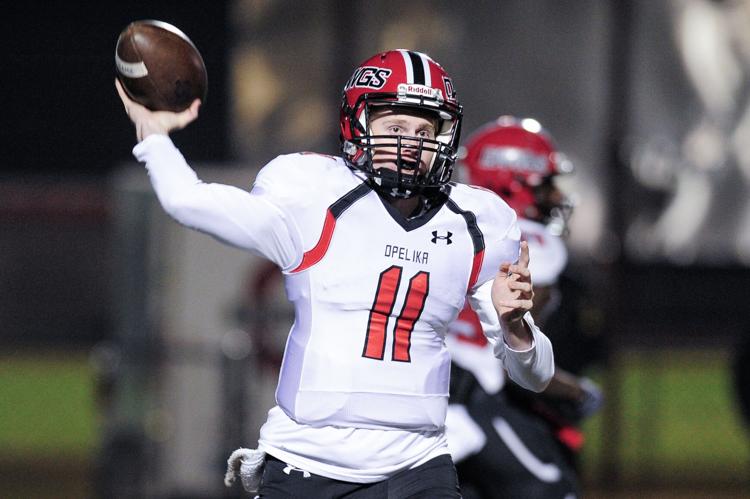 Brian had a lot to manage to attend the signing — he left the Trojans' bowl preparations in Mobile on Tuesday night and was juggling his own recruiting responsibilities Wednesday morning — but he was determined to be on hand to see his son's latest achievement.
"He's worked and he's done everything that every coach he's played for has asked him to do. He's a great kid on and off the field," Brian said. "We're just blessed and humbled to have been able to be in a community that supports their young people like Opelika. We're just thrilled to death that he's getting to accomplish his dreams."
Brian was honored by the turnout for the signing, as was his son. Blackmon said those in and around Opelika have cheered him on every step of the way, and while he'll soon be playing two hours away, he'll always be grateful for their help.
"(The support) means everything," Blackmon said. "It just shows what the community of Opelika is, you know? They're going to support their own, and I couldn't be here without them, either."