Two days before Christmas, Lanett alum Tre Story sat in the auditorium of his alma mater with his parents, Clifford and Krisse, and his two younger brothers close by. The group had been in this same room five days earlier when Kristian, two-and-a-half years Tre's junior, made the biggest decision of his young life by signing to play football at Alabama.
As the Storys settled into their seats Monday, Tre sported a white hoodie that had the words "THE STORY CONTINUES" emblazoned on it as well as pictures of himself, Kristian and Caden, their youngest brother, playing for Lanett. As cute as the play on words is, it doubles as a fitting mantra for the family of five at this point in their lives.
Whether the focus has been Clifford's coaching or their sons' athletic careers, the Storys have endured good and bad times over the years. Even if Kristian's signing with the Crimson Tide on Dec. 18 stands as a new high point, there is still plenty of their story left to be written.
Love and Lanett
Krisse Story didn't know it then, but her future husband had been orbiting her life for quite some time. That all changed during a wedding between their two families in 1997.
Clifford had been around Krisse's family thanks to being close friends with Krisse's cousin, and Clifford had played football and basketball against Krisse's brother, then-NFL tight end Marcus Pollard. The two had somehow never met, but it didn't even take Krisse meeting Clifford to know something special was in the works.
"I was in Indianapolis, and my mama (Geraldine Lee) called me. She was like, 'I've met my son-in-law.' I'm like, 'Huh? You've met your what?' She was like, 'I've met my son-in-law.' My mother picked him out for me," Krisse said. "The next week we had the rehearsal for the wedding, and I got a chance to meet him. People say they don't believe in love at first sight, and it really was.
"When I saw him, I said, 'Lord, please let that be him.' And it was him."
The two quickly fell for each other, and one year to the day they met they were engaged. The couple married in 1998 and before too long welcomed Clifford Story III, who they nicknamed Tre.
Tre arrived in the early years of Clifford's coaching career after Clifford played football at Jacksonville State then returned to the sport after a short-lived pursuit of becoming a chiropractor. Krisse quickly discovered what being a coach's wife was all about when Clifford moved the young family to Atlanta to allow Clifford to become an assistant coach at Riverdale High School.
Krisse, who considers herself a homebody, was now away from all her relatives with a growing family of her own and a husband dedicated to his coaching craft.
"In the beginning, it was tough," Krisse said. "We were away from my family, plus he was coaching. For him to be gone a lot, it was almost like being a single parent. I don't use that in a negative way because my mother was a single parent," Krisse said. "I had a husband, so I didn't expect I would have to take care of — it was just Tre at that time. Ken-Ken (Kristian) might have been about three months old when he took the job at Riverdale. It was rough at first."
The Storys soon welcomed Caden and moved back to the Opelika-Auburn area in 2004 when Clifford joined Robert Maddox's staff at Auburn High. The family still had their own balancing act to perfect, as Krisse ran a daycare full-time in Lanett while Clifford handled his coaching duties and tried to make time for his young sons.
Even if Clifford often got home after his boys were sound asleep, his passion for the game was already being passed down.
Clifford recalled watching Tre and Kristian take pillows and sheets off the bed, mold the items into defenders and try to weave their way through the would-be tacklers. There were plenty of fights about who got to play quarterback, which served as an early example of the competitiveness all three Story boys would possess.
After five seasons at Auburn, Clifford applied for the vacant head coaching position at Lanett. The community created a wave of support behind Clifford, and before too long Clifford got word he was one of three finalists.
Soon thereafter, Clifford was offered the chance to become the Panthers' head coach. After much prayer between Clifford and Krisse, he accepted the position.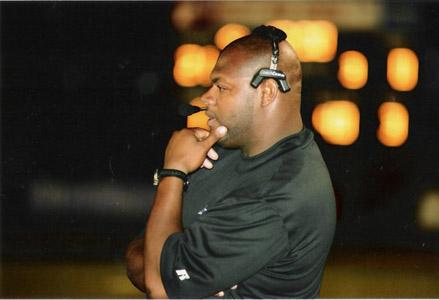 The decision built an excitement among the Storys, even if it led to some trouble for their youngest son. Caden attended Shawmut Elementary School in Valley at the time, and one day he let some of the Valley High football players know where his allegiance was.
"When he got (the job), their football players came over to the school. I was screaming out, 'Go Panthers!' while their players were on the stage," Caden said. "My teacher made me sit in time-out when we got back to the classroom."
Clifford's early years at Lanett were difficult for the first-time head coach, and a 1-9 record in his second season led to hateful emails, threatening calls and plenty of people questioning the program's future. Clifford stuck to his guns and watched as the Panthers got back on track just in time for Tre to step up as the squad's quarterback.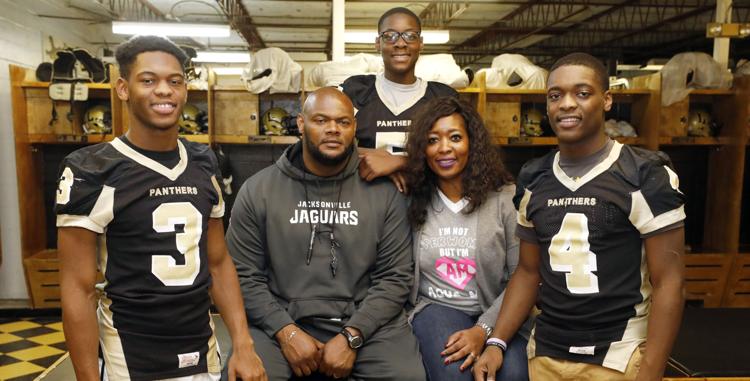 Clifford's oldest son wasn't the most physical quarterback in Alabama's Class 2A, but he made up for it with a commitment to the game and a never-satisfied desire to learn as much as he could. Tre totalled nearly 6,000 yards of offense in 2015 and 2016, during the last of which he threw for 2,939 passing yards and 41 touchdowns and also compiled 1,014 rushing yards.
With the senior Tre at quarterback and the freshman Kristian at wide receiver, Lanett won eight games in the regular season then rattled off three victories in the playoffs. The team's postseason run ended against eventual state champion Fyffe, which beat the Panthers 33-20.
Kristian did his best to console his older brother after the game and offered a promise that neither would soon forget.
"He was heartbroken that he couldn't get my dad a state championship his senior year," Kristian said. "I remember when we lost to Fyffe I told him, 'I got you. I'm going to get daddy one. I got you.'"
Breaking through
Tre signed with Richmond after the 2016 season, and despite Kristian's initial resistance, Clifford put his second son behind center.
There were plenty of questions about whether Lanett could contend without the likes of Tre on the field and with a converted receiver taking snaps, but Kristian and his teammates soon silenced any concerns. Kristian leaned on lessons from his brother and guided the Panthers to an unforgettable undefeated season, which culminated in a 33-15 victory over Leroy in the Class 2A state championship game.
For Clifford, the moment validated a confidence that never wavered even when the scores were not in Lanett's favor. For Krisse, the championship spoke to the foundation her husband had laid during those early years with the Panthers.
"The changes that he had to come in and make, they were difficult. He would come home and just talk about some things that he knew he needed to change that most people would not be strong enough to make," Krisse said. "He just kind of settled on it in his mind that he would do what he needed to do to make sure that not just our family was successful but that the students at Lanett were successful, too. He could win 20 more, but the feeling from the first one is something that will probably always be unmatched."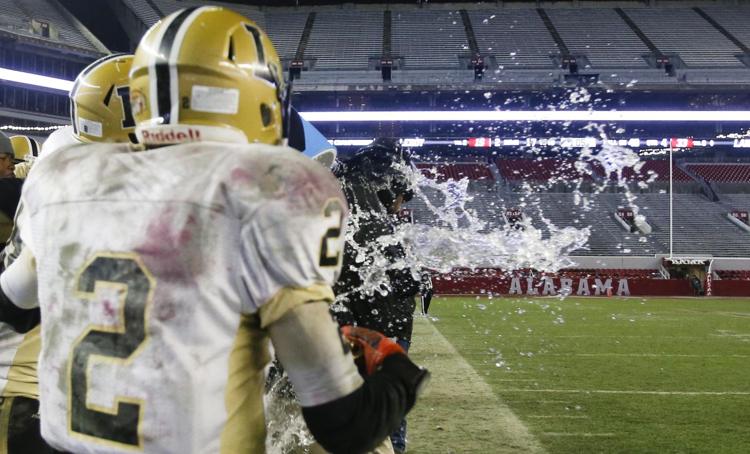 By that 2017 season, Lanett football had truly become a family affair for the Panthers. In addition to Clifford coaching as well as Kristian and Caden playing, Krisse had very much established herself as "Aqua Mom", the head water girl alongside several female students.
Krisse accomplished many things at once in her position. In addition to handing out water and towels to the players and coaches, Krisse used her proximity to the team to keep her husband's temper in check, lift her sons' spirits if they made mistakes and to be there for their teammates when the situation called for it.
In a family where athletics take up most of the calendar, moving from the stands to the sidelines just meant more time for the Storys to be together.
"A lot of times during football season or basketball season, we're always at practice or here (at the school) until late," Kristian said. "We didn't really spend that much time together, so for her to start coming around more on the field meant it was more time for us to be together as a family."
The rest of the Story
The Panthers lost in the Class 1A quarterfinals in 2018, which meant Kristian had one more shot at a state championship this fall before graduating from high school. The year got off to a tough start for Kristian thanks to surgery on his throwing shoulder in the spring, which left him very limited in the summer and essentially on a pitch count early in the season.
Clifford tried to keep everyone calm as Kristian worked through his recovery and the Panthers' offense struggled to gel under first-year offensive coordinator Stephen Jackson. By the time Kristian played LaFayette in the second game, however, Kristian felt the familiar zip return to his passes and knew in due time he would be back good as new.
With the benefit of hindsight, one could argue Kristian was soon better than ever before.
Kristian helped the Panthers roll through the regular season with a perfect 9-0 record, the last of those wins being a 56-0 shellacking of Billingsley in the de facto region championship game. Clifford challenged his son to put together the five best games of his career in the playoffs and Kristian complied, as he helped Lanett take down opponent after opponent to advance to the state championship game.
Kristian topped two AHSAA career records for total touchdowns and total yardage by the time the team reached the state championship game against defending champ Mars Hill Bible.
With his closest family members either in the stands, on the headset, on the sideline or in the game, Kristian showed out in his final high school game, rattling off a Class 1A title game-record 249 passing yards and scoring four total touchdowns to help the Panthers win their second title in three seasons.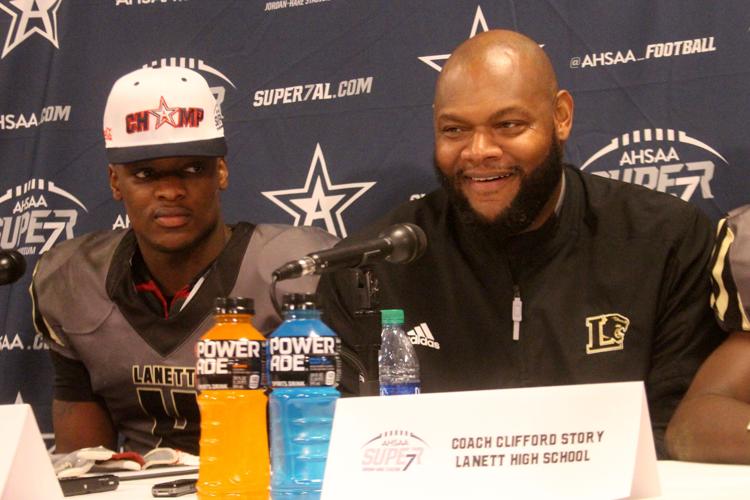 Along with two state championships as a starting quarterback, Kristian also earned Gatorade Alabama Football Player honors and was named to Sports Illustrated's inaugural High School All-American Offense. Once you include Lanett's back-to-back-to-back boys basketball titles, Kristian had won five state championships as a high schooler.
The latest football championship came in Clifford and Kristian's final year together and was the first run in which Caden contributed on the defensive line. Tre, who had transferred from Richmond to Tuskegee, was there for nearly every crucial moment in the season, as he made it to four of the five playoff games to witness history in the moment.
"It was no surprise. I remember at the start of the season (Kristian) said, 'I'm going to carry us to a championship,'" Tre said. "Just to see it all happen this year was kind of crazy for me. I told Ken-Ken, 'Bro, I don't think you really understand the magnitude of what you've done. This is major. This is probably one of the best seasons in the state of Alabama.' That was just crazy to see it all happen."
The narrative quickly shifted from Kristian's present to his future after the championship game, as a visit to Alabama followed by the early signing period was just days away. The Storys were all die-hard Crimson Tide fans, and even though they allowed Kristian to make his own decision, they were elated when he signed with Alabama last Wednesday.
Even with Kristian due to leave Lanett come summer, there's plenty of Story time left for the Panthers' football program.
Caden will return as a junior in 2020 with a Maryland offer in his possession and the drive to make it three-straight stellar Story quarterbacks, and Clifford will of course be back to guide another son through the process. Like Tre did for Kristian, Caden said Kristian has been a constant motivator to get better, adding that his Tuscaloosa-bound brother regularly makes him want to be the best version of himself he can be.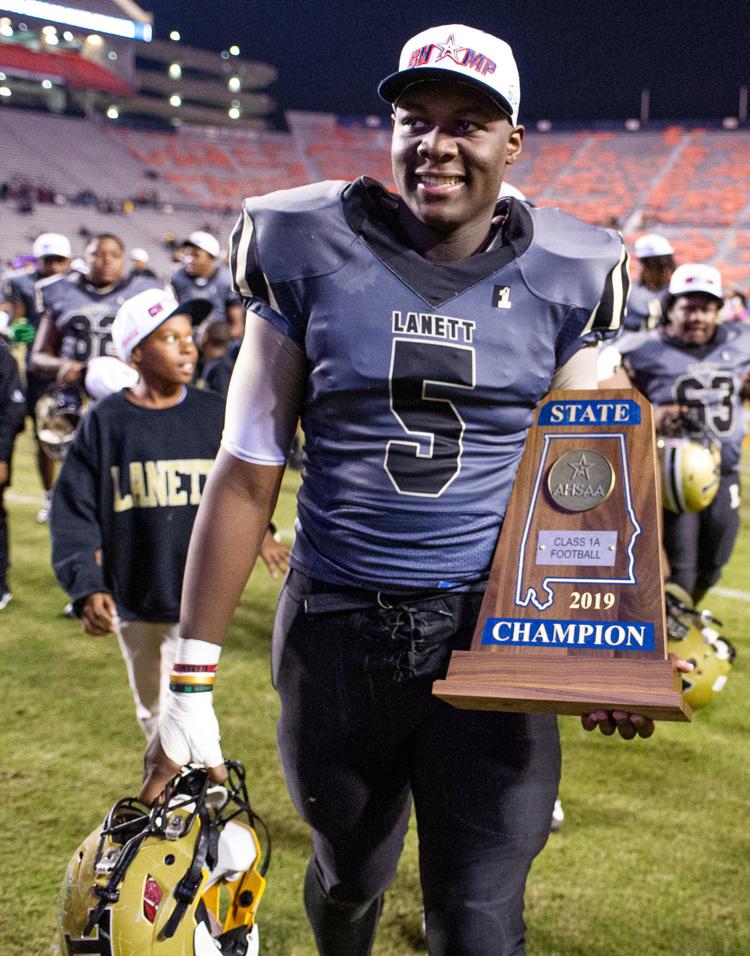 Clifford made it a point on Monday to express how blessed his family has been, and Christmas at the Story house will undoubtedly be a cherished time today. That will especially be true for Kristian, who has a bright future ahead but is also cognizant of making the most of the time he has left before college.
"It's a special time. I know when I leave that I'm gone. There's no more coming back to stay," Kristian said. "It does not seem like it was three years ago when I was standing on the field crying after we lost to Fyffe. Just seeing how everything has changed, how much we all have developed and how much closer we've grown as a family over the last couple years, it's a very special moment for me right now.
"There's no telling what might happen, and I won't always be around to be with them how it's been. It'll be different, so this is a special time for me."